The 10 Best Places to Live in the South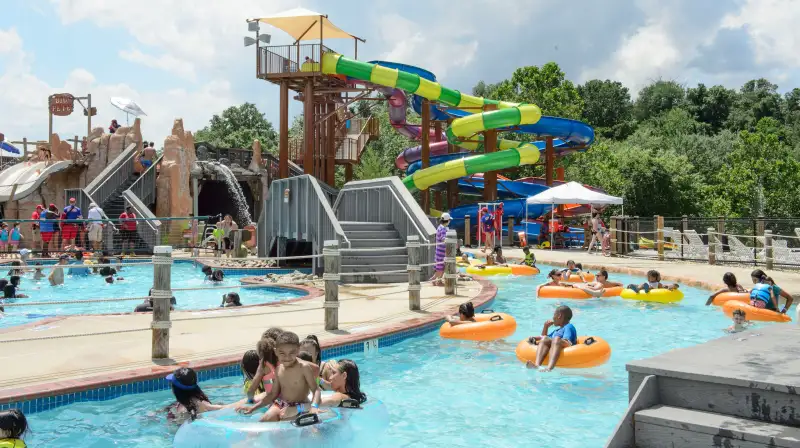 Don Sweeney—Courtesy of the City of Reston
With winter fast approaching for much of the country, Money has been longing for slightly warmer weather. Climate is one of many factors in our annual Best Places to Live analysis—you can see our full methodology here—but after we published our original picks this year, we heard from many readers wanting a list that focused more specifically on warmer Southern climes.
So what exactly counts as Southern? As it turns out, that depends on who you talk to—and it's not necessarily about the grits, the accent, or even its position relative to the Mason-Dixon Line. We started by asking colleagues at sister publication Southern Living how they defined the U.S. South, and then we filtered our Best Places to Live database to put together a specialized list, limiting our picks to one per state.
The following 10 Southern gems offer an ideal mix of home affordability, strong economic growth, good schools, and generally balmy weather.
---
1. Allen, Texas
Growth is the buzzword around Allen, an affluent suburb just north of Dallas. The city of 96,000 residents has worked to create economic opportunities within its borders, and the efforts are bearing fruit: Allen has seen $1.6 billion of development breaking ground in 2017 alone. A number of tech and cybersecurity companies have recently committed to the area, bringing with them hundreds of jobs. Data company CyrusOne recently purchased 66 acres of land to support an expected $1 billion data campus in Allen in the coming years.
A $91 million convention center and hotel complex will start serving patrons in 2018, while international real estate firm Hines recently announced plans for the Strand, a 135-acre mixed-use development that will bring office space, retail outlets, residential options, and a greenbelt and waterway.
Family attractions include the impressive Don Rodenbaugh Natatorium, a fully enclosed indoor water park that also a features a rock-climbing wall; a brand-new park for wakeboarding; and the largest outdoor skate park in Texas. The Courses at Watters Creek offers an 18-hole golf course for traditional golfers, along with a family-friendly six-hole course.
The school system is also a big draw; the district has been ranked as one of the best in the state of Texas, and Allen students routinely outperform the state averages in both reading and math.
---
2. Franklin, Tennessee
Amy Allmand—Visit Franklin
Just 21 miles south of Nashville, Franklin is bursting with culture, Southern charm, and hospitality. Founded in 1799, Franklin has preserved its history through its beautiful Main Street—listed on the National Register of Historic Places—and a number of Civil War-era homes.
But don't get stuck in the past: Franklin has mastered the art of blending the traditional with the modern, offering plenty of jobs and amenities within its city limits. While you'll see few chain stores as you stroll through Franklin's picturesque downtown, just minutes away is the CoolSprings Galleria, a major regional shopping center. Several health care–related companies are located in town, including Community Health Systems, Optum, and Healthways. You'll also find Nissan's North American headquarters here, along with outposts for other big companies such as Verizon and Mars Petcare—all of which help keep unemployment low and job forecasts sunny.
The music scene is a big draw—you can find live performances every night of the week at local bars and restaurants, while the renovated Franklin Theatre draws major acts and even served as the filming site for a number of concerts on the TV show Nashville. The Pilgrimage Music Festival, a new annual event that began in 2015, celebrates the area's culture and cuisine while attracting stars like Justin Timberlake.
---
3. Olive Branch, Mississippi
Courtesy of the Town of Olive Branch
Situated right on the Tennessee state line, the city of Olive Branch offers an easy escape from neighboring Memphis, with a high quality of life, a historic small-town atmosphere, and a moderate commute.
Families love Olive Branch for its good schools, safe streets, and family-friendly activities, not to mention its affordability—the median home price is $185,092, and annual property taxes average $956 a year. Residents enjoy a weekly farmers' market at the city hall, while the city hosts events like outdoor movies on the lawn of Wesson House, a Mississippi landmark that anchors Olive Branch's Old Towne area. Brussel's Bonsai, a 175,000-square-foot nursery dedicated to the miniature trees, attracts visitors from outside Olive Branch as well—especially during its annual bonsai celebration every Memorial Day weekend.
While there aren't a ton of independent restaurants and businesses within its borders, Olive Branch has been attracting some new businesses—like Mississippi Ale House, a taproom dedicated to craft beer, and Board & Brush, a studio where patrons can learn woodworking and painting techniques while sipping wine with friends.
---
4. Reston, Virginia
Don Sweeney—Courtesy of the City of Reston
Reston was once just an idea. In the early 1960s, architect and economist Robert E. Simon mapped out a vision for a community that provided open space, recreational facilities, and aesthetic beauty.
Today, the thriving Washington, D.C., suburb offers a woodsy atmosphere that includes expanses of parks, lakes, golf courses, and bridle paths. Over 50 miles of pathways were designed to weave in and around its communities to increase pedestrian safety—and to ensure that most residents' homes were no more than a half-mile walk to village centers.
Reston Town Center, the community hub, provides an array of dining, entertainment, and shopping venues, along with headquarters for ComScore and Rolls-Royce North America; the town is also the site of a Google office and five of the largest venture capital firms in Virginia, as well as a Metro rail station for Washington commuters. Those help keep the town's unemployment rate well below the national average.
---
5. Concord, North Carolina
Charlotte Observer—Getty Images
Over 200 years ago, when two settlements compromised over the location of a county seat, the resulting town was named Concord, meaning "harmony." Today, Concord tries to live up to that tradition, bringing people together in a pedestrian-friendly downtown that features shops, restaurants, historic buildings, two live theaters, a gourmet chocolatier, and regular events. (The climate is similarly hospitable, with 214 clear days per year.)
Located about 25 miles outside of Charlotte, Concord boasts modest home sale prices, and a median income that's above the state median. The local economy is healthy, with many residents employed by local government and the health care industry; Moody's Analytics predicts strong job growth for the county through 2021.
Concord is also home to the largest outlet mall in North Carolina, with over 200 stores, and NASCAR's Charlotte Motor Speedway.
---
6. Rockville, Maryland
Mike Dobbins/Courtesy of the City of Rockville
One of Maryland's oldest towns is also one of the state's largest—and with low unemployment and an ultralow crime rate, it continues to attract newcomers. Many of its highly educated residents have jobs in the city's expanding biomedical and technology industries; operations for Quest Software and Lockheed Martin are both here.
The town's amenities help preserve its local appeal. U.S. News and World Report called Thomas S. Wootton High School the second-best high school in the state. Almost every home in Rockville is within walking distance to one of the city's 60 parks. Residents can also take guided historical walking tours and attend free monthly concerts at the Glenview Mansion. The Town Square shopping center holds over 50 restaurants and shops, and hosts regular community activities.
And if you max out your local options, Rockville offers a quick big-city escape: It's just about 45 minutes from Washington, D.C., by Metro.
---
7. Fayetteville, Arkansas
Nestled in northwest Arkansas's Ozark Mountains, Fayetteville is a combination of thriving business community, college town, and outdoors haven. Town culture and the local economy are deeply entwined with the University of Arkansas, Fayetteville's top employer. Other job opportunities at Walmart's Optical Lab, a Tyson Foods plant, and transportation logistics company J.B. Hunt help keep unemployment at an ultralow 2.7%.
Seven months out of the year, residents can pick up fresh produce at the Fayetteville Farmers' Market, located at the picturesque town square and open three days a week in season. Nearby Dickson Street runs directly to the university campus, and is lined with shops, bars, and restaurants.
Outdoor enthusiasts can explore the area's 36 parks, which offer hiking, fishing, and biking along almost 80 miles of trails and three lakes. The town's lively arts and culture scene includes the 1,200-seat Walton Arts Center, which offers Broadway tours, music, comedy, and other performances.
---
8. St. Augustine, Florida
Sean Pavone—Getty Images/iStockphoto
The oldest city in North America is still one of the best. Named Money's No.1 domestic Best in Travel destination this year, St. Augustine also comes out tops as a place to live—not just to visit.
The town's historic charm can be seen in the star-shaped Castillo de San Marcos fort and in the Spanish colonial architecture of the Old City. But the local energy is also focused on the present—and the future. The area's economy is expected to see jobs grow by 18% between 2016 and 2021, according to Moody's Analytics. St. Augustine already boasts a low 3.7% unemployment rate and an average commute time of 18 minutes, with more than 14% of residents walking or biking to work regularly.
Off hours, culture aficionados can visit the fine-art exhibits at the Lightner Museum. And beach lovers take note: The waters of the Atlantic stay warm most of the year, with temperatures in the mid-70s even in November. The waterfront offers opportunities for fishing, swimming, paddle boarding or kayaking, while the climate delivers 221 clear days a year.
---
9. Vinings, Georgia
Courtesy of Cobb County Government
Sitting along the Chattahoochee River just 10 miles northwest of Atlanta, this Peach State spot pairs antebellum heritage with modern opportunity. Vinings' signature historic attraction, Pace House, was built from the remains of town founder Hardy Pace's 17-room mansion and served as General Sherman's temporary headquarters when he was planning the siege of Atlanta. Even the big outdoor shopping area in the center of town, Vinings Jubilee, was designed to mimic the styling of the 19th century historic homes in the area—right down to the street lanterns.
Moody's Analytics predicts the town will experience 7% job growth by 2021, which should help push the unemployment rate of 4.6% even lower. On weekends, Vinings residents can take advantage of the nearby Silver Comet Trail, a 61.5 mile-long free paved trail (open to pedestrians, bikes, rollerblades, and even horses) that reaches all the way to the Alabama state line.
Vinings residents also have another thing to feel smug about: The median household income in the town, $73,103, is $22,400 more than the median for the state.
---
10. Mustang, Oklahoma
Photograph by Jeff Marzec
A 25-minute drive from the heart of Oklahoma City, the town of Mustang became well-known in the early 1900s as a spot for bountiful fruit orchards, but today it is known for its affordable housing and accessibility.
The median sales price for a home in Canadian County, where Mustang is located, is $180,583, according to realtor.com—one of the lowest among the 2,400 spots Money evaluated for its Best Places to Live analysis. The town residents also enjoy a much higher median household income than other Oklahoma residents—$66,714, as compared to the state median of $47,913.
Its proximity to Oklahoma City is also a big help to the local economy, which has only 4% unemployment. Moody's Analytics expects the area to continue to expand economically, adding 8.5% more jobs by 2021.