These Are the 10 Best Places for Singles Now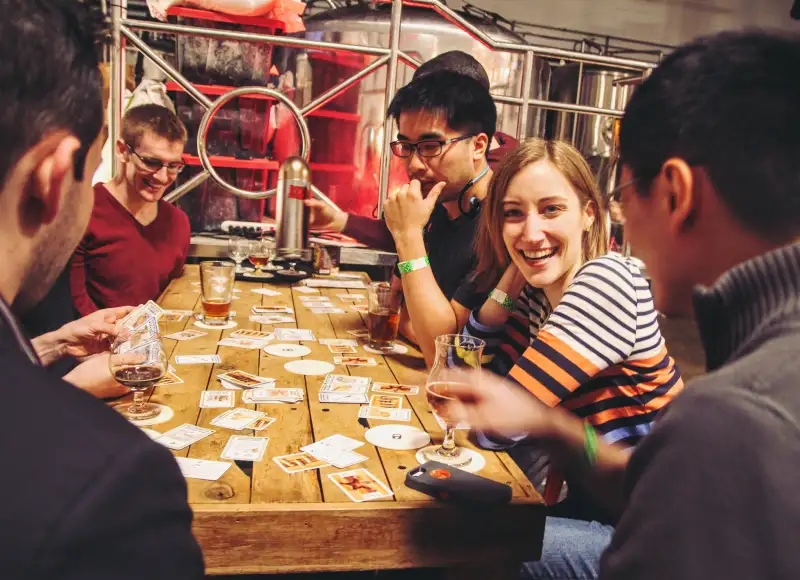 Courtesy of Aeronaut Brewing
Whether you're looking for love or just want other singles to mingle with on Valentine's Day, you want a hometown whose opportunities are economic, romantic, and social.
By combing through our Best Places database of 2,400 towns, Money identified the top spots in the U.S. for those not currently in a relationship. We incorporated many of the same factors as in our overall Best Places to Live ranking—we emphasized strong economy and job prospects, for instance, as well as a low cost of living—but we also gave more weight to the restaurants, bars and other amenities that make single life more fun. We looked for places where a larger share of the population is unmarried; we also favored more populous spots, because you don't want run out of potential people to date.
The underlying database includes towns within the U.S. that have a population between 10,000 and 100,000 people and meet other thresholds for economic health, public safety, and diversity. We also limited results to one destination per state.
What follows are Money's 10 best places to live for singles.
---
1. Fayetteville, Arkansas
Nestled in northwest Arkansas's Ozark Mountains, Fayetteville wraps up a thriving business community, a college town, and an outdoors haven. Town culture and the local economy are deeply entwined with the University of Arkansas, Fayetteville's top employer. Other job opportunities at Walmart's Optical Lab, a Tyson Foods plant, and transportation logistics company J.B. Hunt help keep unemployment at an ultralow 2.7%.
Seven months out of the year, residents can pick up fresh produce at the Fayetteville Farmers' Market, located at the picturesque town square. Nearby Dickson Street runs directly to the university campus and is lined with shops, bars, and restaurants, acting as the area's nightlife hub. On this street, you'll find music at George's Majestic Lounge or Willy D's Piano Bar, as well as plenty of drinking spots like Sideways, Brewskis, Cork & Keg and Kingfish.
Outdoor enthusiasts can explore the area's 35 parks, which offer hiking, fishing, and biking along 50 miles of trails and three lakes. The town's lively arts and culture scene includes the 1,200-seat Walton Arts Center, which showcases Broadway tours, music, comedy, and other performances.
---
2. Somerville, Massachusetts
Courtesy of Aeronaut Brewing
This cute town just north of Boston's city center is very popular with students and young professionals, thanks in part to its proximity to several of the area's prestigious universities.
You don't have to be a student to fit in, though. Nightlife centers on Davis Square, home to bars, live music venues, and theaters. The Somerville Theatre hosts a branch of the local Museum of Bad Art; it also provides a home each spring for the Independent Film Festival of Boston. Locals also hang out in Union Square, where they can check out live-music venue P.A.'s Lounge and Aeronaut Brewing Company.
Somerville brag that it has one of the largest concentrations of artists in the country. The Brickbottom district is home to two major art studios, while Starlab Studios hosts the annual late-summer Starlabfest, with music and art in Union Square. And Artisan's Asylum operates as a huge warehouse maker-space, where members can make everything from jewelry to 10-feet tall bicycles.
Another quirky aspect of the town: Each year, it hosts a Fluff Festival in celebration of the marshmallow spread, which was invented here. (It even crowns a Pharaoh of Fluff.)
---
3. Clifton, New Jersey
Courtesy of Rob DiCaterino/Flickr
You might recognize Clifton from its on-screen appearances—maybe you've caught it in The Sopranos, or seen it in the Johnny Depp film Donnie Brasco. The town has more recently been in headlines as home to the nation's best hot dog. But beyond the pop culture tie-ins, Clifton also offers singles a winning mix of affordability and access.
With New York City roughly 20 miles away, Clifton and its surrounding area boasts relatively modest home sale prices—median sale price was just $293,000 in the county— along with proximity to the city's resources. Average commute time for residents is 24 minutes, and the town also has modest crime rates.
Looking for outdoor fun? The town's recreational offerings include events and facilities in over 30 parks. Among them is Main Memorial Park, which features a large lake and is adjacent to the Clifton Stadium, site of the town's annual Fourth of July fireworks. Or you can take a stroll through the Clifton Arts Center sculpture park.
---
4. Santa Monica, California
Kristin Burns—Getty Images for The Heroes Project
Santa Monica runs along a three-mile coastline, with views of the Pacific Ocean from almost anywhere you stand. It's home to the famous Muscle Beach and iconic Santa Monica Pier, but local singles may also enjoy taking in sunset beach views at a rooftop bar such as ONYX or the Sonoma Wine Garden; you can also head out for dancing at Circle Bar, hit gastropub The Misfit for dinner, or have another round at the city's best-known dive bar, Chez Jay.
In the middle of the city, you'll find Bergamot Station, an art-gallery hub. Santa Monica is home to 75 museums and art galleries; must-sees include L&M Arts and the 26th Street Art Center, an old train depot that houses about 35 galleries. Stroll down Third Street Promenade and Santa Monica Place for a mix of cute shops and restaurants. Or, if you're after local fare, there is the Downtown Santa Monica farmers' market as well as the Main Street famers' market every Sunday morning.
Moreover, Santa Monica offers more than idyllic weather, palm trees, and sunsets on the pier. Moody's Analytics predicts continued job growth in the area through 2021. Companies headquartered here include Hulu, TOMS, and Lionsgate.
---
5. Lawrence, Kansas
Photograph by Rachel Hurst
Located between Topeka and Kansas City, Lawrence is a college town, home to the University of Kansas and the Haskell Indian Nations University. But it has plenty to offer beyond its campuses.
Rolling Stone, The New York Times and Esquire have all highlighted the thriving music scene, praising the quality of sound you'll hear here. The Replay Lounge, a rock and roll pinball bar, hosts a wide variety of live acts as well as regular open mic nights, while the Granada Theater, a former 1920s vaudeville stage, hosts more music gigs as well as comedy shows.
Residents looking for other types of cultural outings can visit the Spencer Museum of Art, which houses a large collection of contemporary and indigenous art, and the Natural History Museum, with dinosaur fossils and live insects on display.
Want to spend more time outdoors? Nature lovers can enjoy Baker Wetlands, where hundreds of different bird species nest, or Clinton State Park, where you're likely to spot deer and catfish. Walkers can get their exercise on the Lawrence Loop—a paved recreational trail, now partially complete, which will eventually span 22 miles and encircle the city.
---
6. Carmel, Indiana
Courtesy of the city of Carmel
One of the fastest-growing cities in Indiana, Carmel is located roughly 20 miles outside Indianapolis, with a picturesque Main Street and a strong economy. Unemployment is low and Moody's Analytics predicts a 11.6% increase in the number of jobs in the area by 2021, thanks to large employers including Allegion, CNO Financial Group, and GEICO.
The city's various neighborhoods offer a growing mix of entertainment options. Sun King plans to open a brewery and taproom in developing Midtown Carmel, while the City Center area features walkable shops, restaurants, and the Center for the Performing Arts. Just to the north, the Arts & Design District holds a mix of boutiques, art galleries, antique dealers, and more restaurants.
For outdoor lovers, the 125 acres of Coxhall Gardens hold lush green paths, a fishing lake, and occasional live music shows.
---
7. Bismarck, North Dakota
Courtesy of the Bismarck-Mandan CVB
The capital of North Dakota, Bismarck has a thriving economy. Unemployment is ultralow, with major employers including the state government, MDU Resources Group, Sanford Health, Basin Electric Power Cooperative, and the Dakota Gasification Company.
Yet there's also plenty to do in Bismarck once you get off work. Cocktail lovers may enjoy the nightlife at Peacock Alley, North Dakota's oldest bar and restaurant, where the drink menu includes more than a dozen different kinds of martinis. If beer is more your scene, try Laughing Sun Brewing, for craft brews and live music, or Sickies Garage, which has 50 brews on tap.
Bismarck State College is home to two separate art galleries, the Gannon and Elsa Forde; it also hosts various lectures, music performances and community events. The North Dakota Heritage Center & State Museum also offers various exhibitions. The Capitol Shakespeare Group produces a play each summer, and each fall, the two-day, seven-block-long Downtowner's Street Fair offers food and crafts from some 180 vendors.
Hikes though Bismarck can take you back in time: Some even go out looking for dinosaur bones in the area, which is known for its prehistoric discoveries. The state is known for its open landscapes and wide, blue skies; Bismarck itself, located on the Missouri River, offers dozens of parks.
---
8. Ames, Iowa
Charlie Neibergall—AP/REX/Shutterstock
Home to Iowa State University of Science and Technology, Ames can lay claim to being the birthplace of the world's first electronic digital computer. There's plenty of other research and innovation here as well, with two United States Department of Agriculture operations studying both animal health and food safety.
Campustown, unsurprisingly, is where you'll find a lot of the nightlife options and bars. The neighborhood is dominated by students but also frequented by locals; popular spots include: Es Tas, Thumb's, and country bar Outlaws. Not willing to deal with college kids? You may get a quieter night out in downtown Ames, at places like like Whiskey River or the Olde Main Brewery.
Day daters may be more interested in The Octagon Center for the Arts—which includes galleries, art courses, studios and shopping. When the weather is favorable, you can also stroll through one of the town's 36 parks or bike its 55 miles of trails.
---
9. Appleton, Wisconsin
Courtesy of Fox Cities Convention & Visitors Bureau
Sitting just north of Lake Winnebago and straddling the Fox River, Appleton offers residents a community rich in history. Liberal arts college Lawrence University, founded here, was the second coeducational institution in the country and the famous illusionist and escape artist Harry Houdini spent his childhood here.
Residents, especially single ones, enjoy Appleton's low cost of living and affordable housing. The median sale price of a home in the area is just $149,800, while unemployment is low and job prospects are strong.
In downtown Appleton, residents can catch shows by comedians, musicians, and Broadway touring companies at the Fox Cities Performing Arts Center. Just a few blocks away, the Trout Museum of Art showcases the work of regional artists as well as paintings and drawings from globally recognized names. Appleton also hosts the annual, three-day Mile of Music Festival, which features over 200 artists covering styles ranging from folk to R&B to jazz.
---
10. Bozeman, Montana
Photograph by Travis Andersen
It doesn't get much more scenic than Bozeman, a picturesque town nestled between four mountain ranges and located just 90 minutes from Yellowstone National Park. A paradise for outdoor enthusiasts, Bozeman boasts easy access to world-class skiing, fishing, hiking, rafting, and more. It also offers a charming downtown area and a surprisingly vibrant cultural scene, thanks to the presence of Montana State University and a number of art and music events like the annual Sweet Pea Festival.
Partly for these reasons, Bozeman has become a destination for urban refugees seeking access to great jobs along with a higher quality of life—some 14% of residents walk or bike to work, and the average commute time is just 13 minutes. In the past two decades, the city of (now) 42,000 has become a booming hub for high-tech companies and entrepreneurs. Oracle bought local tech giant RightNow Technologies for $1.5 billion in 2011, enabling many former employees (and newly minted millionaires) to launch their own startups. The Bozeman Technology Incubator offers free mentoring to all local tech and manufacturing businesses.
And the economy is expected to keep expanding; Moody's Analytics predicts 11.4% job growth over the next five years.
This story has been updated to remove an incorrect reference to one of the community amenities in Carmel, Ind.
Additional reporting by: Annie Nova, Ismat Sarah Mangla, and Gabriela Fernandez