These Are the Best Places in the U.S. to Launch a Career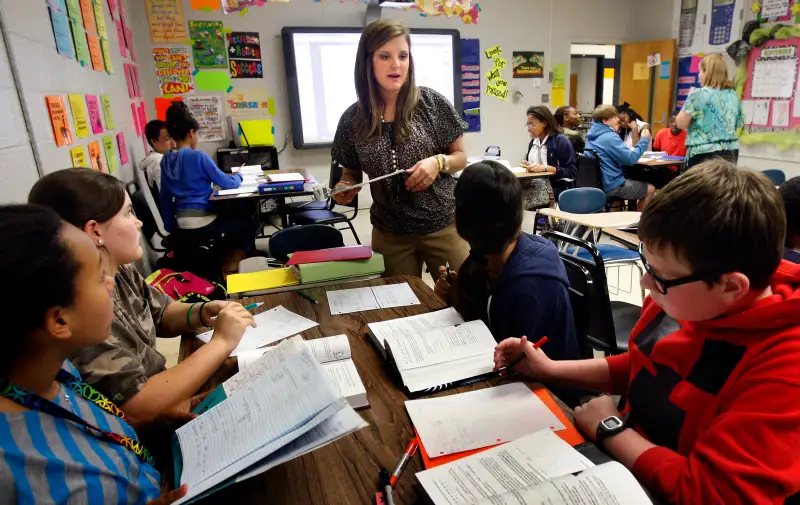 Where you live can have a big impact on your career. It shapes the type of professional opportunities available, the frequency with which they'll be offered to you, and the salaries you can command.
Start your work life in an area with a sluggish economy, and you'll likely fall short of your full potential; research has shown that your post-college salary can affect your pay over the rest of your career. But launching your journey in a place ripe for growth can give you the momentum you'll need to point you toward that six-figure salary, C-suite role, or whatever professional goal you've set for yourself.
To help you get the best head start, Money went through our Best Places to Live database of 2,400 towns and identified the spots in the U.S. that offer the best blend of affordability and strong economic performance.
We incorporated many of the same factors as in our overall Best Places to Live ranking, such as cost-of-living metics, local amenity counts (including bars, restaurants, and other attractions that would appeal to young professionals), as well as things like commute time. But we gave even greater weight to factors like job growth, economic opportunity, and unemployment rates, to ensure these were places that could propel your professional success over time.
The underlying database includes towns within the U.S. that have a population between 10,000 and 100,000 people and meet other thresholds for economic health, public safety, and diversity. We also limited results to one destination per state.
What follows, in order, are Money's 10 best places to launch your career.
---
1. Carmel, Indiana
• Projected job growth, 2016-2021: 11.6%
Settled in 1837 by Quakers, Carmel is now one of the fastest-growing cities in Indiana. Located roughly 20 miles outside Indianapolis, the town features a picturesque Main Street, with storefronts like Joe's Butcher Shop and Fish Market and Peace Water Winery.
The economy is thriving, with low unemployment and a projected 11.6% increase in the number of jobs in the area, according to Moody's Analytics. Large employers headquartered here include Allegion, CNO Financial Group, and GEICO.
The city's various neighborhoods offer a growing mix of entertainment options. Brewing company Sun King plans to open a distillery this year in Midtown Carmel; the City Center area already features walkable shops, restaurants, and the Center for the Performing Arts. Just to the north, the Arts & Design District holds a mix of boutiques, art galleries, antique dealers, and more restaurants. Outdoor options also abound. Coxhall Gardens, a 125-acre site, features lush green paths, a fishing lake, and occasional live music shows.
---
Courtesy of Visit Allen Texas
2. Allen, Texas
• Projected job growth, 2016-2021: 17%
Growth is the buzzword around Allen, an affluent suburb just north of Dallas. The city of 96,000 residents has worked to actively create economic opportunities within its borders, and the efforts are bearing fruit: Allen has seen $1.6 billion of development breaking ground in 2017 alone. A number of tech and cybersecurity companies have recently committed to the area, bringing with them hundreds of jobs. Data company CyrusOne recently purchased 66 acres of land to support an expected $1 billion data campus in Allen in the coming years.
A $91 million convention center and hotel complex will start serving patrons later this year, while international real estate firm Hines recently announced plans for the Strand, a 135-acre mixed-use development that will bring office space, retail outlets, residential options, and a greenbelt and waterway.
Among the attractions for those with families (or who plan to have one): the impressive Don Rodenbaugh Natatorium, a fully enclosed indoor water park that also a features a rock-climbing wall; a brand-new park for wakeboarding; and the largest outdoor skate park in Texas. The Courses at Watters Creek offers an 18-hole golf course for traditional golfers, along with a family-friendly six-hole course. The school system is also a big draw; the district has been ranked as one of the best in the state of Texas, and Allen students routinely outperform the state averages in both reading and math.
---
Courtesy of Tractor Supply Company
3. Brentwood, Tennessee
• Projected job growth, 2016-2021: 12.3%
Recognized for its greenery and rolling hills, this affluent suburb of Nashville has been home to country music stars and athletes. Median income here is almost three times the state median. And although home prices are relatively high, compared with many of our other winning towns, Brentwood delivers plenty of economic bang for your buck.
The area currently has a low unemployment rate of 3.5%, and is expected to see 12% job growth by 2021, according to Moody's Analytics. Big employers include Comdata, an electronic payment solutions company, and the Tractor Supply Company, a large rural lifestyle retail store chain.
Crime rates are quite low, and the thriving Brentwood Library welcomes about 1,000 daily visitors. The town's 13 parks include Smith Park, which has over 400 acres of open fields, as well as walking trails and the historic Ravenswood Mansion. Frequent fliers may like another amenity: The town is located just minutes away from the Nashville International Airport.
Brentwood has family-friendly attributes as well: Brentwood High School was named the fifth-best in the state by U.S. News & World Report this year. Overall, the town's high school graduation rate is 96%.
---
4. Olive Branch, Mississippi
• Projected job growth, 2016-2021: 11.8%
Situated right on the Tennessee state line, the city of Olive Branch offers an easy escape from neighboring Memphis, with a high quality of life, a historic small-town atmosphere, and a moderate commute of 23 minutes. The town is also expected to see nearly 12% job growth by 2021 and is home to soap manufacturer Marietta American.
Residents enjoy a weekly farmers' market at the city hall, while the city hosts events like outdoor movies on the lawn of Wesson House, a Mississippi landmark that anchors Olive Branch's Old Towne area. Brussel's Bonsai, a 175,000-square-foot nursery dedicated to the miniature trees, attracts visitors from outside Olive Branch as well—especially during its annual bonsai celebration every Memorial Day weekend. Families also love Olive Branch's safe streets, good schools, and family-friendly activities, not to mention its affordability—the median home price is $185,092, and annual property taxes average $956 a year.
While there aren't a ton of independent restaurants and businesses within its borders, Olive Branch has been attracting some new businesses—like Mississippi Ale House, a taproom dedicated to craft beer, and Board & Brush, a studio where patrons can learn woodworking and painting techniques while sipping wine with friends.
---
5. Fond du Lac, Wisconsin
• Projected job growth, 2016-2021: 4.4%
With a name that's French for "bottom of the lake" and a location at the south end of Lake Winnebago, perhaps it's not surprising that one of the biggest employers in Fond du Lac is a manufacturer of outboard motors. That would be Mercury Marine, which is headquartered here and also makes marine engines and snowmobiles.
It and other industrial and health care businesses help keep unemployment low here at 3.6%, and job growth steady, while housing and other costs remain modest. With a 19th-century heritage tied to the area's once-booming logging and milling industry, Fond du Lac is home to a picturesque downtown and historic lighthouse.
Visitors arrive for such annual festivals as the Fond du Lac County Fair, Walleye Weekend, and Fondue Fest, but residents can enjoy outdoor activities year-round at the area's largest park, Lakeside Park, with over 400 acres of open space on the edge of Lake Winnebago.
---
Anya Semenoff—Denver Post via Getty Images
6. Lone Tree, Colorado
• Projected job growth, 2016-2021: 7.9%
Denver suburb Lone Tree is a quick drive or light-rail ride into the city, making for easy work commutes or nights out—but there is plenty to keep residents occupied within the town's own boundaries.
Lone Tree boasts its own arts center, which hosts frequent music and dance performances, and the state's biggest shopping center, the Park Meadows Mall. It's also home to numerous parks and running and biking trails, including the Bluffs Regional Park and Trail, which delivers great views of the Colorado Front Range mountains and 3.5 miles of trails to explore.
The town's main hospital, Sky Ridge Medical Facility, recently underwent an expansion and serves as one of the largest local employers, helping to fuel one of Lone Tree's top draws: its steady economy. The town has an unemployment rate of only 2.7%, and residents here earn a median income of more than $115,000 a year. The area is also expected to add 8% more jobs by 2021, according to Moody's Analytics.
---
Jamie Squire—Getty Images
7. St. Peters, Missouri
• Projected job growth, 2016-2021: 10.2%
This St. Louis suburb's steady economy makes it an attractive place to work. The town's unemployment rate sits at only 3.5% and jobs are predicted to grow by 10% by 2021, according to Moody's Analytics. Commutes average a modest 25 minutes, meanwhile, and housing is very affordable, with median prices clocking in at $208,666.
While St. Louis is just 25 miles away, providing plenty of arts and dining opportunities, St. Peters aims to bring some culture closer to home. The St. Peters Cultural Arts Centre is devoted to promoting the arts through classes, day trips, art shows, and events like its Time for Tea speaker series, and the Celebrate St. Peters festival features live music, fireworks, carnival games, and rides at Lakeside Park.
Prefer to be active? The city offers more than 1,200 acres of parkland in 25 parks, along with 20 miles of paved pedestrian trails, 12 pavilions, and dozens of playgrounds, baseball diamonds, and soccer fields. Amateur and serious athletes alike flock to St. Peters's state-of-the-art 236,000-square-foot Rec-Plex, a fitness and recreation center that hosted the 2004 Olympic Diving Trials. And parents will appreciate the local school district's good reputation; students outperform the state averages in test scores on both reading and math.
---
8. Orem, Utah
• Projected job growth, 2016-2021: 12.5%
Located 45 miles south of Salt Lake City, Orem is safe, affordable, and friendly. Crime rates are low, and the average commute time—often to neighboring Provo—is a breezy 16 minutes. Home prices remain relatively modest (the median sale price is $282,173), while property taxes average $1,392 a year.
Thanks to large employers like Utah Valley University and HR solutions provider Nexeo, as well as easy access to the rest of the Utah Valley's expanding businesses, Orem boasts a low unemployment rate of 3% and is expected to see 13% job growth by 2021, according to Moody's Analytics.
Because it sits between Utah Lake to the west and the regal Wasatch Mountains to the east, there's no shortage of scenic views or outdoor activities. The 17-mile Murdock Canal Trail connects Orem with a number of cities to the north, while the 44-acre Mount Timpanogos Park is a beautiful site for hiking and picnics. (It's also home to a massive storytelling festival, which takes place every year the weekend after Labor Day.)
Families should also note the city's investment in amenities catering to children: A brand-new water playground opened last summer, with waterfalls designed to resemble nearby Mount Timpanogos and Bridal Veil Falls. The city also recently debuted its All-Together Playground, the first playground in Utah County that features accommodations for special-needs children, including ramps, rides for wheelchair-bound kids, and a soft foam floor that's safe for all. The community is also committed to creating future leaders, offering programs like "CoderDojo," a weekly coding club for kids at the public library.
---
Dale Wetzel—AP/REX/Shutterstock
9. Dickinson, North Dakota
• Projected job growth, 2016-2021: 8.9%
Thanks to the North Dakota oil boom, Dickinson has become one of the fastest-growing towns in the U.S. It boasts an unemployment rate of 4% and a strong economy centered on the energy industry as well as agriculture and manufacturing. Jobs in the area are expected to grow by 9% from 2016 to 2021, according to Moody's Analytics.
Dickinson also had attractions of its own even before the shale oil frenzy upended its economy. Long known as the gateway to Theodore Roosevelt National Park, the town is also home to Dickinson State University and the Dickinson Museum Center, a complex whose holdings range from Jurassic-era findings to artifacts from the American settlers. There's also the Ukrainian Cultural Institute, which hosts workshops on traditional Easter egg decorating.
Dickinson's other main draw is the amazing breadth of available outdoor activities: from fishing and big-game hunting to hiking, biking, and horseback riding. Residents can ride or trek the 144-mile Maah Daah Hey Trail, and can sometimes even catch the aurora borealis coloring the night sky.
---
10. Fayetteville, Arkansas
• Projected job growth, 2016-2021: 6.1%
Nestled in northwest Arkansas's Ozark Mountains, Fayetteville is a combination of thriving business community, college town, and outdoors haven. Town culture and the local economy are deeply entwined with the University of Arkansas, Fayetteville's top employer. Other job opportunities at Walmart's Optical Lab, a Tyson Foods plant, and transportation logistics company J.B. Hunt help keep unemployment at an ultra low 2.7%.
Seven months out of the year, residents can pick up fresh produce at the Fayetteville Farmers' Market, located at the picturesque town square and open three days a week in season. Nearby Dickson Street runs directly to the university campus, and is lined with shops, bars, and restaurants.
Outdoor enthusiasts can explore the area's 35 parks, which offer hiking, fishing, and biking along 50 miles of trails and three lakes. The town's lively arts and culture scene includes the 1,200-seat Walton Arts Center, which offers Broadway tours, music, comedy, and other performances.
With additional reporting by: Ismat Sarah Mangla, Gabriela Fernandez, Sergei Klebnikov and Annie Nova.