5 Ways to Get the Career Skills You Need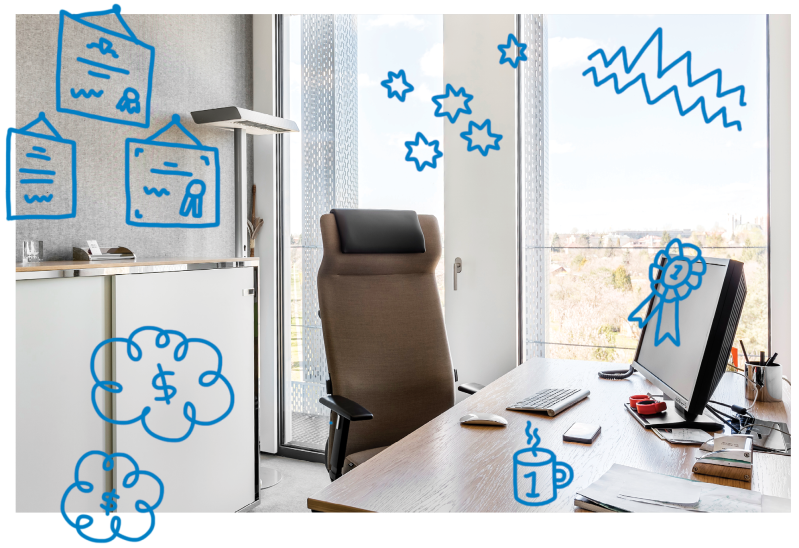 Illustrations by Adam Hayes; Getty Images
Knowing which skills are in demand is the first step. Next, you'll need to go out and acquire them—ideally, without spending large amounts of money or taking a lot of time off work.
Fortunately, you have options, and perhaps even employer support—particularly if you understand which abilities matter most to the person who signs your checks. To ensure that your efforts will be valued (and rewarded), discuss training plans with your manager during an annual review or another one-on-one conversation.
"That makes it collaborative," says Kathy Robinson, a career coach in Boston. "Give your boss a heads-up that you're trying to improve yourself and not happy with the status quo. It makes it more of a partnership."
The following five strategies can help you position yourself for success.
1. Find Free, In-house Training
Nearly 70% of employers offer formal staff training, according to a recent CareerBuilder survey of more than 2,300 hiring and HR managers. Classes cover a variety of soft and hard skills, from public speaking to the basics of data analytics. Many large firms give employees free access to online provider Lynda.com's 3,500 web-based tutorials, which range from design (a five-hour lesson on drawing vector graphics) to business strategy (such as an hourlong training session on managing budget-constrained projects).
Read More: The 8 Best Skills for Career Changers
In some cases, Lynda provides comprehensive, multi-unit "learning paths." For instance, if you want to pick up computer-aided design—No. 19 on the Most Valuable Skills list—Lynda offers four separate paths, from a 20-hour course on the Solidworks program to a 53-hour class that trains you to become an architecture CAD technician.
2. Hit the Web
Like Lynda, sites like Coursera, Udemy, and EdX offer hundreds of online classes, most of which are free or low-cost (usually less than $100). These sites are best for people who already know they can learn well on their own, says career coach Cheryl Palmer. "It takes a certain amount of discipline to stay motivated to do this type of training without any external pressure," she points out.
Want to be able to understand and exploit customer service metrics, No. 10 on the Most Valuable Skills list? Coursera has a four-week Customer Analytics course, created by the University of Pennsylvania, that will take five to six hours a week and cost $95.
To beef up business skills, Thomas Lys, a professor emeritus at Northwestern University's Kellogg School of Management, suggests a class in financial statement analysis, which will help you look at a firm's ledgers and interpret the results. "If I give you the company's reported financials, you need to know how to zero in on how well the company is doing," he says. "For example, labor expenses can be hidden under the cost of goods sold. If you're in human resources, it can be really helpful to know that."
3. Get Certified
For some skills, particularly those tied to software, recruiters and hiring managers seek out formal certifications. So if you're learning, say, SAS or medical billing tools, take accredited classes, says Randstad's Fiatte—perhaps through a professional organization or local college.
Project management, the most flexible skill we identified, falls into this category. Already doing the work? With three years of related experience, you can get certified as a Project Management Professional. You'll need 35 hours of coursework—you can use online study (some of which is free) or classroom training (often around $1,000)—and a passing grade on the 200-question exam ($555 to the Project Management Institute, which issues the credential).
Read More: Which Job Skills Are the Most Helpful for Getting Ahead?
Half of the companies in the CareerBuilder survey said they pay for at least a portion of training and certifications that employees get on their own. Even if your company doesn't have a formal program, ask whether your manager will cover at least some of the cost (and, if needed, give you time to attend class).
If you pay out of pocket—even if you'll get reimbursed eventually—you can use federal student loans to cover the bills, as long as you're taking classes at an accredited institution. And for accredited education costs your employer won't cover, you can claim 20% (up to $2,000 a year) as a lifetime learning credit on your tax return if you fall below the income limit ($130,000 modified adjusted gross income in 2016 for married couples filling jointly, or $65,000 for singles).
4. Volunteer for a Project
In some cases, suggests Paul McDonald, senior executive director at staffing firm Robert Haft, hands-on practice is the best way to learn. Is your company investigating a new cloud software package, for instance? Ask to be one of the testers and, ideally, to help with the implementation of the selected tool. "It's a way to get both learning and experience," McDonald says.
Another spot where real-life experience helps is contract negotiation, No. 5 on the list. Don't expect to be included on big transactions, says Robinson, the career coach. But your manager may let you take on a smaller deal, handle part of a client relationship, or shadow someone during negotiations. "Asking your boss to put you in that situation is the first step," Robinson says.
Palmer suggests another tactic: Pick up skills by volunteering at a nonprofit or an industry group. "You can use a site like volunteermatch.org to find local opportunities in the type of work that you want to gain expertise in," she says.
5. Line Up a Mentor
To develop a trait like strategic thinking, suggests Samantha Raniere, an executive coach in San Francisco, find a personal adviser—someone who can both demonstrate the higher-level skill and give you immediate feedback on your own projects. Ideally, this will be someone you work closely with, perhaps even your manager. "You want to work under someone who is really good at it," Raniere says.
Read More: Check Out the Full Career Skills Package Here
Again, as with most skill building, you'll probably need a mix of new insights and practical experience. "The ideal setup for success," she says, "is having an apprenticeship or mentorship, backed up by deep knowledge of the business."
Now that you know how to get the skills you need, find out what they are.
The Best Career Skills