Here's How to Answer the "How Much Do You Make?" Question in an Interview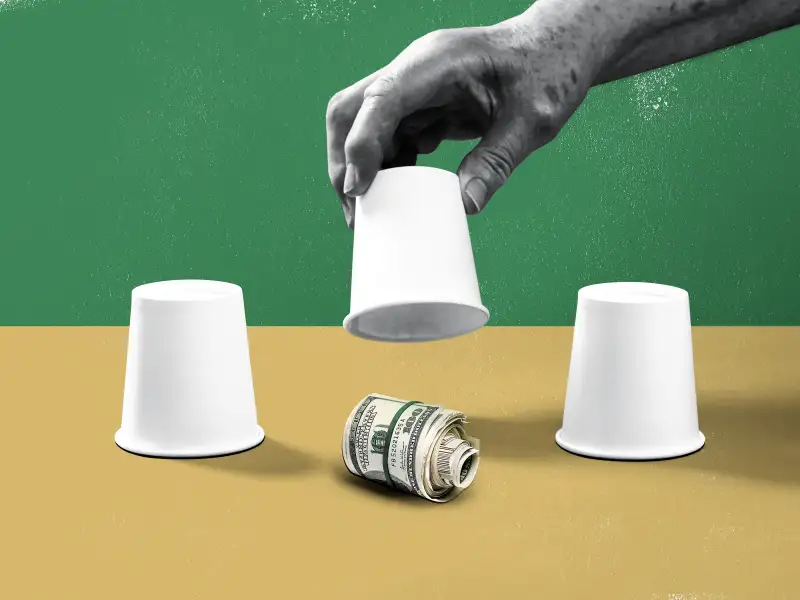 Original photos, Cups: Phil Ashley—Getty Images; Money: Peter Dazeley—Getty Images
Of all the awkward, stressful questions in job interviews, this is one of the worst: "What are you earning now?"
True, a growing number of cities and states are declaring the query illegal, in part owing to concerns it contributes to pay discrimination, especially for women. (Bans take effect in New York City in October, in Delaware in December, and in Massachusetts in January.) But where it is legal, the question is still frequently asked. The way you answer can raise—or lower—the annual salary you'll be offered.
Career coaches such as Kathy Robinson, founder of the Career Advisors Network, recommend preparing by researching the salaries of the job you're looking for on sites like PayScale and Glassdoor. Even LinkedIn can give you clues, since employers who recruit from well-established companies tend to pay better. Then, practice a response that will help you land the job—and a good salary. Here's expert advice on three winning answers:
Politely Decline
"I was advised by the recruiter that my current salary wouldn't affect compensation for this opportunity." If you're underpaid, it's tempting to avoid discussing what you're making now. But declining outright is risky: Baldly refusing can cost you the job. Even a gracious evasion can result in a lower offer, especially if you're a woman. Women who sidestepped questions about salary history got offers 1.8% below those who answered, a recent PayScale survey found. (Playing coy gained men an extra 1.2%, however.) To finesse any awkwardness, try blaming someone else, or politely hinting that the question is irrelevant, suggests Melissa Llarena, CEO of Career Outcomes Matter.
Flip the Script
"This position is a little different from my old job. Can you tell me what the responsibilities would be and what you think might be a fair salary?" Lobbing the question back to the employer and raising the issue of "fairness" can be a winning strategy, says Lydia Frank, a PayScale vice president.
Tell the Truth
"I feel well-compensated at _____. However, I'm really excited about this opening because … " To avoid shortchanging yourself, provide your full annual compensation, including bonuses, overtime, etc., and note any perks like childcare. Llarena recommends highlighting your satisfaction with your current salary to reinforce the idea that you are interested in the new job, not just the money—which, after all, isn't everything.