How Much You Can Earn in the Comic Book Industry — From Artist to CEO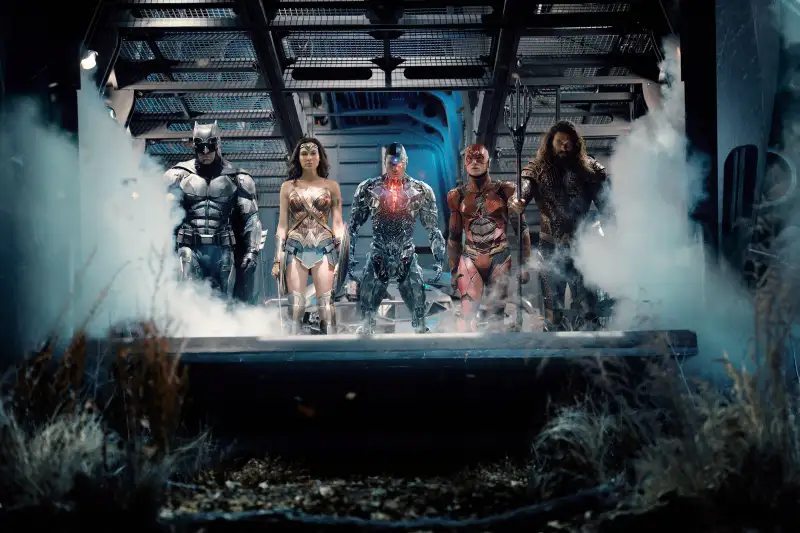 Clay Enos/Warner Bros.—courtesy Everett Collection
Marvel and DC Comics are once again facing off in an epic box-office duel this month, with the release of Thor: Ragnarok and Justice League — two superhero films that, of course, have their roots in the comic book industry. Print isn't dead to this world — the industry makes $800 million-a-year annually and employs tens of thousands to do so.
So how do you get started in this type of career? And more importantly, what does it pay?
Like any career in the arts, you can get started in the industry by going to school to and majoring in something that translates well into this world, like animation, sequential art, or illustration. Marvel artist Irene Strychalski recently told attendees of New York Comic Con she majored in sequential art and minored in animation at Savannah College of Art and Design. Other schools that comic book artists seem to gravitate towards include Ringling College of Art and Design and Rhode Island School of Design. However, if you don't want the college experience, the Kubert School is a trade school in Dover, N.J. that offers a three-year training program.
But for every successful comic book writer or illustrator who acquired a formal education, there are many more who broke into the industry by themselves. It's an industry that lends itself to freelancers and those with raw talent. Javier Garron, the Marvel artist behind Secret Warriors, worked as an architect before switching to comics. "Afternoons, evenings, nights and weekends were comics," Garron says of his 10-year odyssey to break through in the industry.
Here's what you can truly expect to make in a comic book career.
Comic Book Creator
For many comic hopefuls, the ultimate achievement is to create an entire comic book franchise. And it it becomes very lucrative if you retain the ownership rights to that work. In many cases, you'll make far more than the executive salaries at the biggest comic book publishers. Stan Lee, perhaps the most famous comic book writer and illustrator, is worth an estimated $40 million, according to Wealth-X. About 90% of that is held in cash and other liquid investments, while the remaining 10% accounts for his home in West Hollywood and his stake in POW! Entertainment, a production company that was behind projects like reality television series Who Wants to Be a Superhero?
More recently, The Walking Dead creator Robert Kirkman published his zombie-apocalypse adventure through Image Comics, which allows creators to retain the right to their work. Kirkman eventually became a partner at Image Comics and founded Skybound Entertainment, which produces the ongoing Walking Dead comics, as well as other movie and television projects including Invincible and Outcast. He is worth about $20 million, according to CelebrityNetWorth.com.
Editor
Comic books, particularly established franchises, are quite the production. So you need someone to corral all the artists and writers on the book. That's where the editor comes in. This is the person who quarterbacks the process, everything from reminding writers when the script is overdue, checking the art against the script to make sure the storytelling syncs, and proofreading the pages as they are completed. An associate editor makes between $38,000 and $41,000 at Marvel, according to Glassdoor. Meanwhile, a more senior editor at DC Comics can make up to $84,000.
Comic Book Artist
The median comic book artist salary is $36,500, according to Payscale. But it's rare for a comic book artist to land a salaried position and it's far more common for these gigs to be project-based. That means you need to be efficient. "Keep in mind that while it's usually considered that a comic artist should be able to do a page every day, that is rarely true," says Reilly Brown, an artist who has drawn various comics for Marvel, including The Amazing Spider-Man. "Most guys can only do three to four pages per week, and most comic artists work between 10-16 hours a day."
Compensation can range dramatically depending on both experience and the publisher. For example, it's not uncommon for new artists to make $2,000 for a 100-page book. Depending on fast the artist can work, that's only about $2.50 an hour for someone who spends about eight hours working on each page. However, experienced artists who design and execute the cover art can command much higher rates, up to $600 per page at some publishers.
At many of the bigger comic book companies, the art on the page is paid by the type of job—and sometimes multiple artists will be hired to do each piece.
Penciller
This person is the one who takes the story and gives it life, sketching out the scenes in pencil and crafting the basic outline of the landscape and the characters within it. Starting rates for these artists usually range from $160 to $260 per page at the big comic publishers like Marvel and DC.
Inker
mediaphotos—Getty Images/iStockphoto
This illustrator is given the task of adding depth and shading to the basic outlines created by a penciller. Usually this gig pays $75 to $100 per page.
Colorist
These are the folks who give Spiderman his iconic blue and red look—adding in the color to the pen & ink designs on the page. These artists can earn anywhere between $20 and $121 per page, according to a 2016 survey by FairPageRates.com of 100 comic professionals.
Letterer
mediaphotos—Getty Images/iStockphoto
This is the person who uses a variety of fonts and sometimes even hand-drawn calligraphy to create everything in the word balloons and illustrating the sound effects. Typically this job runs between $10 and $25 per page, according to the FairPageRates survey. "I was lettering for a long time, that's how I paid my bills," Ed Brisson, writer for Iron Fist and an Old Man Logan, told New York Comic Con attendees last month.
Writer
If you can get a salary gig, it typically pays $55, 037, according to Glassdoor. However, many times, these jobs are also paid on a project basis. Many of the publishers break up the creation of a title in an established series, hiring writers to lay out the plot and another the script. A writer can earn between $20 and $100 for an entire script outline at the bigger publishers, according to the FairPageRates survey. After an outline is in place, writers will be hired to add all of the dialogue and story to each page. At Marvel, for example, you typically earn between $80 and $100 for this job, according to artists Money interviewed.
CEO
The chief executive at a comic book company can exist in many forms, especially since DC and Marvel now operate under the management of Warner Bros. and Disney, respectively. Yet arguably the highest paid comic book executive is Marvel Entertainment's CEO, Isaac Perlmutter. He's worth $3.9 billion, according to Forbes annual ranking. He helped shepherd Marvel through bankruptcy in 1996 and eventually led its $4 billion sale to Disney in 2009. Prior to the sale, his annual salary was $750,000, according to regulatory filings. That's a hefty salary for making sure the Amazing Spider-Man continues to be amazing to readers.
One way CEOs diversify their portfolios is by expanding their comic brand into toy lines. Todd McFarlane, one of the founders and current partners of Image Comics also has a toy business: McFarlane Toys, which produces figurines for several comic book and TV franchises including South Park, Rick & Morty, Spawn and The Walking Dead. Reportedly worth around $300 million, McFarlane made a name for himself by illustrating the first appearance of Venom in the The Amazing Spider-Man comics for Marvel. He went on to create Image Comics with five other artist in 1992 and has retained autonomy over his own projects.