What Everyone Needs to Know About the Heated Battle to Take Away Your Right to Sue Big Companies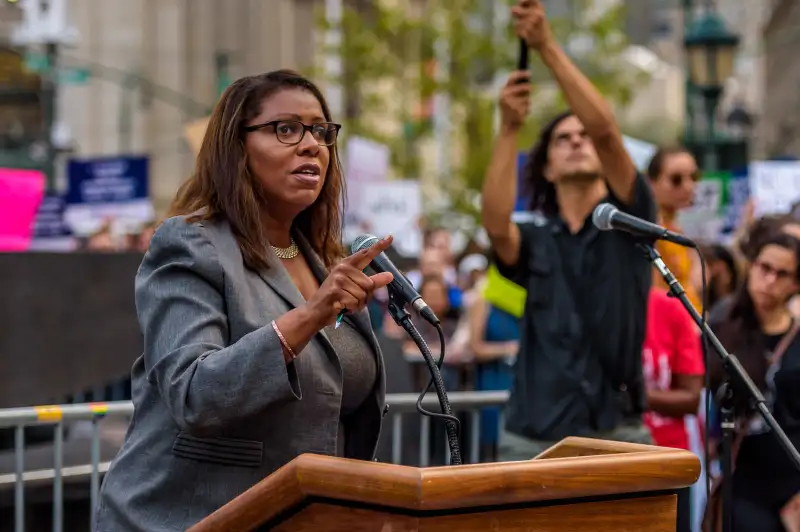 Erik McGregor/Pacific Press—LightRocket via Getty Images
Employers who take away their workers' right to sue in the case of a dispute—often through stealthy clauses buried in new-hire documents, employee handbooks, or other paperwork—are having a moment, and it's not a good one.
The Supreme Court is set to hear oral arguments today in a case that centers on whether employers can ban class actions and force employees into arbitration. A pair of studies last week spelled out just how many U.S. employees were covered by such forced arbitration clauses, which effectively move workers out of the U.S. court system and into arbitration proceedings (the answer was in the tens of millions).
Now America's biggest city is weighing whether to penalize employers who block workers from taking employment disputes to court.
New York City's public advocate, Letitia James, recommended on Monday that both the city and state of New York should ceasing doing business with companies that require their employees to use mandatory arbitration to resolve workplace disputes.
Nationwide, mandatory arbitration clauses keep about 56% of non-union employees—roughly 60.1 million American workers—out of court, according to a report issued by the Economic Policy Institute last week.
"At a time when the federal government is turning its back on workers, New York City stands stronger than ever for workers' rights," James said in a statement, adding that mandatory arbitration is a "secret system of justice" that is not transparent.
In addition to penalizing employers who use forced arbitration, James is advocating for the creation of a registry so workers can see which companies have this policy, and for requiring companies to disclose their mandatory arbitration clauses in job ads. The Public Advocate's office also recommending a review of how workers can work around arbitration to bring cases against their employers for discrimination claims.
James' office said Monday that the next step for her office would be to work toward implementing the recommendations in the report, including drafting some pieces of legislation.
This week's Supreme Court case—which is actually three cases consolidated—hinges on whether arbitration agreements that require employees to waive their right to file as a class violate existing U.S. labor laws.
Employee advocates contend that arbitration puts employees at a disadvantage, arguing that workers would have more tools at their disposal if they argue the case in court—including the ability to set up multiple depositions and make broad discovery requests. In arbitration, employers control the parameters, with some opting for no discovery and only one deposition, said Loyola legal professor Imre Szalai, author of one of last week's studies, finding that 80% of the country's 100 biggest companies use mandatory arbitration clauses.
In Monday's report, James' office found that workers only succeed in arbitration about 21% of the time. And many times, the losing party must pay all of the arbitration fees, and sometimes legal fees as well.
Companies that do bind employees to mandatory arbitration agreements typically do so through several methods. For executives, managers or those with a contract, the provision may be worked right into the employment agreement itself. Companies have also included mandatory arbitration agreements in their employee handbook, or paperwork that is handed to workers on the first day. Some even include these clauses in the employment application, Szalai says.