The 10 Best Places in America to Raise a Family Now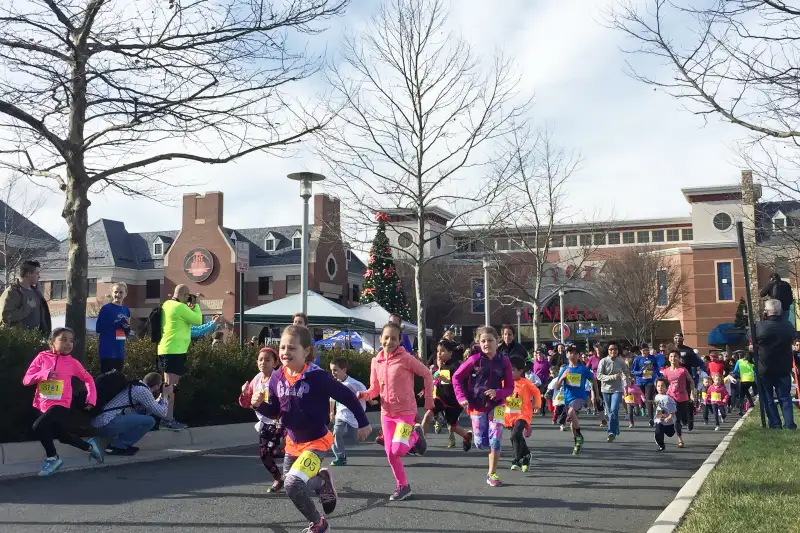 Courtesy Brambleton Group
Parents tend to see the world a little differently.
Especially when your kids are young, you need the place you choose to call home to reach different thresholds for convenience, excellence, and affordability. Proximity to restaurants and bars may get less important, for instance, while library access and school quality become key factors.
While Money's original Best Places to Live analysis takes into account many of the factors that families look for in an ideal spot, we wanted to turn the focus more directly on the things that attract those looking to raise a family.
So we started with our original set of places—you can see our full Best Places to Live methodology here—and then shifted our priorities. We kept our focus on safety, economic health, and diversity, but we amped up the emphasis on education and child-friendly amenities like libraries and parks. Knowing that parents need company (and play dates), we also looked for spots with a higher percentage of population under 50. We then limited our picks to one per state.
The following 10 places offer families quality public education, low crime, plenty of kid-friendly activities, and of course affordability—because children already cost plenty.
---
1. North Arlington, New Jersey
Courtesy of City of North Arlington
Population under 50: 60.64%
High school graduation rate: 95%
Libraries within 15 miles: 796
For those wanting a small-town feel while still enjoying the perks of a big city, North Arlington delivers. Located less than 15 miles from New York City's downtown financial district, this spot gives commuters an ideal home base, with excellent schools and low crime.
The town boasts a stellar academic record, with a high school graduation rate of 95%. And its students' test scores in both math and reading are among the highest among the 2,400 places Money looked at.
Sports fans will enjoy the easy access to the nearby Meadowlands Sports Complex, which contains MetLife Stadium, home to the National Football League's New York Giants and New York Jets teams, as well as the Meadowlands Racetrack, which hosts the annual Hambletonian Stakes.
In good weather, residents can stretch out and enjoy the outdoors at the 85-acre Riverside County Park, which has tennis courts, bocce, a dog park, fitness center, and playground. On cold or rainy days, take a shopping trip to the nearby Secaucus outlets.
---
2. Monterey Park, California
Population under 50: 58.4%
High school graduation rate: 92.3%
Libraries within 15 miles: 385
Monterey Park's enviable location, just eight miles east of downtown L.A., makes it relatively easy to commute throughout the pricey L.A. area. But this small city of just eight square miles also offers plenty of recreational opportunities within its borders, especially for families who want to unwind after work and school. Residents enjoy a weekly farmers' market, more than a dozen parks, and the Barnes Park Amphitheater, which hosts a number of free concerts and an annual Fourth of July fireworks and live entertainment event.
Parents will also be happy to note Monterey Park's high school graduation rate of 92.3%—even more attractive when compared to that of the overall county, which has a much lower rate of 78.7%.
Thanks to its ethnically diverse population, Monterey Park is also a foodie haven—you'll find everything from dim sum to tortas to Hong Kong–style cafés within minutes of one another. The city also honors the cultures of its residents by hosting several events throughout the year, including its annual cherry blossom festival, as well as Cinco de Mayo and lunar new year celebrations.
---
3. Fishers, Indiana
Population under 50: 74.1%
High school graduation rate: 95%
Libraries within 15 miles: 88
Fishers—a small city of about 86,000 just 16 miles from Indianapolis—has placed a special emphasis on creating and inviting more jobs to the community. Major redevelopment projects totaling $90 million downtown have made Fishers attractive to businesses looking to relocate. The city has also invested in Launch Fishers, a 52,000-square-foot coworking space that is designed to give entrepreneurs and tech startups a place to grow while also providing networking and business events. The efforts are paying off: Moody's Analytics projects 11.6% job growth in the city by 2021.
But don't expect all work and no play in this vibrant young city. The redeveloped downtown area boasts a number of restaurants and boutiques and a popular farmers' market every Saturday that was recently voted one of Indiana's best. (It doesn't shut down in the winter, either—it just shifts to an indoor building.) The Nickel Plate District Amphitheater hosts summer concerts and movies, as well as cold-weather festivals in the fall and winter. And participating businesses display the work of local artists for an annual arts crawl.
Fishers has emphasized preserving its green space and features 24 parks and 104 miles of nature and multiuse trails. Flat Fork Creek Park offers the highest peak in Hamilton County—perfect for sledding during Indiana's snowy winters.
---
4. Wylie, Texas
Courtesy of the City of Wylie
Population under 50: 76.2%
High school graduation rate: 94.9%
Libraries within 15 miles: 64
Located just 35 minutes outside of Dallas, Wylie is one of the fastest-growing cities in Texas and has a strong community spirit. Residents get together for such events as the annual JazzArts Fest, bluegrass festivals, the local rodeo, pedal-car races, and other outdoor concerts. Historic Downtown Wylie attracts residents and visitors with many shops, century-old buildings, and Olde City Park.
Thanks to Wylie's proximity to Lavon and Ray Hubbard lakes, families can enjoy the many hiking trails and fishing spots in the area—not to mention other activities like biking, camping, boating, and swimming.
Students in the Wylie School District tend to score above the national and state averages on the SAT and ACT; its high school graduation rate, meanwhile, is just shy of 95%. The low crime rate is well below the national average. The city is also proud of its booming economy, low unemployment, and job growth.
---
5. Lone Tree, Colorado
Population under 50: 63.3%
High school graduation rate: 90%
Libraries within 15 miles: 99
Denver suburb Lone Tree is a quick drive or light-rail ride into the city, making for easy work commutes or nights out—but there is plenty to keep families occupied within the town's own boundaries.
Despite its relatively small size, Lone Tree boasts its own arts center, which hosts frequent music and dance performances, as well as the state's biggest shopping center, the Park Meadows Mall. It's also home to numerous parks and running and biking trails, including the Bluffs Regional Park and Trail, which delivers great views of the Colorado Front Range mountains and 3.5 miles of trails to explore.
The town's schools are well regarded, with high school graduation rates at 90% and students testing particularly well in reading. Finally, the town has extremely low crime risk—another great characteristic for families.

---
6. Olive Branch, Mississippi
Courtesy of the City of Olive Branch
Population under 50: 67.8%
High school graduation rate: 90%
Libraries within 15 miles: 59
Situated right on the Tennessee state line, the city of Olive Branch offers an easy escape from neighboring Memphis, with a high quality of life, a historic small-town atmosphere, and moderate commutes.
Families love Olive Branch for its good schools, safe streets, and family-friendly activities, not to mention its affordability—the median home price is $185,092, and annual property taxes average $956 a year. Residents enjoy a weekly farmers' market at the city hall, while the city hosts events like outdoor movies on the lawn of Wesson House, a Mississippi landmark that anchors Olive Branch's Old Towne area. Brussel's Bonsai, a 175,000-square-foot nursery dedicated to the miniature trees, attracts visitors from outside Olive Branch as well—especially during its annual bonsai celebration every Memorial Day weekend.
The city also prides itself on offering accessible services to people from all walks of life. It recently opened an all-inclusive universal playground that offers, among other amenities, a wheelchair-accessible swing set.
---
7. Dickinson, North Dakota
Courtesy of the City of Dickinson
Population under 50: 64.4%
High school graduation rate: 92%
Libraries within 15 miles: 2
Thanks to the North Dakota oil boom, Dickinson has become one of the fastest-growing spots in the United States. It boasts an unemployment rate of 4% and a strong economy centered on the energy industry as well as agriculture and manufacturing.
Yet Dickinson had attractions of its own even before the shale oil frenzy. Long known as the gateway to Theodore Roosevelt National Park, the town is also home to Dickinson State University and the Dickinson Museum Center, a complex whose holdings range from kid-pleasing Jurassic-era findings to artifacts from the American settlers. There's also the Ukrainian Cultural Institute, which hosts workshops on traditional Easter egg decorating.
Another big plus is Dickinson's amazing breadth of available outdoor activities: from fishing and big-game hunting to hiking, biking, and horseback riding. Families can ride or trek the 144-mile Maah Daah Hey Trail, and can sometimes even curl up under the stars to catch the aurora borealis coloring the night sky.

Students in Dickinson's schools do exceptionally well too: Its graduation rate is high, and 43% more of the town's students meet or exceed math testing expectations than the state average. For reading, the figure is 35%.
---
8. Villa Park, Illinois
Courtesy of the City of Villa Park
Population under 50: 65.1%
High school graduation rate: 89%
Libraries within 15 miles: 207
Incorporated in 1914, Villa Park grew up as a company town for workers at the nearby Ovaltine chocolate factory. Thanks to its location—just 20 miles west of Chicago along a key railroad line—its population boomed in the 1920s, and again after World War II.
The Ovaltine factory closed in 1988, but Villa Park has become a go-to suburb with more than 22,000 residents, a variety local amenities, and low crime rates. Unemployment is modest, incomes top the state median, and housing prices are reasonable, with median home sale price for the area at around $263,000—all great for couples looking to start a family of their own.
The Illinois Prairie Path, a rail trail dating from the 1960s, runs right through town, giving cyclists easy access. The town also boasts its own nine-hole golf course.
---
9. Arlington, Massachusetts
Courtesy of Jenna Fisher/Arlington Patch
Population under 50: 60.1%
High school graduation rate: 92%
Libraries within 15 miles: 341
Just six miles northwest of Boston, Arlington is a great place for families wanting to enrich their children with a historical education. Paul Revere rode through the town on his famous midnight ride and later the American Revolution left its own mark.
Residents can travel back to that era by visiting the Jason Russell House museum, originally built in 1740 and site of the bloodiest first day of fighting during the revolution. And Paul Revere fans might note that Cyrus E. Dallin, the sculptor who crafted the Revere statue in Boston's historic North End, lived and worked in Arlington for much of his adult life, and has his own museum here.
Other notable attractions include the oldest working mill in the country, The Schwamb Mill, as well as Robbins Library. The Uncle Sam Memorial Statue commemorates Arlington native Samuel Wilson, rumored to be the original Uncle Sam.
More outdoorsy families can take a break from the historical by exploring the forest trails and fishing pond in Menotomy Rocks Park, or playing on the playground and ball fields of Robbins Farm Park—which also offers a sweeping view of the Boston skyline.
---
10. Ashburn, Virginia
Courtesy Brambleton Group
Population under 50: 71.1%
High school graduation rate: 93%
Libraries within 15 miles: 62
Located 30 miles northwest of Washington, D.C., Ashburn is known to many sports fans as home to the Washington NFL team's headquarters and training facility—but residents appreciate it for its community amenities, low crime, and strong economy.
As befits its spot within the Dulles Technology Corridor, Ashburn is home to several science- and tech-centric employers, including government contractor Telos, the George Washington University's Virginia Science and Technology Campus, and the Howard Hughes Medical Institute's Janelia Research Campus. All that keeps graduation rates high and employment humming: Ashburn is predicted to see almost 15% job growth between 2016 and 2021, according to Moody's Analytics.
With a relatively young population, Ashburn has plenty of attractions to keep families busy without having to brave the drive to D.C. At the center of town, the One Loudoun mixed-use development hosts outdoor concerts, 5K races, a farmers' markets, and other events. It's also home to an Alamo Drafthouse Cinema, which wins over movie buffs with food, drink, and special infant-friendly screenings.
Ismat Sarah Mangla and Sergei Klebnikov contributed reporting and writing.