This Is the Best Place to Live in Every State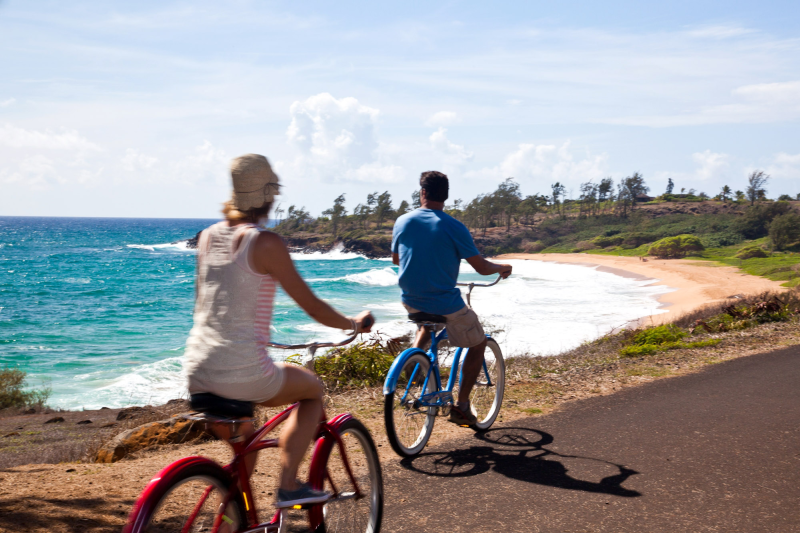 Courtesy: Hawaii Tourism Authority
What's the best place to live in your state? It should be someplace that pairs strong economic and educational performance with affordability, and then ticks other boxes as well: convenience, safety, a pleasant way of life.
Every year Money picks the Best Places to Live in the U.S. Yet because our strict requirements require towns to thread the needle, some parts of the country tend to show up more than once, while other states miss thwe list entirely. High-cost areas wind up underrepresented, as do regions that struggle with declining economies.
Many readers tell us they want to know which spots come out on top in their states. So we've combed through our data again to select the top place in all 50 states. Some of these names will be familiar, having appeared in our original list, but in several states you'll find a town making its debut.
The following 50 places are the best in their respective states.
---
Courtesy of the City of Pelham
Pelham, Alabama
Population: 21,629
Projected Job Growth: 8.65%
Median Household Income: $66,772
Located 15 miles south of Birmingham, right in the center of the state, Pelham may be well known to Alabama residents as the home of Oak Mountain State Park. It's Alabama's largest state park, and mountain biking and hiking dominate its 9,940 acres. But the area also offers economic and education advantages. The high school graduation rate is 95%, and the town is located within the state's fastest-growing county—Pelham boasts that it's home to over 5,500 businesses, nearly double that of any other town in the county.
---
wanderluster—Getty Images
Juneau, Alaska
Population: 32,841
Projected Job Growth: -1.95%
Median Household Income: $84,101
The Alaskan capital city of Juneau has a rich past filled with Native American fishermen, European fur traders, and American gold prospectors. Today, it is a mountain town and coastal community boasting scenic views of nearby glaciers and the Alaskan wilderness—an outdoor enthusiast's paradise. While Juneau technically sprawls across 2,700 square miles of land (plus a few hundred more of water), the 14 square miles of downtown offer shopping options and restaurants, plus a picturesque waterfront that bustles with cruise ships and fishing boats.
---
Laura Segall—courtesy of the city of Paradise Valley
Paradise Valley, Arizona
Population: 13,971
Projected Job Growth: 9.08%
Median Household Income: $138,192
Tucked amid scenic mountains, the affluent small town of Paradise Valley is a desert oasis that serves as a bridge between the bustling hubs of Phoenix and Scottsdale. It is the wealthiest place to live in Arizona (according to the Phoenix Business Journal), as well as one of the state's premier tourist destinations, thanks in large part to its many luxury resorts and proximity to top-rate amenities.
---
Fayetteville, Arkansas
Population: 85,793
Projected Job Growth: 6.13%
Median Household Income: $40,835
Nestled in northwest Arkansas's Ozark Mountains, Fayetteville is a combination of thriving business community, college town, and outdoors haven. Town culture and the local economy are deeply entwined with the University of Arkansas, Fayetteville's top employer. Other job opportunities help keep unemployment at an ultralow 2.7%. Seven months out of the year, residents can pick up fresh produce at the Fayetteville Farmers' Market, located at the town square and open three days a week in season.
---
Monterey Park, California
Population: 62,630
Projected Job Growth: 4.71%
Median Household Income: $57,419
Monterey Park's enviable location makes it relatively easy to commute throughout the relatively pricey L.A. area. But this small city of just eight square miles also offers plenty of opportunities within its borders, especially for families who want to unwind after work and school. Residents enjoy a weekly farmers' market, more than a dozen parks, and the Barnes Park Amphitheater. The city's population includes not only a large Chinese community but also Latinos, Japanese, Vietnamese, and others. That helps make it a foodie haven—you'll find everything from dim sum to tortas to Hong Kong–style cafés within minutes of one another.
---
Bruce Ryman/Courtesy of the City of Lonetree
Lone Tree, Colorado
Population: 14,733
Projected Job Growth: 7.89%
Median Household Income: $116,761
Denver suburb Lone Tree is a quick drive or light-rail ride into the city, making for easy work commutes or nights out—but there is plenty to keep residents occupied within their own boundaries. It boasts its own arts center, which hosts frequent music and dance performances, and numerous parks and running and biking trails. The town's main hospital, Sky Ridge Medical Facility, recently underwent an expansion and serves as one of the largest local employers, helping to fuel one of Lone Tree's top draws: its steady economy. The town has an unemployment rate of only 2.7%, and residents here earn a median income of more than $115,000 a year.
---
Denis Tangney, Jr.—Getty Images/iStockphoto
Manchester, Connecticut
Population: 58,514
Projected Job Growth: 2.72%
Median Household Income: $64,828
With roots in farming and industry, Manchester was originally settled in 1672 and gained regional fame as home to the world's largest silk factory complex—an area now preserved as a historic district. The Hartford suburb is located near the University of Connecticut and Bradley International Airport; the average commute time is just 21 minutes. Its historic Main Street boasts plenty of eateries and shops, and its local community events include board game nights and a Thanksgiving Day race.
---
Hockessin, Delaware

Population: 13,947
Projected Job Growth: 4.25%
Median Household Income: $115,124
Although primarily a commuter town, thanks to its close proximity to Wilmington and Newark, Hockessin is in one of Delaware's fastest growing areas. Once known for its mushroom and dairy farms—some of which still exist today—it is also recognized by residents for its community atmosphere and family-friendly vibe. The historic Old Lancaster Pike, which runs through the town, is lined by historic homes and leads to a nearby business and retail center.
---
Sean Pavone—Getty Images/iStockphoto
St. Augustine, Florida

Population: 13,839
Projected Job Growth: 18.23%
Median Household Income: $47,748
The oldest city in North America is still one of the best. The town's historic charm can be seen in the star-shaped Castillo de San Marcos fort and in the Spanish colonial architecture of the Old City. But the local energy is also focused on the present—and the future. The area's economy is expected to see jobs grow by 18% between 2016 and 2021, according to Moody's Analytics. St. Augustine already boasts a low 3.7% unemployment rate and an average commute time of 18 minutes, with more than 14% of residents walking or biking to work regularly. And beach lovers take note: The waters of the Atlantic stay warm most of the year, with temperatures in the mid-70s even in November.
---
Courtesy of the City of Vinings
Vinings, Georgia
Population: 12,329
Projected Job Growth: 7.18%
Median Household Income: $73,103
Sitting along the Chattahoochee River northwest of Atlanta, this spot pairs antebellum heritage with modern opportunity. Even the big outdoor shopping area in the center of town, Vinings Jubilee, was designed to mimic the styling of the 19th century historic homes in the area—right down to the street lanterns. Moody's Analytics predicts the town will experience 7% job growth by 2021; the median household income, $73,103, is already $22,400 more than the median for the state. On weekends, Vinings residents can take advantage of the nearby Silver Comet Trail, a 61.5 mile-long free paved trail that reaches all the way to the Alabama state line.
---
Courtesy of the Hawaii Tourism Authority
Kapaa, Hawaii
Population: 10,962
Projected Job Growth: 5.79%
Median Household Income: $62,546
A picturesque small town nestled at the base of Nounou Mountain (also known as the Sleeping Giant), on the island of Kauai, Kapaa draws travelers with an array of fun activities, local shops and charming restaurants. Locals benefit from the rich scene as well as from Kauai's natural assets: Beyond the numerous water sports on offer, you can enjoy scenic views from the Kauai Path or hike up the Sleeping Giant Trail.
---
Courtesy of the City of Meridian
Meridian, Idaho
Population: 92,657
Projected Job Growth: 9.22%
Median Household Income: $62,899
This Boise suburb is booming. Meridian has been the fastest-growing city in Idaho for over 20 years, and its community development department is planning for a 98% population increase over the next 30 years. Unemployment is low, and Moody's Analytics forecasts 9.2% job growth in the county between 2016 and 2021. Household income is well above the state median, while median home prices are just under $245,000. Locals can hang out in the picturesque downtown, near Generations Plaza, but they also get easy access to the gorgeous Idaho outdoors.
---
Courtesy of the City of Schaumburg
Schaumburg, Illinois
Population: 77,557
Projected Job Growth: 2.97%
Median Household Income: $73,824
Schaumburg holds a firm place in Chicago's so-called Golden Corridor, a stretch of suburbs northwest of the city that is known as an economic and manufacturing powerhouse. Residents benefit from the town's resources. You can take in a concert or theater performance at the Prairie Center for the Arts or visit the Trickster Art Gallery. Families will enjoy the Legoland Discovery Center, while shoppers can stroll the Woodfield Mall, one of the largest in the country, and choose from nearly 300 stores and restaurants. And Schaumburg's district library is one of the largest in the state, with more than a million visitors each year.
---
Fishers, Indiana
Population: 86,357
Projected Job Growth: 11.57%
Median Household Income: $87,043
Fishers, Money's No. 1 Best Place to Live in America this year, thrives on entrepreneurial energy. There are several big companies with operations within the city's borders—such as student loan provider Navient and Roche Diagnostics—but local leaders have placed a special emphasis on creating and inviting more jobs to the community. The downtown Nickel Plate District has been developed as a walkable destination for dining, shopping, and working; the area now boasts a number of restaurants and boutiques and a popular farmers' market every Saturday that was recently voted one of Indiana's best. The booming spot also preserves its green space, with 24 parks and 104 miles of nature and multiuse trails. Flat Fork Creek Park offers the highest peak in Hamilton County—perfect for sledding during Indiana's snowy winters.
---
Walter Bibikow—Getty Images/AWL Images
Council Bluffs, Iowa
Population: 63,642
Projected Job Growth: -0.09%
Median Household Income: $46,844
Sitting on the east bank of the Missouri River just across from Omaha, Nebraska, Council Bluffs is one of that city's most populous suburbs. But Council Bluffs actually predates Omaha, and has plenty of its own industrial history; no fewer than three museums highlight its strong role in the railroad industry. Newer technology has also found the location attractive. Google opened a data center here in 2007 and will have invested over $2.5 billion by 2019 in the region's economy.
---
Bill Harrison/Courtesy of the City of Lenexa
Lenexa, Kansas
Population: 54,880
Projected Job Growth: 5.47%
Median Household Income: $76,505
Just 15 miles from Kansas City, Lenexa is working hard to give locals more to enjoy within its own borders. The Lenexa Public Market, an 11,000-square-foot food hall, opened last year on the first floor of Lenexa City Hall. The town also has plans to open a farmers market this spring that will offer fresh local vegetables, fruit, meat, eggs, flowers and baked goods. Residents can also take advantage of a rosy employment outlook, 33 parks, 26 miles of biking and hiking trails, and rotating art shows in the City Hall art gallery.
---
alexeys—Getty Images/iStockphoto
Georgetown, Kentucky
Population: 31,186
Projected Job Growth: 10.89%
Median Household Income: $58,709
Located in the midst of horse country near the Kentucky Bourbon Trail, Georgetown has several factors boosting the quality of life for residents. Among its assets are a historic downtown, Georgetown College, Yuko-En on the Elkhorn—a 5½ acre Kentucky-Japan friendship garden—and America's first (and the world's largest) Toyota Manufacturing Facility.
---
Richard T. Nowitz—Getty Images
Bossier City, Louisiana
Population: 65,034
Projected Job Growth: 5.77%
Median Household Income: $47,051
Located on the eastern bank of the Red River, just across from Shreveport, Bossier City is home to Barksdale Air Force Base and has in recent years become one of fastest-growing urban centers in the state. Bossier City has attracted new residents with ongoing infrastructure improvements, a low cost of living, and rich local culture—various music and culinary festivals take place in the area throughout the year.
---
Denise Michaud/Courtesy of the City of South Portland
South Portland, Maine
Population: 25,799
Projected Job Growth: 4.61%
Median Household Income: $56,472
South Portland's defining vista is that of a beautiful rocky coastline. Dotted along the shore you'll find Fort Preble, dating from the early 1800s, the Spring Point Ledge Lighthouse, plus countless boats moored in Portland Harbor. But it's not just the waterfront that attracts residents. South Portland has become a huge retail hub for the area, with the Maine Mall and Waterfront Market, and boasts ultra-low unemployment with projected job growth of 4.61% by 2021.
---
Mike Dobbins—Courtesy of the City of Rockville
Rockville, Maryland
Population: 65,215
Projected Job Growth: 5.75%
Median Household Income: $100,158
One of Maryland's oldest towns is also one of the state's largest—and with low unemployment and an ultralow crime rate, it continues to attract newcomers. The town's amenities help preserve its local appeal. U.S. News and World Report called Thomas S. Wootton High School the second-best high school in the state. Almost every home in Rockville is within walking distance to one of the city's 60 parks. The Town Square shopping center holds over 50 restaurants and shops, and hosts regular community activities.
---
Courtesy of Chris Wangler
Waltham, Massachusetts
Population: 63,053
Projected Job Growth: 4.61%
Median Household Income: $75,106
One of the oldest cities in America, Waltham is located on the Charles River just 10 miles from central Boston. Its easy access to Route 128, the Massachusetts Turnpike, and Route 2—not to mention an MBTA station—makes commuting relatively easy. But residents don't have to "head into town" for work; there are plenty of big employers within Waltham. Diversity is also a plus here: Approximately one in four residents was born outside the U.S. That's reflected in the area's restaurants, especially along the renowned Moody Street, where you can dine on everything from pho to tapas to tandoori kebabs.
---
Courtesy of the City of Farmington Hills
Farmington Hills, Michigan
Population: 81,262
Projected Job Growth: 5.36%
Median Household Income: $71,154
This northwest suburb of Detroit is home to branches of some of America's largest corporations, as well as several cute parks. Job growth is steady, thanks in part to its proximity to America's car capital: Farmington Hills is home to offices for TD Auto Finance, Nissan and Hino Motors. And residents get easy access to boutique shops and an old-fashioned movie house just a couple of miles south, in adjacent Farmington.
---
Tom Dunn—courtesy of the City of Woodbury
Woodbury, Minnesota
Population: 68,821
Projected Job Growth: 4.81%
Median Household Income: $99,657
One of Minnesota's fastest-growing cities—with a population expected to increase another 20,000 by 2040—Woodbury is situated east of St. Paul along Interstate 94. Woodbury schools are among the best in the state, and a large part of the workforce is employed in the healthcare sector. Perhaps most appealing is the city's natural beauty: Woodbury contains 3,100 acres of parkland and eight small lakes, most with public parks and pathways, connected by over 140 miles of multi-use trails.
---
Courtesy of the Town of Olive Branch
Olive Branch, Mississippi
Population: 37,504
Projected Job Growth: 11.76%
Median Household Income: $62,958
Situated right on the state line, the city of Olive Branch offers an easy escape from neighboring Memphis, with a high quality of life, a historic small-town atmosphere, and a moderate commute. The population has exploded, rising from 3,567 in 1990 to 37,500 today, and residents no longer have to leave the town's borders now for basic services and shopping. Families love Olive Branch for its good schools, safe streets, family-friendly activities, and affordability. Residents enjoy a weekly farmers' market at the city hall, while the city hosts events like outdoor movies on the lawn of Wesson House, in the Old Towne area.
---
Courtesy of the City of St. Peters
St. Peters, Missouri
Population: 57,278
Projected Job Growth: 10.24%
Median Household Income: $71,718
St. Peters is an ideal place to start a family in the greater St. Louis area—it's just 25 miles from downtown, and the cost of housing is very affordable, with median home prices clocking in at $208,666. The school district has a good reputation; students outperform the state averages in test scores on both reading and math. And while nearby St. Louis provides plenty of arts and dining opportunities, St. Peters aims to bring some culture closer to home. The St. Peters Cultural Arts Centre is devoted to promoting the arts through classes, day trips, art shows, and events like its Time for Tea speaker series.
---
Steven Winslow—Courtesy of the City of Bozeman
Bozeman, Montana
Population: 42,435
Projected Job Growth: 11.37%
Median Household Income: $49,303
It doesn't get much more scenic than this picturesque college town, nestled between four mountain ranges and just 90 minutes from Yellowstone National Park. A paradise for outdoor enthusiasts, Bozeman boasts easy access to world-class skiing, fishing, hiking, rafting, and more. There's a charming downtown area and a surprisingly vibrant cultural scene. But it's also a destination for urban refugees seeking a higher quality of life—some 14% of residents walk or bike to work, and the average commute time is just 13 minutes—with access to great jobs. In the past two decades, the city of (now) 42,000 has become a booming hub for high-tech companies and entrepreneurs.
---
Papillion, Nebraska
Population: 20,519
Projected Job Growth: 7.27%
Median Household Income: $79,131
Money's Best Places to Live shift every year, but Papillion has been a stalwart of the rankings, gracing the top 10 half a dozen times in the past and ranking No. 2 as recently in 2015. Just nine miles south of Omaha, Papillion delivers a family-friendly blend of good schools, attractive jobs, and affordable housing. But the town has also heavily invested in its downtown area over recent years. Despite a rich schedule of community events, the Papillion Days festival remains the town's biggest star, drawing a crowd twice that of the town's population.
---
Sparks, Nevada
Population: 97,651
Projected Job Growth: 10.17%
Median Household Income: $54,230
Interstate 80 runs through the center of Sparks, a fast-growing city located just east of Reno and nestled among the picturesque surrounding mountains. An established commercial and industrial center in the region, it is quickly growing as a less expensive suburban alternative, especially among younger generations. New residents are drawn in by local attractions like the Great Basin Brewing Company, the surrounding natural beauty, and the local cultural events—including the Best in the West Nugget Rib Cook-off, as well as other numerous live festivals and farmers markets.
---
Courtesy of the City of Nashua
Nashua, New Hampshire
Population: 89,735
Projected Job Growth: 5.24%
Median Household Income: $66,872
When Money published its inaugural list of the Best Places to Live in 1987, Nashua landed in the top spot. The town has changed in the following years, as have the rankings themselves, but Nashua still delivers low-cost living. With affordable prices and no state income and sales tax, the town has become an attractive alternative for families who want access to the job market and amenities in Boston—a 45-minute commute away—but at a fraction of the price.
---
Courtesy of the City of North Arlington
North Arlington, New Jersey
Population: 15,563
Projected Job Growth: 3.91%
Median Household Income: $73,885
Located less than 15 miles from New York City's financial district, North Arlington gives commuters an ideal home base, with excellent schools and low crime, while giving access to the perks of a big city. Sports fans will enjoy the easy access to the nearby Meadowlands Sports Complex. In good weather, residents can stretch out and enjoy the outdoors at the 85-acre Riverside County Park, which has tennis courts, bocce, a dog park, fitness center, and playground. On cold or rainy days, take a shopping trip to the nearby Secaucus outlets.
---
Rio Rancho, New Mexico
Population: 93,302
Projected Job Growth: 8.18%
Median Household Income: $58,982
The third largest city in New Mexico, Rio Rancho boasts a scenic desert landscape with picturesque views of the Sandia Mountains. It has increasingly emerged as an alternative to nearby Albuquerque, with an excellent school system and status as one of the safest places to live in New Mexico. The city's largest employer is Intel, which has a plant located here.
---
Valley Stream, New York
Population: 38,702
Projected Job Growth: 3.61%
Median Household Income: $88,693
First settled by Scottish immigrants in 1834, Valley Stream is a Nassau County village that attracts residents with a reputation of being "neat, clean and safe." The location is a big draw—it's just 35 minutes from Manhattan, near two major highway arteries, and served by the Long Island Railroad. Snapple originated in Valley Stream, which also boasts several historic colonial sites, a diverse population, and a close-knit suburban community.
---
Jeff Siner/Charlotte Observer—Getty Images
Concord, North Carolina
Population: 89,301
Projected Job Growth: 8.35%
Median Household Income: $54,579
Located about 25 miles outside of Charlotte, Concord boasts modest home sale prices, and a median income that's above the state median. The local economy is healthy, with many residents employed by local government and the health care industry; Moody's Analytics predicts strong job growth for the county through 2021. Its pedestrian-friendly downtown features shops, restaurants, historic buildings, two live theaters, a gourmet chocolatier, and regular events. (The climate is similarly hospitable, with 214 clear days per year.)
---
Courtesy of the Town of Dickinson
Dickinson, North Dakota
Population: 24,771
Projected Job Growth: 8.90%
Median Household Income: $71,866
Thanks to the North Dakota oil boom, Dickinson has become one of the fastest-growing towns in the U.S. It boasts 4% unemployment and a strong economy. Yet Dickinson had attractions of its own even before the shale oil frenzy. It's home to Dickinson State University and the Dickinson Museum Center, a complex whose holdings range from Jurassic-era findings to artifacts from the American settlers. Then there's the breadth of available outdoor activities: from fishing and big-game hunting to hiking, biking, and horseback riding. Residents can sometimes even catch the aurora borealis coloring the night sky.
---
Courtesy of the City of Wooster
Wooster, Ohio
Population: 25,936
Projected Job Growth: 4.45%
Median Household Income: $43,054
Perched between the bigger Ohio cities of Cleveland and Columbus, Wooster has become a vibrant "micro-city" in its own right, with a thriving culture and diverse economic opportunities. One key draw is Wooster's academic activity. In addition to the College of Wooster, the town is home to two subsidiaries of Ohio State University: the Agricultural Technical Institute and the Ohio Agricultural Research and Development Center. Wooster also has a strong job market—unemployment is low, and the average commute is a zippy 16 minutes—as well as a historic downtown with a host of shops and restaurants.
---
Courtesy of the City of Mustang
Mustang, Oklahoma
Population: 18,549
Projected Job Growth: 8.51%
Median Household Income: $66,714
A 25-minute drive from the heart of Oklahoma City, the town of Mustang became well-known in the early 1900s as a spot for bountiful fruit orchards, but today it is known for its affordable housing and accessibility. The median sales price for a home in Canadian County, where Mustang is located, is $180,583, according to realtor.com—one of the lowest among the 2,400 spots Money evaluated for its Best Places to Live analysis. The town residents also enjoy a much higher median household income than other Oklahoma residents—$66,714, vs. the state median of $47,913.
---
David Nguyen/Courtesy of the City of Beaverton
Beaverton, Oregon
Population: 97,229
Projected Job Growth: 8.73%
Median Household Income: $58,785
While it's located in the Tualatin River Valley just seven miles west of Portland, don't think of Beaverton as just another cookie-cutter suburb. The city of 97,000 has its own personality, thanks to a thriving restaurant scene, one of the most ethnically diverse populations in the area, and big local employers. Quality of life also ranks high: Commutes average a relatively modest 22 minutes, and residents enjoy more than 100 scenic parks.
---
Courtesy of the City of Lower Merion
Lower Merion, Pennsylvania
Population: 59,668
Projected Job Growth: 4.53%
Median Household Income: $117,438
Situated along the prestigious Main Line in the Philadelphia suburbs, Lower Merion is one of the major inner-ring suburbs of Philadelphia and one of the wealthiest areas in its state. The picturesque township boasts a 97% graduation rate, low crime, and median household income that tops $117,000 a year.
There are several centers of higher education in the area as well, including Bryn Mawr, Harcum, and Rosemont colleges; Haverford College and Saint Joseph's University are also nearby. For recreation, Lower Merion residents can choose from playgrounds, swimming pools, picnic areas, and nature parks that are spread out over 25 facilities and 665 acres.
---
Anthony Ricci—Shutterstock
Warwick, Rhode Island
Population: 81,259
Projected Job Growth: 2.59%
Median Household Income: $63,414
With a rich military, nautical, and industrial history, Warwick is today the second-largest city in Rhode Island and was recently ranked the third safest city in the nation. It's home to T.F. Green Airport, whose airlines serve the East Coast as well as several European destinations. The city also has a vibrant cultural arts scene in its picturesque downtown, plus 39 miles of coastline with spectacular views of Narragansett Bay.
---
Willie Harper—Courtesy of the City of Mauldin
Mauldin, South Carolina
Population: 24,085
Projected Job Growth: 6.25%
Median Household Income: $57,480
Just a short ride from the Blue Ridge Mountains, Mauldin offers residents a blend of advantages: below-average cost of living, rosy job growth forecasts, plenty of outdoor activities, and the temperate weather to enjoy them. Boasting more than 70 acres of local parks, Mauldin is also adjacent to the 145-acre Lake Conestee Nature Park, which features hiking trails and wildlife viewing stations. The town's cultural center, meanwhile, regularly hosts more than 1,000 events each year—including concerts, theater, classes, and festivals.
---
Courtesy of the City of Rapid City
Rapid City, South Dakota
Population: 72,377
Projected Job Growth: 5.65%
Median Household Income: $47,788
Set against amazing views of the eastern slope of the Black Hills mountain range, Rapid City has long been considered one of the gateways to the West. Despite a rich cowboy and Native American heritage, the town has also become a popular spot for new residents. The city's evolving downtown area has become a center for arts and culture, and with six national parks and monuments in the surrounding area, including Mount Rushmore and the Crazy Horse Memorial, there are always plenty of things to do.
---
Amy Allmand—courtesy VisitFranklin.com
Franklin, Tennessee
Population: 72,955
Projected Job Growth: 12.33%
Median Household Income: $82,334
This Nashville suburb is bursting with culture, Southern charm, and hospitality. Founded in 1799, Franklin has preserved its beautiful Main Street and a number of Civil War–era homes. But don't get stuck in the past: Franklin also offers plenty of jobs and amenities within its city limits, with both a picturesque downtown and the CoolSprings Galleria, a major shopping center. Several health care–related companies are located in town, along with Nissan's North American headquarters and other corporate outposts—all of which help keep unemployment low and job forecasts sunny.
---
Allen, Texas
Population: 96,045
Projected Job Growth: 16.99%
Median Household Income: $104,524
Growth is the buzzword around Allen, an affluent suburb just north of Dallas. The city of 96,000 residents has worked to actively create economic opportunities within its borders, and the efforts are bearing fruit: Allen saw $1.6 billion of development breaking ground in 2017 alone. The school system is also a big draw; the district has been ranked as one of the best in the state of Texas, and Allen students routinely outperform the state averages in both reading and math.
---
Courtesy of The City of Orem
Orem, Utah
Population: 95,742
Projected Job Growth: 12.52%
Median Household Income: $54,515
Located 45 miles south of Salt Lake City, Orem is safe, affordable, and friendly—the quintessential family town. Crime rates are low, and the average commute time, often to neighboring Provo, is a breezy 16 minutes. Home prices remain relatively modest, while property taxes average $1,392 a year. The city has invested in playgrounds and other amenities catering to children, and its location, between Utah Lake and the regal Wasatch Mountains to the east, delivers a surfeit of scenic views and outdoor activities.
---
Courtesy of the City of Colchester
Colchester, Vermont
Population: 17,767
Projected Job Growth: 4.70%
Median Household Income: $69,181
Located along the eastern shore of Lake Champlain and west of the Green Mountains, Colchester offers residents stunning views and a diverse park system. With a blend of suburban and rural living, the town has convenient shopping and dining options, easy access to Burlington, excellent education opportunities (through nationally ranked public schools) and recreational activities along picturesque Malletts Bay.
---
Don Sweeney—Courtesy of the City of Reston
Reston, Virginia
Population: 61,319
Projected Job Growth: 3.07%
Median Household Income: $112,722
Reston was once just an idea. In the early 1960s, architect and economist Robert E. Simon mapped out a vision for a community that upheld open space, recreational facilities, and aesthetic beauty. Today, the thriving Washington, D.C., suburb includes expanses of parks, lakes, golf courses, and bridle paths. Reston Town Center, the community hub, provides an array of dining, entertainment, and shopping venues; the town is also the site of a Google office and five of the largest venture capital firms in Virginia, as well as a Metro rail station for Washington commuters.
---
Mercer Island, Washington
Population: 24,263
Projected Job Growth: 7.64%
Median Household Income: $128,484
Just over five miles long and two miles wide, the Mercer Island community is known for its affluent residential areas, preserved parks and nature, and miles of scenic shoreline. Located between Seattle and Bellevue on the southern portion of Lake Washington—and connected to the mainland on either side by floating bridges carrying Interstate 90—the island has a commercial hub and popular gathering spot in its town center, where islanders can enjoy events like the Mercer Island Farmers Market or Summer Celebration.
---
Backyard Production—Getty Images/iStockphoto
Morgantown, West Virginia
Population: 31,849
Projected Job Growth: 4.39%
Median Household Income: $38,060
Located along the picturesque Monongahela River and close to the Pennsylvania border, Morgantown serves as a medical, cultural and commercial hub of the region. The town may be best known as the home of West Virginia University. Residents also benefit from the Morgantown Personal Rapid Transit system (which university students can use for free), although a unusually high 17% of locals walk or bike to work.
---
Courtesy of The City of New Berlin
New Berlin, Wisconsin
Population: 40,243
Projected Job Growth: 4.60%
Median Household Income: $74,983
A western suburb of Milwaukee, New Berlin is home to outposts of multiple multinational corporations, helping keep the local unemployment rate at just 3.6%. But this previously agricultural town also pays homage to its pioneer history; an active historical society helps preserve a 4.5-acre park with buildings from the 1800s. New Berlin West High School was ranked 11th in the state, boasting a 98% graduation rate. The city also offers plenty of family activities, screening movies outdoors during the summer and hosting an annual family camp-out with scavenger hunt, s'mores, and a night under the stars.
---
River North Photography—Getty Images
Cheyenne, Wyoming
Population: 61,950
Projected Job Growth: 2.24%
Median Household Income: $56,593
Named for the Native American Cheyenne nation and settled as a site along the Union Pacific Railroad in 1867, the Wyoming state capital conjures up images of cowboys, rodeos, and the Wild West. Residents can choose from an abundance of recreational outdoor activities, and immerse themselves in the thriving arts scene downtown. Cheyenne is also home to the world's largest outdoor rodeo and Western celebration—Cheyenne Frontier Days, a festival that dates to 1897.
---
Methodology
To identify Money's Best Places to Live in Every State, we used the same data set that yielded our overall Best Places to Live ranking: We looked only at places with populations between 10,000 and 100,000, then eliminated any place that had more than double the national crime risk, less than 85% of its state's median household income, or a lack of ethnic diversity.
We then collected about 170,000 different data points to narrow the list. We considered data on each place's economic health, cost of living, public education, crime, ease of living, diversity, and amenities, all provided by research partner Witlytic. Our partners at realtor.com contributed data on housing market costs and growth. We put the greatest weight on economic health, cost of living factors, and public school performance.
Finally, reporters researched each spot, interviewing residents, checking out neighborhoods, and searching for the kinds of intangible factors that aren't revealed by statistics. From the resulting data, we identified a single winner from all 50 U.S. states.
See the full methodology and sources for Money's Best Places to Live rankings.
With additional reporting by Ismat Sarah Mangla and Gabriela Fernandez
This story has been updated to clarify the location of some amenities in and around Farmington Hills, Mich.