Here's What These 15 Successful People Eat for Breakfast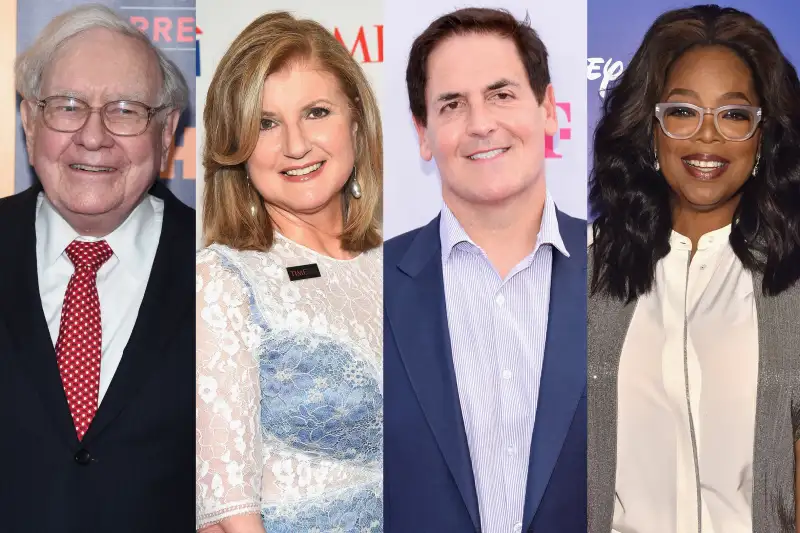 From day one, we're told breakfast is the most important meal of the day, but with busy schedules, social media profiles in need of constant care and maintenance and new plotlines of Game of Thrones to argue about - who has time?
Extremely successful people, that's who.
Check out what some of the world's biggest names eat for breakfast each day — and take inspiration for your early morning routine.
1. Warren Buffett
Daniel Acker—Bloomberg via Getty Images
Every morning for the past 54 years, billionaire Warren Buffett hits up McDonald's. He orders one of three items from the fast food chain and swears he never spends over $3.17.
Buffett will pay $3.17 for a bacon, egg and cheese biscuit sandwich or $2.95 for a sausage, egg and cheese sandwich.
"When I'm not feeling quite so prosperous, I might go with the $2.61, which is two sausage patties, and then I put them together and pour myself a Coke," he says in the HBO documentary "Becoming Warren Buffett."
---
2. Oprah
Alberto E. Rodriguez—Getty Images for Disney
Since leaving her talk show, Oprah Winfrey, has been a TV producer, a Weight Watchers spokesperson and investor, and gotten back into acting. She may be branching out professionally, but she told People she has her "usual" for breakfast everyday.
"I do an egg, toast, because I love bread, and maybe an eighth of an avocado. Instead of coffee, chai tea," she says.
---
3. Nick Saban
John David Mercer—USA Today Sports/Reuters
The University of Alabama's head football coach considered to be top of the class as far as college football goes. So you shouldn't bat an eye when you learn that his breakfast of choice is two Little Debbie Oatmeal Creme Pies.
---
4. Michelle Obama
Mike Coppola—Getty Images for MTV
Former First Lady Michelle Obama not only advocates for healthy lifestyles, but has one herself. When EatingWell Magazine asked her what she had for breakfast, Obama said she had "scrambled eggs, turkey sausage and grapefruit" that morning.
---
5. Ina Garten
Lloyd Bishop—NBC/NBCU Photo Bank via Getty Images
If you've ever watched Barefoot Contessa Ina Garten's Food Network shows, you know her recipes aren't for novices. But good news: she keeps her breakfasts simple.
"I've had the same thing for breakfast every day for 10 years," she told Bon Appetit. "Coffee and McCann's Quick Cooking Irish oatmeal with lots of salt." Why salt? "I don't want it to taste like wallpaper paste," Garten added.
---
6. Nancy Pelosi
With as busy as she is, House Minority Leader Nancy Pelosi's mornings start off sweet. She has eaten dark chocolate ice cream for breakfast everyday for years. "I don't see it as different from having a cup of coffee," Pelosi told Food & Wine. No word on whether sprinkles are involved.
---
7. Beyoncé
Jason LaVeris—FilmMagic/Getty Images
When you're busy breaking the internet with posts of your newborn twins, naturally you'll want to start the day off right.
Last year, Queen Bey revealed to Shape what her go-to breakfast options are.
"I always have breakfast—say, scrambled egg whites, a vegetable smoothie, or whole-grain cereal with lowfat milk."
---
8. Mark Cuban
The Shark Tank judge and Dallas Mavericks owner swears by Alyssa's Cookies as his go-to breakfast.
"I live on these cookies. They are 190 calories each—high protein, high fiber, low carbs. I eat two and have a cup of coffee. I loved them so much I invested in the company."
---
9. Arianna Huffington
Gabriel Olsen—FilmMagic/Getty Images
Huffington Post founder and current CEO of Thrive Global Arianna Huffington keeps her breakfast simple and specific. Huffington told CNN she chooses "fresh fruit, poached eggs and two hot cups of Bulletproof coffee" for her first meal of the day.
---
10. Emma Watson
Jason LaVeris—FilmMagic/Getty Images
In between acting, modeling and serving as a UN Women Global Goodwill Ambassador, Emma Watson still makes time for breakfast.
"I make a really amazing egg tortilla in the morning. It's my special thing. I make guacamole, salsa, and scrambled eggs, and then I cook the tortilla. It's pretty simple, really, but yummy," Watson told Marie Claire. Dumbledore would approve.
---
11. Katia Beauchamp
Ben Rose—Getty Images for Birchbox
Birchbox CEO and cofounder Katia Beauchamp starts her day at 6:45am, but in between taking care of her twin boys and prepping for the day, doesn't get around eating until 9. " I eat breakfast once I get to work – usually a Chobani yogurt," she said.
---
12. Karl Lagerfeld
Edward Berthelot—Getty Images
The 83-year-old fashion legend says the first thing he does when he gets up is have breakfast.
"I have two protein shakes made for me by my doctor —they have a chocolate taste and no sugar, of course—and steamed apples. That's all. I don't like anything else in the morning."
---
13. Hugh Hefner
Charley Gallay—Getty Images for Playboy
The 91-year-old Playboy founder's executive chef told Yahoo that he has a catalog of 31 meals that he can choose from. However, his daily breakfast order isn't a 5-star meal. Everyday at 11:30am, Hefner has "a jelly doughnut from Los Angeles donut shop Winchell's and half a Star Ruby grapefruit."
---
14. Diane Von Furstenberg
Ray Tamarra—GC Images/Getty Images
Another yogurt supporter! Fashion designer Diane von Furstenberg, known for her iconic wrap dress, says, "For breakfast, I eat fruit—pomegranates, kiwi, papaya—sometimes with yogurt and black coffee."
---
15. Sara Blakely
Astrid Stawiarz—Getty Images for The Belly Art
Spanx founder Sara Blakely says she tries to make a smoothie every morning for breakfast.
"Here are my ingredients: a chocolate protein powder pack, half an avocado, two dates (dates are the key—they add sweetness and make everything else tolerable), kale, a full lime juiced, chia seeds, frozen wild blueberries, four to five frozen dark cherries, two scoops of ice, cold water, basil, fresh mint leaves, cinnamon, and cayenne pepper. Walnuts on the top. Eat it with a spoon."