9 Wild Ways Professional Athletes Spend Their Millions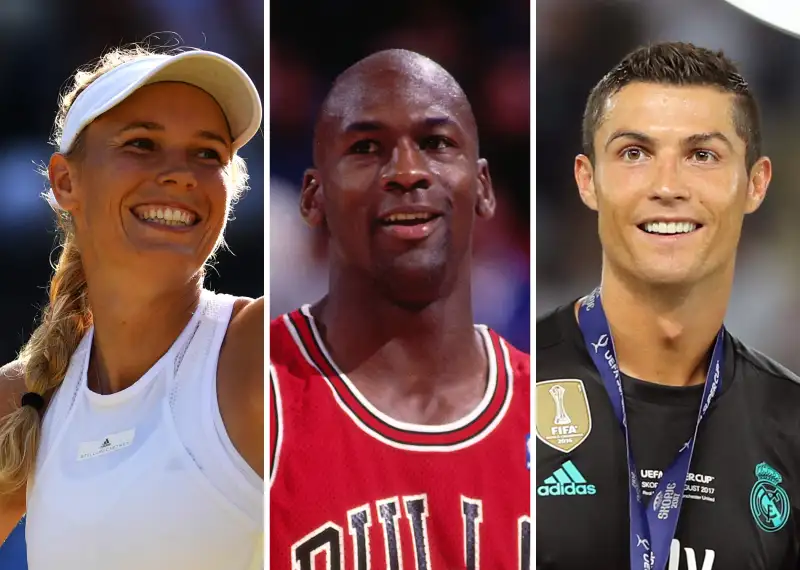 Lavish contracts are doled out daily to professional athletes and in many instances, they become overnight millionaires. But how one spends a new found fortune differs from athlete to athlete we found. Take a look below at the many different ways athletes have spent their money over the years — some go all out, while some go to the drive thru.
1. Shaquille O'Neal blew through a $1 million in a day
Half an hour after he signed his first NBA contract with the Orlando Magic in 1992, Shaq made it rain at the car dealerships.
"Got me a black [Mercedes Benz] and then I got some ice, got some jewelry, and it cost me around $200,000. So I get home, and my father said, 'That's a nice car. Where's my car?' And I'm no dummy. $1 million minus $150,000? I said, 'I have $850,000 left. Let's ride.' So I rode and I got him one and then I got my mother one and then did some more shopping," he told an audience at Springfield College in Massachusetts last fall.
Shaq apparently went a little too crazy and said he was called the next day and informed he was "$200,000 in the hole." After that incident, he says he vowed to be more careful with his money.
---
2. Lionel Messi buys some quiet time
Forget a passive aggressive note: Lionel Messi, Barcelona superstar forward worth $340 million, reportedly thought his next door neighbors were too noisy, which disturbed him and his family's peace. So, he bought their house and added it to his estate. If you can't beat 'em, buy 'em.
---
3. Floyd Mayweather parties with Hotline Bling
Boxer Floyd Mayweather's is worth roughly $400 million, which allows for lavish expenses like throwing his daughter Iyanna a serious Sweet 16 birthday bash. Artists Drake and Future performed for her and 200 guests in the Grand Ballroom at the Mirage Hotel in Las Vegas. Justin Bieber even left her a personalized birthday shout-out via video recording.
4. Joe Flacco's (un)sweet deal
How did this athlete celebrate a new $52 million dollar contract with a $29 million dollar signing bonus in 2013? With nuggets. At the time, ESPN reported that the six-year contract made the Baltimore Ravens quarterback "the highest paid player by average annual value in NFL history."
Flacco was seen a couple of hours after he signed at a Mcdonald's drive thru, where he ordered a 10-piece chicken McNugget meal with fries and an unsweetened iced tea for $6.99.
---
5. Mike Tyson's eye on the tiger
Former boxer Mike Tyson's purchases have been far from frugal. One of his most ridiculous splurges was when he bought three white Bengal tigers, which he owned for a year.
Not only did each tiger come at a price tag of $70,000, but feeding these big cats cost an additional $200,000. It doesn't stop there though. He even shelled out $125,000 for an animal trainer to care for them while he was in Las Vegas. Needless to say, Tyson ended up selling them — not a bad move, after someone tried to sue him because of a tiger bite.
---
6. Cristiano Ronaldo scores some wheels
NurPhoto via Getty Images
You can have the most expensive hobbies in the world when you're worth millions. Cristiano Ronaldo's comes in the form of expensive cars. His car collection, currently comprised of 19 vehicles, is valued at $4.9 million. The priciest one in Ronaldo's garage is the Bugatti Veyron, which costs around $1.7 million.
---
7. Caroline Wozniacki's dream come true
Sometimes, you just have to buy things for old times sake. Caroline Wozniacki, former world No. 1 tennis player, fulfilled one of her childhood dreams of buying a red Ferrari last year.
In a letter to her younger self, the tennis star who's now cashed in over $20 million in prize money wrote, "If you've thought it through, and you can make it work without doing any long-term damage to your finances, then it's O.K. to reward yourself sometimes. And you love that car. So buy it."
---
8. Al Jefferson's amazing night sleep
Finding a comfortable bed when you're 6'10" might be difficult, but not if you have money to blow. When Al Jefferson played for the Utah Jazz, he spent $23,000 on a 10'x12' bed. Keep in mind, that means that his bed is 120 square feet, which is bigger than some micro-apartments in New York City.
---
9. Michael Jordan's 'flights'
What does a billionaire athlete do with his money? CBS reported that Michael Jordan bought a personalized private jet that cost $30 million. The MJ-G550, which has an Air Jordan symbol on it, has been recently upgraded to have an elephant print design.