8 Ways You Can Save Money at Expensive Restaurants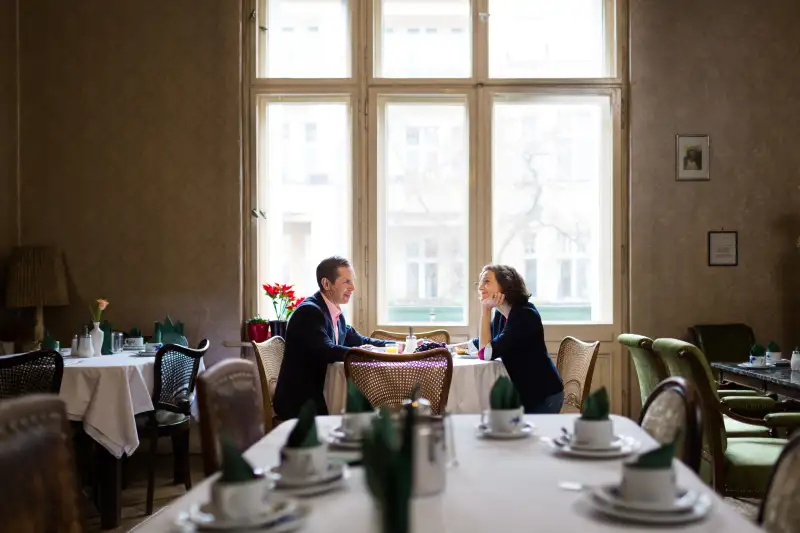 Hinterhaus Productions—Getty Images
It's never fun to go out to a nice meal and feel by the end like you got ripped off. Which is why it's important to go into any restaurant, whether it's fast food or haute French dining, with some education about what you're getting and what you should be getting.
We talked to Mark Pastore, president of New York City's acclaimed meat purveyor Pat LaFrieda—which works with high-end establishments including The Spotted Pig and Minetta Tavern—about how to look for value when you go out to eat. Pastore knows of what he speaks: He says he eats out four to five days a week. Next time you're ordering at a restaurant, keep these tips in mind.
1. It pays to be vegetarian.
"There's really no cheap meat" in the United States, Pastore says, as long as it's quality product. So if you've been thinking about removing animals from your diet, it certainly won't hurt your wallet.
2. But not every type of meat is created equal.
At least in terms of cost, there is a clear order. "Poultry is always going to the be the cheapest," Pastore says. From there it goes: pork, beef, veal, and then lamb, which is the "most expensive." So load up on duck and pork chops.
3. Forget about any unusual meats.
"Once you delve into the wild game market, it's all very expensive, because there aren't many people raising the animals," Pastore says. "A whole rabbit would sell for close to $7 a pound fresh on the street. A whole chicken goes for about $1.25 a pound." Elk and bison are delicious, but know you're paying a serious premium for them.
4. Steak isn't as expensive as you think it is.
At least, if you know what cut you're getting. Prime beef, the highest-grade option (or as Pastore calls it, "the Rolls-Royce" of steaks), has gotten "very expensive" this year thanks to supply and demand. But look out for "lunchtime cuts" that can be amazing in the hands of a talented chef, even when it's not lunch: flat-iron steaks, skirt steaks, hanger steaks, and flank steaks.
5. Try lunch instead of dinner.
"Lunch menus will always be more inexpensive than dinner," Pastore says. The same dishes will go for less, and restaurants are more likely to feature budget-conscious items in the middle of the day.
6. Seek out the neighborhood standby.
Restaurants that specialize in one thing come with an added cost. "If you want a great steak and you want a steakhouse experience, you go to one of the classic steakhouses, and you're prepared to pay those prices," Pastore says. But New American-style restaurants, especially ones full of locals, offer a wide variety of dishes at different price points.
7. Avoid specials.
They might seem enticing, but the problem with specials, Pastore says, is that the food tends to be something "they either want to feature, or I joke a lot of the time it's what they're pushing that they can't sell." There's an old saying in the restaurant business: "You sell it, or you smell it." Restaurants also commonly won't tell you the price of a special. "Then it's wait until you get the check, and bam, you got nailed."
8. But don't be afraid of the prix fixe menu.
A number of great, normally expensive restaurants offer fixed-price menus, whether every night or only at certain times. They limit what you can experience, but they also tend to highlight signature dishes at a discount. "They're generally a great deal," Pastore says.
The best news? There's never been a more affordable time to eat out. Across the board, restaurants have gotten more casual while paying more attention than ever to ingredients—which means great food at a better price. "We've gone from a lot of white tablecloths to a lot of wooden tables that we sit at, and people enjoy a more communal style of eating," Pastore says.