Acceptance Auto Insurance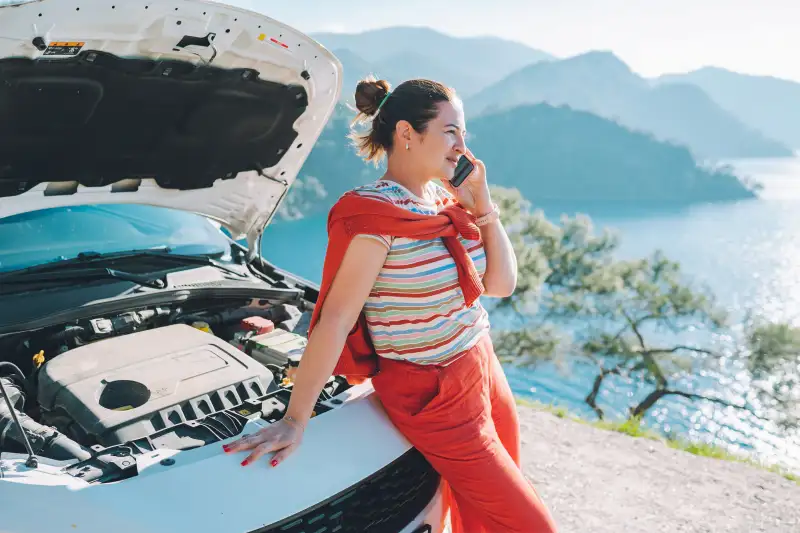 Acceptance Insurance provides a range of auto insurance lines for drivers in 17 states. While uncompetitive compared to most major auto insurers in terms of price, Acceptance stands out for its coverage of high-risk drivers. Individuals who struggle to get auto insurance elsewhere due to age, poor credit scores, DUIs and other traffic infractions may have an easier time obtaining a policy through Acceptance.
In this article, we'll take an in-depth look at Acceptance's auto insurance offerings. We discuss its pros, cons, accessibility, coverage types, financial strength and more. Continue reading to get a full picture of Acceptance auto insurance.
Best for high-risk drivers
Acceptance stands out as a top pick for high-risk drivers. These drivers may struggle to qualify for auto insurance policies from other major insurance providers due to past traffic infractions, such as speeding tickets, reckless driving citations or DUIs. Very young drivers and drivers with bad credit scores may also find it easier to qualify for an auto insurance policy through Acceptance.
However, this comes at a premium. In exchange for insuring high-risk drivers, Acceptance offers lackluster rates. It also provides weak customer service according to numerous review websites. Consider Acceptance Insurance an option of last resort for car insurance.
Acceptance auto insurance pros and cons
Pros
Offers many coverage options for at-risk drivers
Will file SR-22 forms on behalf of individuals who require it
Numerous insurance discounts are available
Cons
Marginal financial strength rating by AM Best
Low customer satisfaction ratings
Uncompetitive pricing
Pros explained
Many commercial auto insurance companies will refuse to cover at-risk drivers. Acceptance excels in providing coverage to drivers who won't qualify elsewhere. It also provides numerous discounts, including ones for students, members of the military and customers who set up automatic payments.
Excellent for at-risk drivers
Acceptance Insurance specializes in helping customers with a checkered driving history or who are otherwise considered at-risk. If necessary, Acceptance will file an SR-22 form, which proves that you meet the requirements for car insurance, on your behalf. Drivers found guilty of certain traffic infractions may have to file this form with their state in order to drive legally. Not all auto insurance companies will file an SR-22.
Additionally, Acceptance has a TicketProof coverage option that offers up to $650 in reimbursement annually for select legal fines and fees.
Applications likely to get accepted
Acceptance's lenient standards make it likely that your application will be accepted. For example, if you have a DUI or a reckless driving charge, many large insurance companies may choose not to issue a policy in your name.
While Acceptance doesn't approve all applicants, it certainly accepts more high-risk applicants than many other major insurance companies.
Cons explained
While Acceptance is a solid choice for individuals who would struggle to find auto coverage elsewhere, the company does have its drawbacks. Its weak financial position and low customer satisfaction ratings are chief among them.
Low financial strength
According to AM Best, a large credit rating group that specializes in insurance, Acceptance Insurance suffers from financial instability. AM Best recently downgraded Acceptance from a B, or fair rating, to a C++, or marginal rating. This reflects Acceptance Auto Insurance's weak balance sheet and marginal operating performance.
For consumers, this means that Acceptance has a greater risk than other insurers of becoming financially insolvent. This could negatively impact its ability to pay out insurance claims.
Low customer satisfaction
Online reviews from platforms like the Better Business Bureau (BBB) indicate low levels of customer satisfaction with Acceptance. Many reviewers complain about poor over-the-phone service and mishandled claims by adjusters. The company has a 1.3 average star rating from the BBB and a considerable number of complaints lodged with the National Association of Insurance Commissioners (NAIC) for a company its size.
Acceptance auto insurance plans and offerings
Acceptance has a number of different insurance plans and offerings. In this section, we'll go over several of the most popular auto insurance options.
Keep in mind that state-level auto insurance requirements vary. Before making your purchase decision, double-check your state's plan and minimum auto insurance coverage requirements.
Bodily injury liability car insurance
If you cause a car accident, bodily injury coverage will pay for various costs associated with the other party's injuries. These include:
Medical care
Legal expenses
Lost income
Pain and suffering
Funeral expenses
Your bodily injury insurance will not pay for injuries that you sustained if the other party is at fault. In that case, you would have to rely on the other party's insurance or on your own uninsured or underinsured motorist policy.
Many states legally require drivers to purchase bodily insurance. Plan holders can extend coverage limits with an umbrella policy.
For example, if your bodily insurance policy has a maximum limit of $250,000, you could buy an umbrella policy that would raise the coverage limit to $1,000,000. If an accident occurs, your primary policy will cover the first $250,000 and your umbrella policy will cover the remaining $750,000.
Property damage liability insurance
This type of liability insurance pays for property damages that the other party sustains in an auto accident when you're found at fault. It does not cover damage to your own property, nor does it pay for medical bills. However, it may pay for legal fees and other costs associated with your accident.
For example, if you crash into a storefront, your coverage may pay both to repair the physical damage and to reimburse the owner for lost revenue caused by your accident. Virtually every state requires drivers to carry this form of insurance.
Collision coverage
Collision coverage pays for repairs to your vehicle after a collision. Going back to our earlier example, after running into a storefront, your collision coverage would kick in to cover the cost of fixing your car.
Lenders often require borrowers to carry collision coverage. However, if your car is paid off, this form of insurance may be optional.
Medical payments coverage
This coverage option will pay for various medical costs incurred by you and sometimes passengers within your car even if you were at fault. Medical payment insurance may also cover funeral expenses.
Most states do not require drivers to purchase coverage. However, purchasing medical payment coverage may prove financially savvy in the event of an accident.
Personal injury protection
Personal injury protection (PIP) coverage covers medical expenses for all passengers in the policyholder's vehicle regardless of who caused the accident. Drivers living in one of the 12 states that require PIP insurance will have to purchase coverage before legally getting on the road.
Uninsured motorist/underinsured motorist coverage
As the name suggests, this form of auto insurance coverage protects policyholders from collisions with drivers who either don't have auto insurance or have inadequate coverage. Uninsured (UM) and underinsured motorist (UIM) coverage may be sold separately or together.
They may also be separated by the type of liability covered. For example, in some states, you will have to purchase uninsured motorist bodily injury (UMBI) coverage separately from uninsured motorist property damage (UMPD), while in other states, you can purchase them bundled together.
UMBI covers expenses related to injuries suffered by you and any passengers in your car at the time of the accident. UMPD pays to repair or replace your vehicle.
Many states legally require uninsured or underinsured motorist coverage. Even if you live in a state without a legal purchasing mandate, you should still consider UM and UIM coverage to protect against costly vehicle repairs and unexpected medical bills.
Acceptance auto insurance pricing
Insurance quotes from Acceptance are higher than the industry average. Even for auto insurers that accept individuals with poor credit, Acceptance stands out as uncompetitive.
We recommend that you shop around before committing to an insurer. Acceptance may prove the best option for certain high-risk individuals, but if you qualify for coverage from a major insurer, you're probably better off going with the competition.
For more information on auto insurance pricing, check out our articles about how much car insurance is and the best cheap car insurance.
Acceptance auto insurance financial stability
Acceptance's shaky financial standing should concern any existing or potential customers. AM Best's recent downgrade of Acceptance's credit rating suggests the company may experience financial difficulties in the near future. AM Best cited issues like:
Inflationary pressures
Labor shortages
Supply chain problems
A weak balance sheet
Increased competition
Geographic and product concentration
If you have Acceptance auto insurance and would like to switch over to another provider, read our guide on how to switch car insurance. Then consult our review of the best auto insurance companies to select your new insurer.
Acceptance auto insurance accessibility
Compared to most major auto insurance companies, Acceptance provides lackluster accessibility. Although it offers two toll-free lines, a texting service and online contact methods, a lack of 24/7 phone support may impact your chances of speaking with a real human. Customer complaints also suggest poor communication with claims adjusters.
Availability
Acceptance auto insurance locations can be found across the 17 states in which the company operates. This includes:
Illinois
Ohio
Alabama
Arizona
California
Florida
Georgia
Indiana
Mississippi
Missouri
Nevada
New Mexico
Pennsylvania
South Carolina
Tennessee
Texas
Virginia
As you can see, Acceptance is not confined to any one region of the country. However, it's mostly clustered in the South and Midwest, with a presence on both coasts.
Contact information
You can file a claim or sign up online at any hour of the day through the Acceptance website. You can also:
Call the toll-free customer service line at 1-800-321-0899 from Monday through Friday between 6 a.m. and 8 p.m. CST (8 a.m. to 5 p.m. Saturday)
Receive a quote by calling 1-877-405-7102 from Monday through Friday between 6 a.m. and 8 p.m. CST (8 a.m. to 5 p.m. Saturday).
Text Acceptance at 615-912-9200
User experience
Reviewers on most major consumer feedback platforms report a poor user experience. While the sign-up process is easy, numerous customer complaints about the claims process and bad customer service on the BBB website suggest Acceptance may not be the most user-friendly insurance provider. The company's lack of a 24/7 toll-free line also may pose difficulties for some customers.
Acceptance auto insurance FAQ
Is Acceptance auto insurance legit?
Yes, Acceptance Insurance is a legitimate company with operations in 17 states. However, its higher-than-average prices and low customer satisfaction rating as measured through online reviews on websites like the BBB suggest that it may not be the best option for most consumers.
Who is Acceptance Insurance owned by?
Acceptance Auto Insurance is a wholly owned subsidiary of the North Carolina-based IAT Insurance Group. IAT Insurance Group offers a number of commercial liability insurance products. It also provides insurance consulting services. In addition to Acceptance Auto Insurance, IAT Insurance Group owns several other insurance companies.
Does Acceptance Insurance have a grace period?
No, it does not. Any payments made after the billing deadline will be considered late.
How we evaluated Acceptance auto insurance
When evaluating Acceptance Insurance, we took several metrics into consideration. First, we looked at average pricing and auto coverage options. We assessed Acceptance in part based on its sign-up criteria, customer support availability and financial integrity. We also examined customer reviews and ratings from major online platforms like the BBB.
Summary of Money's Acceptance auto insurance review
You should use Acceptance Auto Insurance as a last resort due to its uncompetitive fees and poor customer service. Acceptance remains a solid option for individuals who struggle to obtain auto insurance policies elsewhere. This includes people with a history of legal complications, young drivers and those with poor credit scores.
The recent downgrading of Acceptance's financial status by AM Best should cause consumers to think twice before making a purchasing decision. While Acceptance is not at risk of imminent collapse, it is on shaky financial ground.
Learn about other top insurance companies with our guide to the best commercial auto insurance companies.