Adam Rippon Used To Steal Apples From His Gym Because He Couldn't Afford Groceries. Now He's An Olympian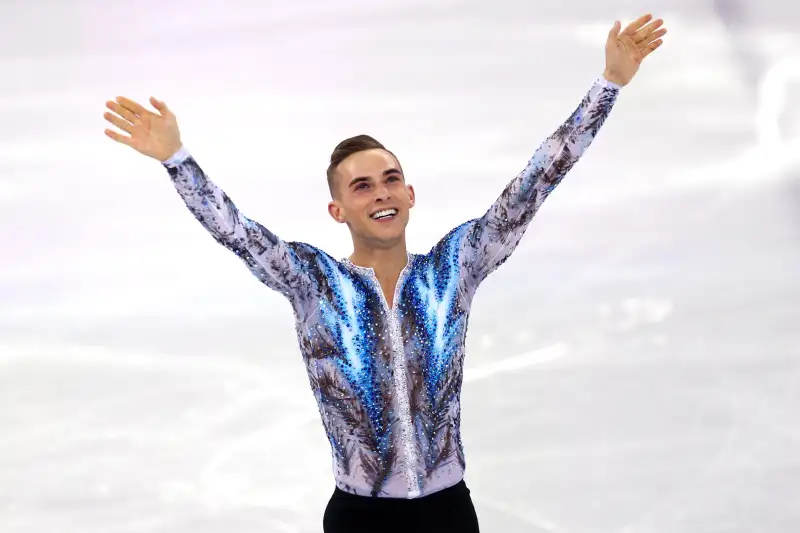 Maddie Meyer—Getty Images
Years before U.S. figure skater Adam Rippon helped Team USA win a bronze medal at the 2018 Winter Olympics, he says he couldn't afford groceries.
Rippon, the exuberant figure skater who has made headlines throughout his Olympics journey, moved to Los Angeles six years ago to train with skating coach Rafael Arutyunyan and found himself struggling financially.
"I took a chance," he told NBC's Andrea Joyce after his Olympics debut Sunday.
"I had no money," he continued. "I lived in [Arutyunyan's] basement. I had enough money to be a member of the gym, so I stole all the apples from the gym because sometimes I couldn't, like, afford groceries. And then, six years later, I'm here. I'm here at the Olympics."
Rippon's financial struggle as a figure skater with an Olympic-sized dream perhaps comes as no surprise. The popular Winter Olympic sport is a pricey one, with costs coming from private coaching fees to expensive costumes ranging in total from $35,000 to $50,000 a year, according to a recent Money analysis of the sport. Indeed, Olympic greats like Michelle Kwan have told stories of the sacrifices her family made to help her achieve her figure skating dreams, like hand-sewing her costumes and working longer hours to help pay the bills. And, beyond figure skating, a number of Olympians work regular day jobs to make ends meet.
But at 28 years old, Rippon's Olympic dream was 18 years in the making. The athlete, who became the first openly gay man to qualify for the U.S. Winter Olympic team in January, posted tweets about his progress in recent years ahead of the Games, thanking his mom, friends, coaches and others.
"I remember telling myself that I would make it through and I would be stronger," Rippon wrote on Feb. 3. "I promised I would work my hardest everyday and I would always strive to be my best."
It is unclear how Rippon's career will manifest itself after the Olympics. As one of the breakout stars of the Games, it's hard not to imagine sponsorship deals or other lucrative opportunities for the figure skater.
"I've worked my entire life for this moment," Rippon told NBC of his Olympics debut. "But more than that, my mom always taught me to stand up for what I believe in and that sort of has given my skating a greater purpose."