Tara Lipinski Says This Is the Best Thing About Working the Olympics With Johnny Weir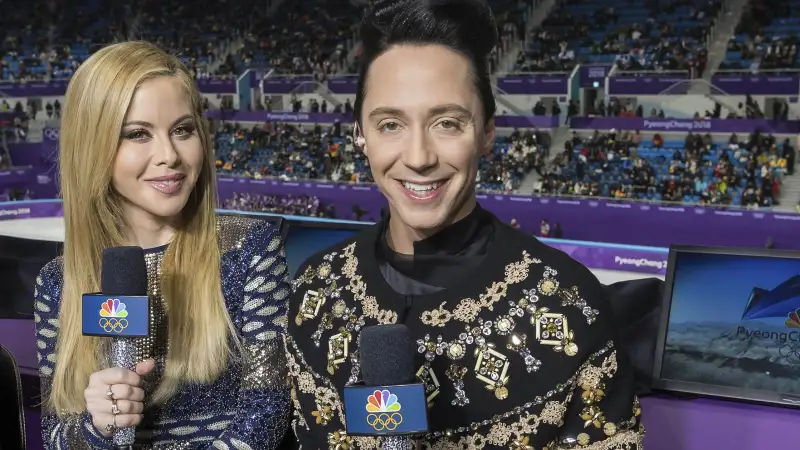 Peter Kneffel—picture-alliance/dpa/AP
Twenty years ago, Tara Lipinski reached the height of figure skating with an individual gold medal at the Winter Olympics when she was just 15 years old.
While her peers navigated their awkward teenage years with decades to go until they reached the top of their future careers, Lipinski was already asking herself what was next. "For me at the time as a skater, I actually dreamed about what would happen after an Olympics," she told Money.
It's a common issue that plagues figure skaters and other athletes who excel in their sports before they're old enough to vote or drink. But Lipinski, who became the youngest athlete to ever win an individual gold medal at the Winter Olympics with her 1998 win in Nagano, Japan, eventually found her "second dream," as she calls it.
Now, she is a sports commentator whose work at the Winter Olympics with fellow former figure skater Johnny Weir has taken the country by storm. The exuberant duo's commentating for NBC's Olympics coverage began back in 2014 in Sochi and carried on to primetime at the 2018 Winter Olympics in PyeongChang, South Korea, alongside NBC Sports' Terry Gannon. With bedazzled headsets and coordinated outfits, Lipinski and Weir will also host the 2018 Closing Ceremony on Sunday — another big step in the broadcasting world that stretches outside of the their figure skating expertise.
"For my so-called second career, I needed to find something that gave me that same adrenaline high," Lipinski said.
"For live television, you feel that same adrenaline rush, that same excitement before you sit down in the booth or going back the moment before you take the ice," she added. "That's the best feeling in the world."
Now at 35 years old, Lipinski has experienced numerous career highs and the opportunity to transfer her skills as a competitive athlete to broadcast — a career with longer legs than professional skating.
Broadcasting wasn't an obvious next move for Lipinski, but her transition out of her competitive career led her there. After her Olympic gold, Lipinski performed on tours with some of her idols like Scott Hamilton and Kristi Yamaguchi and, in doing so, learned more about how to be a performer on the ice.
Indeed, Lipinski was a competitive figure skater at perhaps the height of the sports popularity in American culture, opening doors for her post-Olympics that may not have been available otherwise. Her Olympic gold came four years after the infamous Tonya Harding-Nancy Kerrigan scandal that resulted in the biggest ratings for figure skating at the Olympics this far. And Lipinski's own rivalry with Michelle Kwan (though less scandalous) captured audiences as well. Ice rivalries have continued since Lipinski hung up her skates — with Alina Zagitova and Evgenia Medvedeva's showdown playing out Thursday night at the 2018 Winter Olympics.
Touring on ice, however, was something Lipinski didn't want to do long-term. "I woke up one day and realized I was almost 22, and I didn't want to be doing this for the rest of my life," Lipinski said. "I felt like it was time for a different path."
After two years of acting and hosting gigs, Lipinski would watch the work of Hamilton, the decorated figure skater who had a broadcast career of his own, and former NBC Olympics staple Bob Costas. "I could still be part of a sport I love so much, but just in a different way," she said she realized at the time.
But trying it out didn't come without risk: "When I started commentating, I put those headphones on and I could've been horrible and I would've had to go back to the drawing board and figure out what's next," Lipinski said.
She started with a gig at Ice Network, then moved on to CBS. From there, she headed to NBC Sports, where she befriended Weir, who she originally wasn't slated to work with as a broadcast team. When they realized they were a good fit, they pitched the idea of them as a broadcast team to NBC for the 2014 Sochi Olympics — and their joint careers began from there.
"I think it was sort of meant to be," Lipinski said of their partnership. (Weir also was in Lipinski's wedding party when she got hitched to sports producer Todd Kapostasy last year.)
The network has featured them in their broadcasts of events outside of figure skating, including the Academy Awards, the Kentucky Derby, the Super Bowl and more, elevating their careers to a new level.
But this kind of success may not be typical for Olympic athletes and medalists. Indeed, a number of athletes work full-time or part-time jobs while competing just to make ends meet. 2018 Winter Olympic standouts like Adam Rippon has shared stories of his financial hardship throughout his years of training, but now stands to be flooded with sponsorship deals and, perhaps, broadcast gigs. (In fact, he recently declined a gig with NBC Sports for the remainder of the Games.) But figuring out what's best for an athlete's career after the height of competition, Lipinski says, may take time.
"You sometimes just don't jump into the next thing," Lipinski said. "You can't work hard and dedicate your life to a job without completely loving it. Wait it out. Figure out what it is that you love and what you can possibly be good at."
And for Lipinski, her second dream, as she calls it, is far from over.