This Company Gives You a $10,000 Check and a Hug When You Quit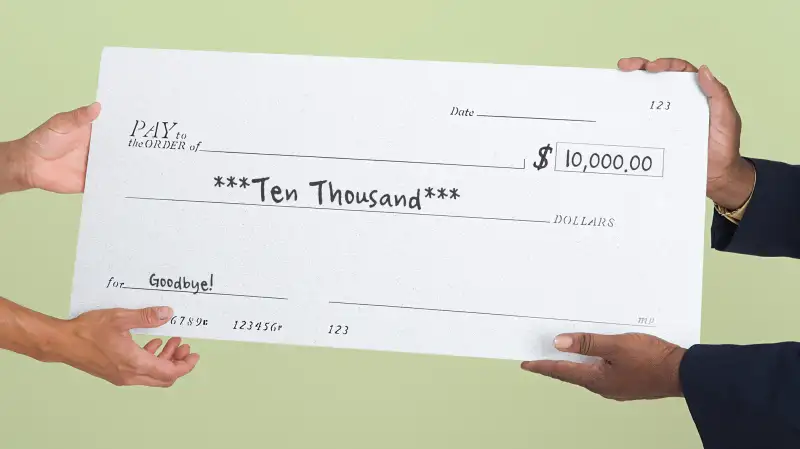 Image Source—Getty Images
Resigning from a job is frequently awkward, with plenty of resentment to go around. But it's not like this at all companies. In one very unusual case, workers who are leaving the company not only get a party thrown in their honor, but a fat, no-strings-attached check when they say goodbye.
Adore Me, an online lingerie retailer, has regularly given out fat $10,000 checks to departing employees, rewarding them for their good service, even if it's only a few years. In today's world where no one's likely to work 40 years at a company and get a gold watch and a pension, such displays of goodwill are rare—and at Adore Me, they're having a positive effect on company culture.
Read Next: Lego Sets Have Been a Better Investment than Gold Since 2000
The criteria for getting the special severance check is pretty vague, and done completely at the company's discretion. "We would do it for anyone that has put in a lot of hard work and effort at Adore Me," CEO Morgan Hermand-Waiche told Bloomberg.
Promoting company goodwill for the ex-employees is all well and good, but doesn't that make people more likely to jump ship if they think they've put in a decent run?
Despite the concerns many HR professionals have about the practice, Hermand-Waiche thinks the policy is a net positive for the company. People feel good about a company that gives such bonuses, as well as its other perks, and they're not likely to want to quit. It's a selling point for new employees too. Even more importantly, since you have to earn the departure bonus with consistently good work, people are even more motivated on the job. Good employees even boomerang back after some years away.