This Bamboo Treehouse Is the Most Wished-for Airbnb in Hawaii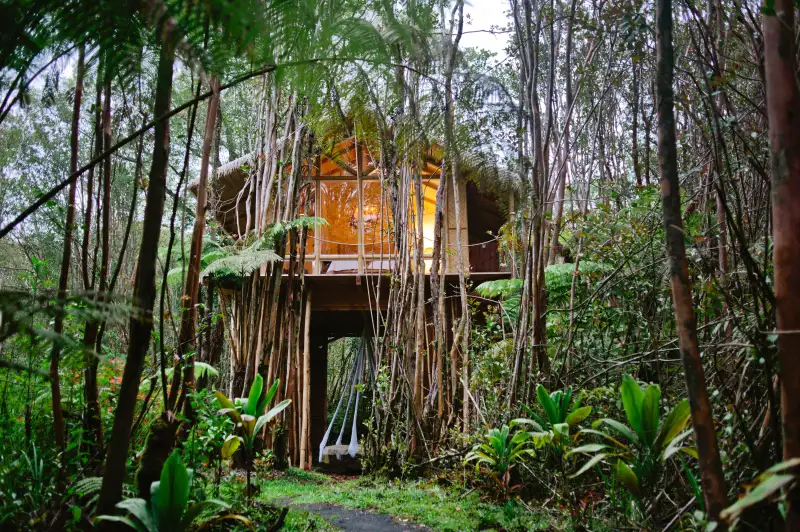 With Southwest Airlines becoming the latest airline to offer flights to Hawaii, the tropical islands in the Pacific Ocean may be cheaper to get to now more than ever before.
And for many Airbnb users, one destination may now be within reach: the most-wished for property in the state.
More than 37,200 people have put this tropical treehouse on the Big Island on their most-wished for list, a mechanism used by Airbnb customers to either bookmark a future destination or save it as one of their dream destinations. In this $200 per night spot, two guests will have full access to the entire bamboo treehouse, which sits in the Fern Forest in a 15-foot canopy with a 360-degree view of the surrounding jungle.
Guests follow a red cinder path through the jungle to get to the treehouse, where they can enjoy indoor and outdoor showers, floor-to-ceiling windows and screen doors that bring natural light in and local snacks and coffee. A wooded patio surrounds the outside of the building, and a swing hangs from the base of the canopy.
Images of the Airbnb listing show hotel-like amenities, including fresh robes, toiletries and snacks.
This Hawaiian Airbnb fulfills the desires of what many Airbnb customers seem to have: exclusivity and privacy. Many of the most popular Airbnb listings around the country and the world tout seclusion as a featured amenity for guests to enjoy.
"This is the ultimate spot for couples seeking romantic seclusion in the middle of a tropical jungle or individuals who want to escape the world," the host wrote in the listing.
At this location on the Big Island, guests are secluded from the busy resort beaches that dot the coastlines of Hawaii, but are still close to other destinations like Volcano National Park. While not as easily accessible to Hawaii's beaches, guests who have stayed at this listing have raved about its location and features.
"It's a nice way to explore a less touristy part of the island, and the seclusion is refreshing," one visitor wrote in a review. "We went to sleep to the sound of the frogs, and awakened to roosters crowing each morning."
Take a look at what it looks like inside the dreamy Airbnb:
We've included affiliate links in this article. Click here to learn what those are.