This Is the Most Wished-For Airbnb in Portugal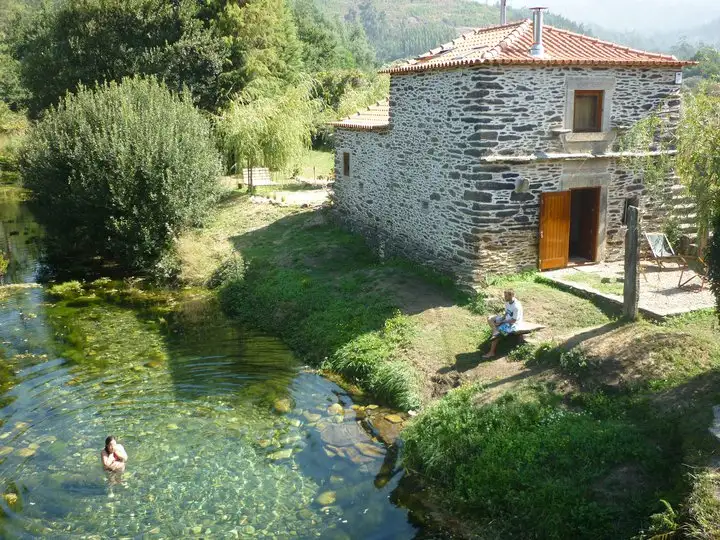 Visitors to this villa in the hills of northern Portugal get the best of both worlds with nearby mountains and beaches in a quaint, green oasis.
Located in the Viana do Castelo municipality, this home is Portugal's most-wished-for Airbnb listing — a measurement determined by the number of people using the travel service to save the property as a dream destination. More than 26,200 people using Airbnb saved this property on their wish-lists — besting other properties located in more popular tourist destinations like Lisbon and Porto, Portugal.
But the rustic and local feel of the villa is much of what Airbnb is about: finding ways to feel at home in a place that isn't. At this property, guests pay between $79 and $91 a night, depending on the day and time of the year, for the entire villa, which houses up to four guests. The one-bedroom home has three beds and one-and-a-half bathrooms, and its walls are lined with stone.
What likely makes Casa do Rio so desirable for so many is its location. A trail near the house takes visitors to the mountains, and a river runs just outside. With a 30-minute walk, guests will reach waterfalls, and by car, they can get to the beach in 15 to 20 minutes, the owners of the property say in the listing on Airbnb.
Much like many of the most-wished-for destinations in each state in the United States, this spot in Portugal also touts its off-the-grid features. There's no internet, television connection or radio — save for a few DVDs and CDs, the listing says.
"It's a great place to stay if you want to relax and feel disconnected from the rest of the world," one visitor wrote in a review.
Portugal shot up to the top of the list for some travelers recently, with the country setting records for its annual number of visits from foreign tourists for the last six years. according to data from the National Statistics Institute. The country has also received a number of accolades from Money. Lisbon, the country's capital, was named the sixth-best European destination for your money this year, as well as one of the Best Places to Retire Abroad, due to its reasonable cost of living and discounted train tickets for people ages 65 and older.
In 2016, Travel + Leisure named Portugal its Destination of the Year for its economic growth over the last several years and stunning landscapes.
We've included affiliate links in this article. Click here to learn what those are.