She's Visited 175 Countries and Expects to Become the First Black Woman to Visit Every Country in the World. Here Are Her Favorite Travel Tips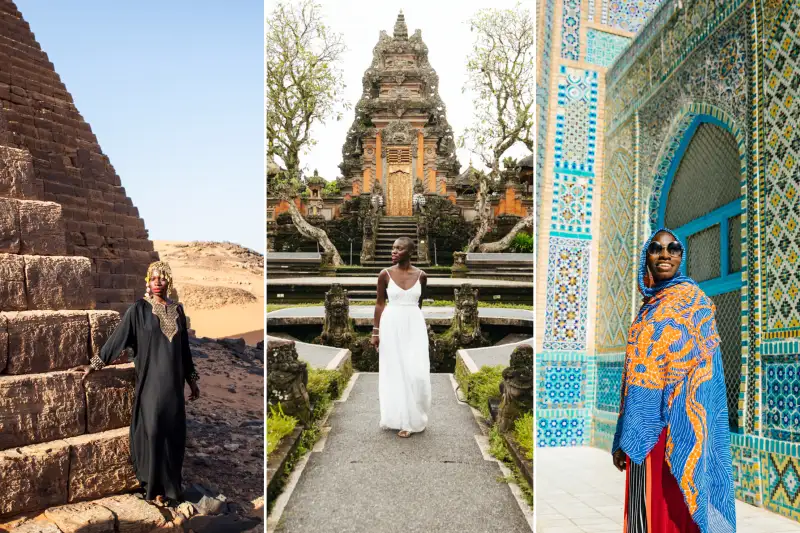 Elkhair Balla; Elton Anderson(2)
Jessica Nabongo had everything she thought she wanted.
Quickly moving up the ladder at a prominent pharmaceutical company in Detroit, Nabongo bought her own condo. Her company paid her cell phone and internet bills, and she had a 401(k). She bought nice clothes and shoes, and she could easily travel with her six-figure compensation package.
But when a bonus about two years into her career proved to be lackluster, Nabongo realized she wanted something more.
"My whole life I have been taught life was a meritocracy: I work, and I do what I'm supposed to do," Nabongo tells Money. "This, to me, showed me [life] wasn't only purely based on merit — and that changed the way that I looked at things."
So she took a leap. Nabongo moved to Japan to teach English and went on to earn her master's degree in international development at the London School of Economics. After graduating, she worked for the United Nations, living in Italy and Benin.
By working abroad and fitting travel into her work schedule, Nabongo had visited dozens of countries. Now, Nabongo is just mere months and a few trips away from visiting every country in the world — expecting to be the first black woman to do so.
While her international traveling has picked up steam over the last two years, Nabango has been traveling all her life. Growing up in Detroit, her first trip abroad was across the border to Canada when she was four years old. Throughout her adolescence she visited Uganda, Jamaica and England, among other destinations. And, living abroad in her 20s, she started to check more countries off of her worldwide tour.
It wasn't until February 2017 when she read about Cassie De Pecol, who set the Guinness World Record for fastest time to visit all sovereign countries, did she realize she could accomplish a similar feat of her own. At that point, she had already visited 60 countries on six continents. What's 135 more?
"I did a lot of research and found no black woman on record who had done it," Nabongo says. "That's how I determined it."
The 35-year-old has chronicled her travels on her website and Instagram but insists the platforms aren't her motivation for traveling. She had visited 32 countries before Instagram was invented, she says. Her blogging has, however, connected her with a wanderlust-driven fan base, some of whom, Nabongo says, have grown less worried about traveling alone while watching her journey. (Some of her most loyal followers even flew out to Detroit last weekend to celebrate her 35th birthday with her.)
Nabongo has a variety of sources of income, and those help fund her travels. She started her own luxury travel company Jet Black, which has over 200 clients for whom she designs individualized trips to countries in Africa, Central and South America, and the Caribbean, ranging in price from around $1,500 for groups and $2,500 for individuals, to as much as $35,000 for individuals. (One client, she says, got a private viewing of the Vatican Museums.) She's also a freelance writer and Instagram influencer, using her platform to help secure free hotel or Airbnb stays while abroad. And she still contracts with the United Nations. All in all, Nabongo says she earns around six-figures — and spends an average of about $1,000 for every country she visits.
Speaking with Money this week, Nabongo shared her best tips for aspiring travelers — and the most essential items she takes abroad.
A safety net is key and so is good credit
Taking the leap is always easier with a back-up plan, Nabongo says.
When she moved abroad in her 20s, Nabongo had around $5,000 in her savings account and a 401(k). Instead of selling her condo, she often rented it out to help keep her finances in check while abroad. She left her pharmaceutical company on good terms knowing that, if necessary, she could always come back.
With a safety net in place, "you're reducing risk," Nabongo says. "A lot of people are risk-averse, so reducing the risk through the creation of safety nets allows you to take that leap."
Maintaining good credit has also proved essential throughout her international journeys. She collected points easily with travel rewards cards, redeeming 450,000 points in the last year for free flights. Her two favorites? Chase Sapphire Reserve and the American Express Gold Card.
Necessary items to take on a flight
With countless flights under her belt, Nabongo recommends a few essential items to improve your experience.
Noise-canceling headphones help tune out the sounds of busy flights, she says. And compression socks are absolutely necessary to help blood circulation flowing on long flights.
She also always travels with a reusable cup and water bottle. "The travel industry is a big culprit in regards to single-use plastic," she explains. "I just came off a flight from Lisbon that was seven hours. If you don't ask, they would have given me four plastic cups. But, instead, I used zero."
Embrace the opportunity and spend accordingly
Nabongo knows she could be doing more to cut costs while traveling — but often finds that it's important to use your money to enhance your experience to the best of your abilities.
"Could I spend less than $1,000? Yes. And in some cases, I do," she explains. "But I want to enjoy it. I'm not 22. I'm not a hostel, backpacker traveler. Because I'm doing this to my body, I want it to be enjoyable."
"If I do everything on a shoestring, I may not be able to enjoy it in the way I'd like to," she adds. "I could die tomorrow. I want to be sure that I'm having a full experience."