This 27-Year-Old Is the Fastest Woman to Visit Every Country in the World. Here's How She Paid for It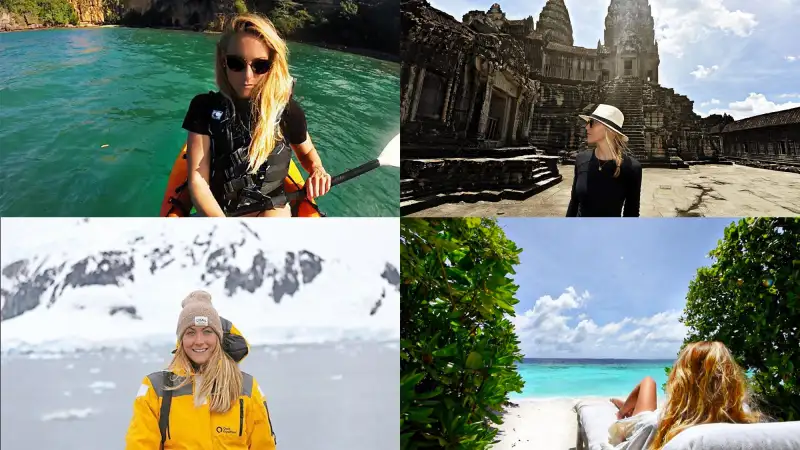 It's everyone's dream to travel the world and get paid to do it. Sounds like a fun experience—until you run out of savings midway through.
After a year and a half of planning, Cassie De Pecol, a 27-year-old from Connecticut, embarked on a journey to become the fastest person to visit every single country in the world. The trip, which cost $111,000 total, took her 18 months to complete. She was almost derailed when she ran out of funding halfway through the trip, but in the end she saw all 196 sovereign countries and broke two Guinness World Records.
Her two records didn't come cheap and De Pecol had to get creative to pay for the trip. She told Money in a Facebook Live interview that she saved $10,000 from two babysitting jobs and—using athletes like Michael Phelps as her model—networked to find sponsors and investors to fund the rest of her trip.
"I pretty much had to give up my social life. No going out, no going out for lunches or anything," De Pecol said.
After raising the funds she needed, she set out on her journey. But even after all her preparation, she encountered a huge obstacle along her way: Money. Less than halfway through De Pecol's trip, she ran out of savings.
"The money I had saved was gone. The only sponsorship funding I had obtained was gone and I embarrassingly had to just come back home," she said.
De Pecol found herself in a tricky situation. In order to qualify for a Guinness World Record, she couldn't stay in any one country more than 14 days, which meant that she had two weeks to fundraise the rest of her trip back in the U.S.
De Pecol was so embarrassed that she didn't even tell her closest friends she had returned home. She pushed through those weeks and raised enough funds to finish her travels. This time around, she made better preparations for the financial journey ahead.
"I had an Excel spreadsheet after that experience," she said. "I was like I really have to keep on top of this cause I don't want to be back in that position again."
That spreadsheet helped her keep track of everything, including how much she was allowed to spend per week.
"I'm not a money person," De Pecol admitted. "I've never been great at keeping up with my finances, but on this trip I really learned to have to do that because I was the only one that was in control of it. It was up to me whether I failed or succeeded."
And she did succeed. De Pecol now holds two Guinness World Records and is starting a non-profit next year to help others fund their own passion projects.
For anyone that dreams of traveling the world but doesn't know how to afford it, De Pecol has some advice.
"It's really important to save 10% of every paycheck," De Pecol said. "It's important to have a cushion with money. I mean I've had nothing, and it's a really terrible situation to not even be able to afford a meal when you're hungry."
In addition to a portion of every paycheck, she encouraged aspiring travelers to create a weekly budget. She noted that it's important to also give yourself a little bit of freedom with your money for when cool adventures or opportunities come up that you didn't plan for.
And we think that's pretty good advice. So go travel the world but have fun, be safe, and don't forget to budget!
Editor's note: This story has been updated to reflect that the Guinness records De Pecol holds are for "fastest time to visit all sovereign countries" and "fastest time to visit all sovereign countries (female).