This Couple Quit Their Jobs To Take an Epic Six-Month Road Trip. Here's Their Route—and Budget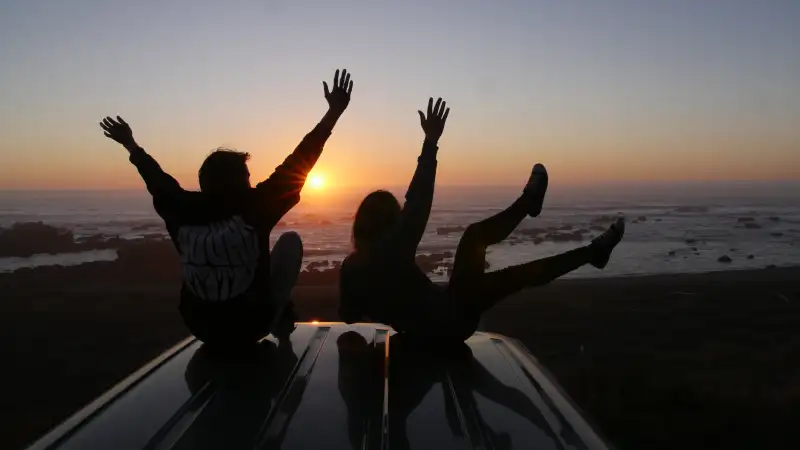 Nick Paquette always knew he wanted to travel when he was in college. But between classes and tuition, he didn't have the time or money.
Janny started to save money for a dream trip ever since she was able to—a future excursion she hadn't planned but knew she would take.
Years later, the two met through Paquette's sister while in Montreal and immediately hit it off. Their travel goals fit together perfectly, they said, and so they started planning an epic six-month road trip across North America.
After three years of planning and a year and a half of saving, Paquette, a video editor, and his girlfriend (whose last name and occupation are being withheld for security reasons) pulled together a little over $23,000 Canadian dollars (about $18,300 USD) to use on their journey. They bought a van, quit their jobs, and set off on a 21,700-mile trek.
"We really wanted to have an undetermined period of time where we didn't have to think about what was next in our lives," Paquette, 26, told Money. "Just think about the next day and the next destination."
With only a limited amount of money and no income, the couple had to plan their expenses meticulously and even created a budget for the trip. First, they bought a run-down, 2003 Ford Econoline for almost $4,000. They spent another $2,300 to repair and transform the van into a makeshift mobile home—complete with beds and a working grill to save money on hotels and food.
That left them around $12,000 for other costs like food, gas, excursions, camera gear, and craft beer. They saved a lot of money—and saw a lot of beautiful scenery—by sticking to natural parks. They planned the trip around Canada's 150th anniversary, which the country celebrated by offering free admission to all national parks.
"It's less expensive to do a bunch of hikes than being in a city where everything costs money," Janny told Money. "For us, it was a good opportunity to do a lot of hiking, camping. We are outdoor people."
The couple says they saved even more money using an app called iOverlander, which lets users find free camping sites near their location. Over the entire journey, Paquette says they only paid for camping a handful of times.
But even the best-planned trip has its unexpected turns. They sometimes had hard days—and money was an issue.
"We had days where nothing was going right," Paquette recalled. "One day, we were looking for a shower for half the day and then our van broke down. We were in the middle of nowhere and the shop couldn't repair the van until the next day."
One night, he said, they paid for a hotel room in Las Vegas because it was the only place where they could shower. Up until that point, they saved money by showering at camping grounds, common spaces like gyms, or beach showers in places like California.
As far as finances go, Paquette says that Janny was much better at sticking to the budget.
"I'm a big fan of craft beer so every time we'd show up to a new city where they had a brewery I'd always want to try it out. Or if I wanted to go to a restaurant or something more expensive I'd do it," Paquette told Money.
At one point, Paquette had to dip into his retirement account, a move Money doesn't recommend.
Janny's savings fared much better and she says she even had money left over after the trip. She says her secret was simple: Save long and patiently.
"Even before planning this trip, I was putting money in this account," Janny, 27, told Money. "I didn't know when I would use it, but I knew I wanted to go traveling."
Despite those troubles, Paquette says they never once regretted taking the trip. The couple says they saw some of the most amazing landscapes, which they say exceeded their expectations.
"I'd have to say Tombstone in Yukon is my favorite place because it's so far from everything and everyone it's desolate," Paquette told Money. "The landscape is insane, it feels like you're in a different planet."
Take a look at the couple's favorite destinations along the trip:
Courtesy of Nick Paquette
Courtesy of Nick Paquette
Courtesy of Nick Paquette
Courtesy of Nick Paquette
Courtesy of Nick Paquette
Courtesy of Nick Paquette
Courtesy of Nick Paquette
Courtesy of Nick Paquette
Courtesy of Nick Paquette
Courtesy of Nick Paquette
Courtesy of Nick Paquette
Courtesy of Nick Paquette
Courtesy of Nick Paquette
Courtesy of Nick Paquette
Courtesy of Nick Paquette
Courtesy of Nick Paquette