See Inside Amazon's Crazy New Store That Has No Cashiers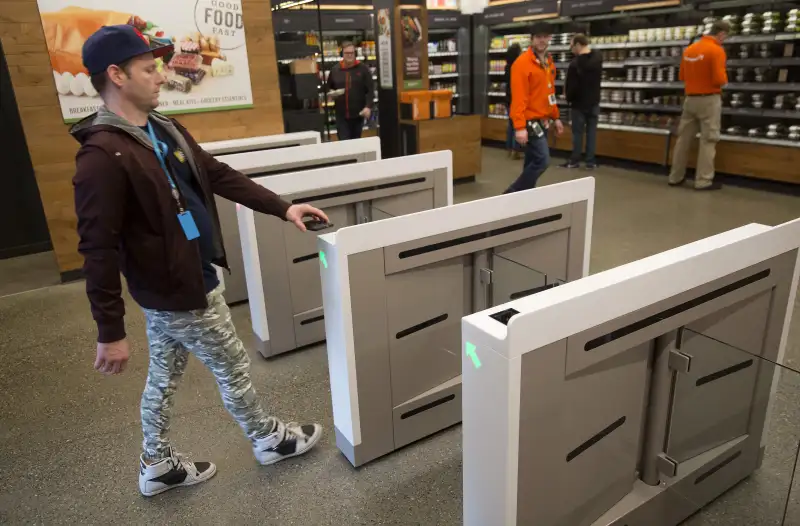 Mike Kane—Bloomberg via Getty Images
You thought Target was bad for your wallet.
Amazon just opened up its futuristic, brick-and-mortar store in downtown Seattle and it's sure to make your bank account scream.
In true Amazon fashion, the new store looks easy, fast, and revolutionary. Perhaps most striking: It has no lines.
As Amazon's in-store poster puts it, you "just walk out" when you're finished. That means you won't have to wait in a line and contemplate all the choices you're about to make much like you would in *cough cough* Target.
Your bank account won't even know what hit it.
Spending concerns aside, this new store—called Amazon Go—looks pretty cool.
Here's how it works.
Bloomberg—Bloomberg via Getty Images
Bloomberg—Bloomberg via Getty Images
Before you walk into the store, you'll have to go through electronic gates. To enter, you have to download the Amazon Go app and scan your phone.
Once inside, don't bother looking for shopping carts or baskets. Instead, you'll receive shopping bags that you can walk out with.
There are cameras all over the store's ceiling watching your every move. Those cameras detect when you pull an item off the shelf and will add it to your cart in the app. If you put it back, those cameras notice and remove the item from your cart. 😱
The store even has an alcohol section. But if you're underage, don't get any ideas: There is an Amazon employee guarding the section to check IDs.
Once you've finished shopping, you just … walk out. It may feel like you just stole a bag of groceries but don't fret: The app automatically charges the bank account you've connected to the app.
If security cameras watching your every move don't scare you—and you hate waiting in line—then this may be the perfect store for you.
But for the sake of your bank account, please keep Mad TV's Bon Qui Qui's sage advice in mind.