Rosanna Pansino Risked Her Life Savings on Baking Videos. Now She's One of YouTube's Highest-Paid Stars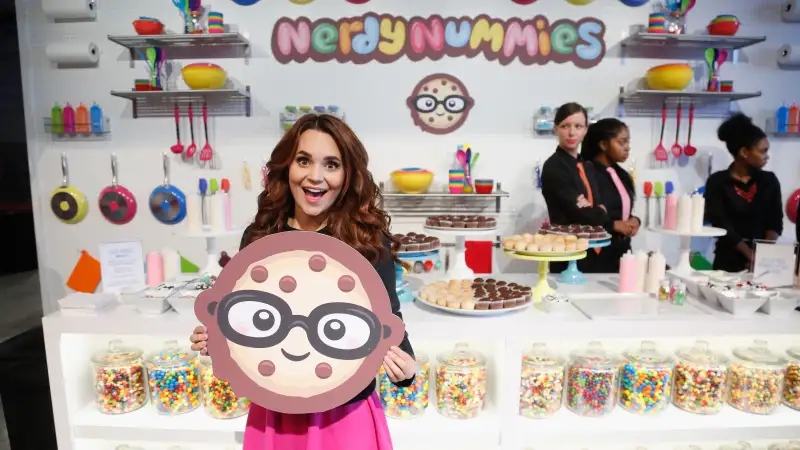 Taylor Hill & FilmMagic for YouTube
YouTube is overflowing with food videos, but very few hosts have more than 8 million loyal subscribers.
Rosanna Pansino is one of those few.
She's the creator and star of Nerdy Nummies, a baking show that teaches people how to create "nerdy" treats like Super Mario and Disney's Frozen cakes. The channel launched in 2011 and today it has nearly 2 billion total video views. She's also published a New York Times best selling cookbook and is about to launch her own line of cooking and baking supplies. She chalks up her success to hard work and solid money habits.
Pansino took a huge risk in her mid-20s. At the time she was working as an extra on shows like Glee and living with six roommates in an apartment where she slept on a couch, she says. At that point, she decided to leave acting behind and invested her savings into developing videos for her own YouTube channel.
It turned out to be a worthwhile bet. After several years of building up an audience of devoted followers, she made Forbes's list of the highest-paid YouTube stars in 2015 and 2016 and—after a few years of shooting and editing the clips herself—recently hired a small video production team (which includes a few family members).
Pansino talked to Money about her journey.
On her jobs before YouTube:
"I was working everywhere. My family believes in hard work ... I've held two to four jobs at a time since the age of 12 and I've done everything from babysitting to dog walking. I was a barista, a waitress on and off for eight years—you name it, I've done it. I even taught [English] in China for awhile."
On where she picked up prudent money habits:
"Those money-saving habits came from my dad. I have to give him full credit. I mean, my dad was so good about money management. Growing up, we didn't have a lot of money in my family. We got by, but it was tough sometimes, and my dad was very frugal. He was very careful about how he spent every dollar and how he saved his money—and he taught that to me and my sister.
"So from a young age ... if I made $40 babysitting, then I would save 10% of it. I put that into my savings account and that was my rainy-day fund ... It wasn't easy. It took years for that to be natural. You have to just not look at it. You have to put away the 10% and never look at it again."
On investing her savings into Nerdy Nummies:
"I had been saving this little nest egg for years and years. It was every cent to my name ... I didn't know what I would use it for one day. [But] when the YouTube opportunity happened, I decided to invest my life savings into my YouTube channel—and I did not tell my dad at first."
Money: You didn't tell your dad?!
"No, I was so nervous! I waited a lot longer than you'd think! My family is very close; my dad and I have a great relationship—but it's not something that I was comfortable telling him. 'Hey, Dad, I just invested my life savings into my YouTube channel!'"
Money: What did he say when you told him?
"I think he says now that it was the right move. I read all these books about entrepreneurs and there's always this common thing about taking a risk. Sometimes to do well you have to take a risk on yourself, and it's very uncomfortable. ... Once I invested my life savings into the channel, that was it. Whether it sank or float, that was it."
On being a boss:
"There are 10 of us [working together] now full time. That's including my sister, her husband, my mom, and my dad. We're just a small, family-run production company. ...
"I really love to take care of people. I think that is so important. ... We do a stipend so everyone has some medical insurance. Those are things that I'm starting to think of, even though our team is so small. ... I'm learning as I go. It's something I would like to get better at."
On working with her family:
"It is amazing. ... My sister was in Seattle with my parents; I was in California. And I just missed seeing them. When I was building my channel, I was so into it, just completely 100% into it—so I didn't see them a lot. Now I finally convinced them to come be a part of it and join our small team."
To see the full interview, watch Money's Facebook Live with Pansino below: