OITNB Star Diane Guerrero Talks About Debt, Depression, and What She Has in Common With Her Scam Artist Character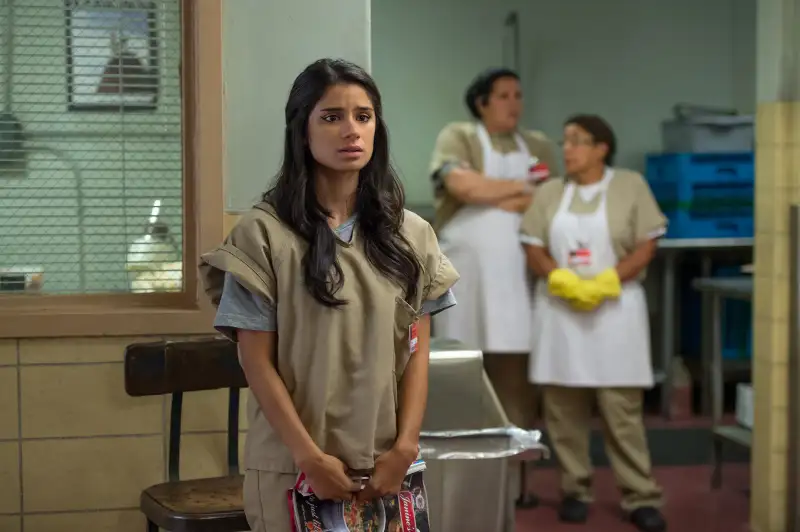 If you're a fan of Orange Is the New Black, you probably remember this iconic line from actress Diane Guerrero, who plays the sassy, pizza-loving inmate Maritza Ramos:
What you may not know is that Guerrero's path to success wasn't easy. Although she plays a scam artist on OINTB, in real life her family was taken advantage of by fake immigration lawyers, which led to the deportation of her parents when she was just 14 years old.
Living on her own without her parents from a young age, Guerrero was forced to take on a mountain of student loans to pay for her education, and she battled depression and even suicidal thoughts as her debt piled up. Guerrero talks about how those experiences informed her outlook on life and money in a new edition of her book 'In the Country We Love: My Family Divided.'
Ahead of the season 5 premiere of OITNB on June 9, Guerrero got into character to offer a few money tips.
"You gotta do what you gotta do."
Maritza has learned "to be innovative and find different ways to make money," Guerrero said. "Let's say if you don't have a degree right away or maybe you have a few setbacks or you have mouths to feed, you have to be creative" as long as it's legal.
While in college, the OITNB star experienced a setback of her own. She racked up $80,000 in student loans and was harassed by debt collectors regularly. It was during this time that she went into a deep depression.
"It was tough," Guerrero said. "Sometimes I wouldn't be able to go to class or purchase books ... It was like, 'OK you got into college, now what? How do you pay for it?'"
Looking back, one thing she's proud of and wants others to know is that she only borrowed what she truly needed. "I didn't open up any unnecessary credit cards or anything like that," she said. "Just because you have debt doesn't mean you can't succeed."
"Look, in the age where like, the internet is around, you can do a lot..."
Maritza has learned that "finding something that you connect to—something that you are passionate about—will always bring some kind of financial gain." Guerrero said. "You see a lot of people in this day and age getting very creative with the internet and finding different ways to make money."
This was key to Guerrero's success. She was often derailed from her acting career because of money struggles and her emotional health. But gaining confidence and enrolling in acting classes helped her fuel her core passion of acting, which has brought her the success she now has.
And remember this last piece of advice from Guerrero: "Don't get your golden ticket and start running all over town buying yourself Chanel bags."
You can watch Money's full interview with Diane Guerrero below.