How This 21-Year-Old With Down Syndrome Is Making Six Figures Selling Socks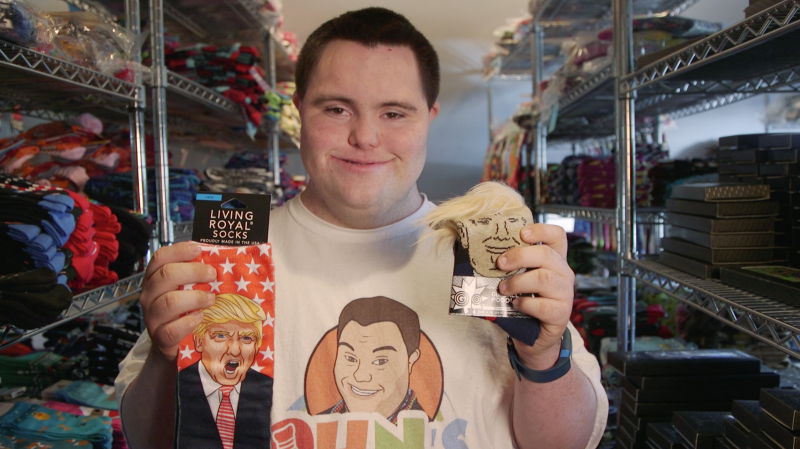 John Cronin will graduate high school in May. Like many of his classmates, he's excited to begin a new chapter in his life.
But John isn't like most seniors. While many of them plan to go to college, John has a completely different plan. He's 21 years old, obsessed with socks, and he's already running a successful business.
John has Down syndrome, but that hasn't held him back. He's the co-founder and face of John's Crazy Socks, an online sock store that donates a percentage of its sales to charities that help others with disabilities. With sales booming after just four months in business, John's story is an inspiring example of creative entrepreneurship.
"I love socks because they're fun, they're colorful, and they keep your feet warm," John said in an interview with Money.
John lives with his parents, Mark & Carol Cronin, in Huntington, New York. He attends Huntington High School for half of the day and takes a bus to Wilson Tech in the afternoon, where he studies retail and customer service. He also competes on his high school's Special Olympics snowshoe team.
The question of what John plans to do after high school comes up often between him and his parents. "I wanted to open a food truck [with my dad]. The main problem was we can't cook," John said laughing.
John and his dad brainstormed and decided to go forward with the one thing John loves the most: socks. And like that, John's Crazy Socks was born on December 9, 2016.
Since their launch, Mark and John have been busy. While John puts orders together and is the face of the company's videos and promotion, Mark takes care of the more technical aspects of the business, such as accounting, managing inventory, and staffing.
Together, they've been able to grow their total sales from $14,700 in December to $350,000 in March—without any marketing—according to figures given to Money by Shopify, the platform John and Mark use to sell their socks. In fact, John's Crazy Socks is growing so fast, the Cronins had to move to a bigger building.
"When we opened, I thought we might get a trickle of orders, but we had a lot of orders that first day," Mark said. "In fact, we had a wipeout of the opening inventory."
To fulfill the surge of orders in their first month, Mark bought and resold socks from local Kmarts just to keep up with the demand. Today, the father-son duo are more prepared. They source their socks from manufacturers around the world and John has designed a few pair of socks himself, which are manufactured in the U.S.
While most of their initial sales came from word of mouth, the pair caught a big break in March.
The Mighty, an online community that tells stories about people with disabilities and diseases, featured John's Crazy Socks on its Facebook page with the caption, "In just two months he's sold more than 1,000 pairs."
Mark had notifications set up on his phone so that whenever an order was placed he got a ding.
"That day—we didn't know the video had posted—it was ding after ding after ding all day and night," Mark said.
That video now has 19 million views and has helped the Cronins reach 10,000 orders in March, according to the figures reviewed by Money. To put that in perspective, in February, John's Crazy Socks had only 900 orders.
Still, John and Mark try to make each purchase personal. The father-son duo makes in-person deliveries to houses in the Long Island area. For anyone living farther, John does something special.
"In every box I put a handwritten note, some candy, and two discount cards for 10% off. One of them for customers and one to give to a friend," John said.
John's Crazy Socks' motto is "spreading happiness through socks," and the company spreads happiness to others in need. Five percent of John's profits goes to the Special Olympics and he also donates to The National Down Syndrome Society and The Association For Children With Down Syndrome.
John and his father sell other socks that benefit specific charities and organizations, too, such as autism awareness, breast cancer research, and the Whaling Museum and Education Center of Cold Spring Harbor.
The success of John's business has given him a small case of senioritis. John wants to leave school before graduation to join his company full-time, but Mark wants John to finish high school.
"I love my business. I want to keep it this way. I want to keep growing. I'm so inspired by my dad I want to work with him," says John.
The right socks can keep your toes warm—and John has shown that they can warm your heart, too.