10 Things You Probably Don't Know About Oprah and Her Money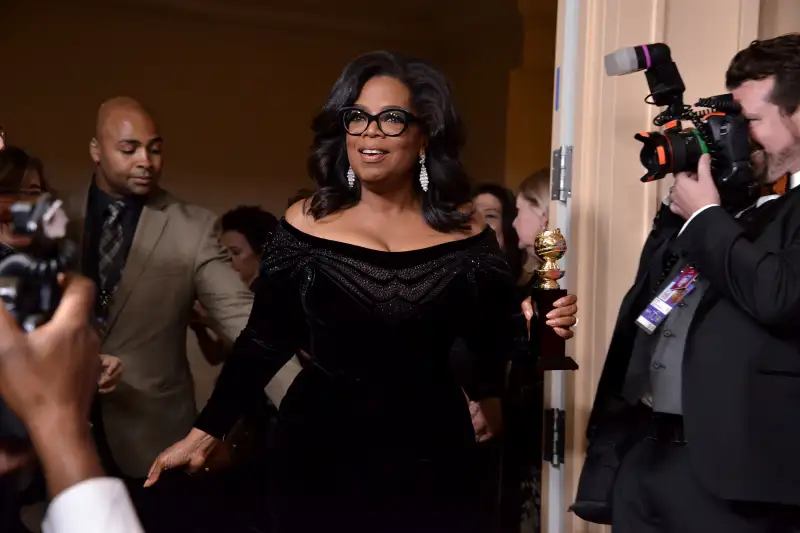 Sthanlee Mirador/Sipa USA—Sipa USA via AP
We're 11 days into 2018 and Oprah Winfrey is already winning the year.
At the 75th Golden Globe Awards, Oprah became the first black woman to win the Cecil B. DeMille Award. In her empowering acceptance speech, Oprah talked about the fight for equality, race, and the #MeToo movement in what we already think will be the best speech of the year.
With a net worth of $2.8 billion (yes, that's billion with a B), Oprah knows a thing or two about money and smart business moves. But it may be surprising to learn she says money was never a priority. Oprah has been quoted as saying that her secret to success was simple: "The reason I've been able to be so financially successful is my focus has never, not for one minute, been money."
Even though she grew up with very little money, Oprah has proven to be strategic and passionate with her money. "I don't think anyone can question that she has made some sound financial decisions," Jenn White, host of the podcast Making Oprah, told Money.
Here are 10 things you may not know about Oprah and her money.
1. Oprah owns at least three real estate properties—and they're all stunning. 😍
Oprah currently lives in her lavish Montecito, Calif., home, a peaceful oasis she calls 'The Promised Land." She bought the 40-acre home for $50 million in 2001 (according to Oprah Winfrey: A Biography, she paid for this home with a personal check peak #Goals).
She expanded the property by double in 2015 when she purchased a nearby 42-acre farm for $29 million. Oprah loves this home and will open it up to throw lavish parties.
She recently invited reporters for the launch of her book, The Wisdom of Sunday's. She told those in attendance that she "paid a lot of money for this property but every single day I can tell you I look at it as a gift. There's not a day that I wake up that I don't have a sense of appreciation and gratitude for it. When you live in a space of gratitude, you get to see more."
Carrillo/CelebrityHomePhotos—Newscom
In 2006 she threw a 3-day celebration dubbed the "Legends Ball" at her Montecito home. Big-name attendees such as Alicia Keys, Janet Jackson, John Legend, and Maya Angelou attended. At the end, it's rumored she gifted all the women diamond earrings.
She also owns a property in Maui, Hawaii, which she bought for $50 million. The property was discovered by her personal trainer, who turned into her property manager. He was worried it might get torn down to build condos, so she bought the property. She has no plans to build condos, and says she wants to keep the home small and personal.
"She liked [the home's] small scale," said Ellie Cullman, Oprah's decorator, of the Hawaii estate. "She already has a large home in Santa Barbara [County]—this seems to go back to something real and personal. It's a great house for her and two or three friends."
Oprah says her home suffered "minor damage" in the recent California mudslides. She took to Instagram to show the damage.
She also has a winter property in the ski resort town of Telluride, Colo., which she bought for $14 million in 2015.
She's completely left the Chicago area where she resided earlier in her career. She recently sold her last property there for just under $400,000. Her famous Water Tower condo sold in 2015 for $4.6 million.
2. As a teen, Oprah would steal money from her mother's purse.
In Oprah Winfrey: Profile of a Media Mogul, author Jeanne M. Nagle wrote that Oprah earned a scholarship to attend an affluent high school. While she was there, she became friends with wealthy people. Coming from a low-income family, Oprah was embarrassed by her financial situation and started to steal money from her mother's purse to try and fit in with her peers.
She used that money to go out with her friends. Eventually, her mom found out. "She continued to lie to and fight with her mother and get involved with older boys," Nagle writes. Her mother decided to send her to a juvenile detention home, but there was no space. So she sent Oprah to live with her father in Nashville, Tenn.
3. Her first job paid 50¢ an hour.
Oprah was 15 years old when she started babysitting for a woman named Mrs. Ashberry in Nashville, earning only 50¢ an hour (minimum wage was $1.30 in 1969). One day, Mrs. Ashberry—whose bedroom "always looked like the end-of-the-day, last-call sale at Macy's," Oprah wrote on Oprah.com—asked her to clean it. She did, but Mrs. Ashberry didn't pay her extra. So Oprah quit and started looking for "a job where I thought my efforts would be appreciated."
She eventually took an unpaid job in her father's shop, which she didn't like either but at least she didn't feel like her "spirit was being drained by the hour," she wrote.
4. Now, Oprah's money comes from at least nine income streams. 💰
Money always suggests having additional income streams because they're so important to gaining wealth. Most wealthy people have many income streams, and Oprah is no different. She is an extremely busy lady! (Ryan Seacrest who?) Here are just a few of the income streams we know about:
The bulk of her money still comes from her talk show years, according to Forbes
Media Proprietor: Founded Harpo Productions, chief executive of the Oprah Winfrey Network, founder of O, The Oprah Magazine, which reaches roughly 2.4 million people—that's more than Rolling Stone and Real Simple
Actress & Voice Actor: 'A Wrinkle in Time', 'The Immortal Life of Henrietta Lacks', 'The Color Purple', 'The Butler', 'Selma', 'The Princess and the Frog', 'Bee Movie'
Producer: 'Greenleaf', 'The Immortal Life of Henrietta Lacks', 'Oprah's Master Class', 'Queen Sugar'
Investor: She owns 10% stake in Weight Watchers
Author: The Wisdom of Sundays, Food Health and Happiness, Mr. or Mrs. Just Right: Because Mr. Or Ms. Right Does Not Exist!, What I Know For Sure
Speeches and Appearances
Freelance Journalist: Special contributor at 60 Minutes
Licensing: She created a new line of healthy soups and sides called O, That's Good! and her magazine has partnered with Talbots to release a fashion collection
5. She's taken big risks—and persevered when they didn't work out. 💪🏾
Oprah was at the height of her TV career when she decided to make one of her biggest money moves. In 2011, Oprah left her talk show to launch her own channel, The Oprah Winfrey Network (OWN). Despite her show's popularity, Oprah's new venture had a rough start. The network was losing money in its first few years and Oprah had reached her "breaking point."
Oprah didn't give up. She started to bring in creators like Tyler Perry to help turn the network around. Recently, Oprah sold a $70 million stake in OWN to Discovery, giving up her majority control of the network. Still, Oprah will serve as OWN's chief executive through 2025.
6. She doesn't know her ATM PIN and rarely goes to the bank.
Oprah told Ellen Degeneres that she recently stood in line at her bank to deposit a $2 million check—just because. Oprah said she hadn't stepped foot in a bank since 1988 and apparently missed it. Again, peak #Goals.
In that same interview, Oprah admits to Ellen that she's not sure if she even has an ATM PIN. Ellen, who is also crazy rich, relates. Imagine being so rich you don't even know your own PIN.
7. She is the first black woman billionaire in history. 👑
Oprah surpassed Bill Cosby as the wealthiest African-American in 1995. Eight years later, Oprah passed an even bigger milestone. Forbes declared Oprah's net worth to be $1 billion in 2003, making her the first black woman in the history to become a billionaire.
8. But that hasn't necessarily made life easier.
While shopping in Switzerland in 2013, Oprah entered a high-end store and asked to see a $38,000 Tom Ford purse behind the counter. The saleswoman, according to Oprah, said "no, it's too expensive" and told her to look at other, cheaper bags. The manager of the store responded to the incident saying it was "200% a misunderstanding."
9. Even though she can afford literally anything, Oprah doesn't take things for granted.
In a 2013 issue of O, The Oprah Magazine, Oprah wrote that her Montecito mansion was so luxurious that she felt her guests could never relax. "This is a very grand space, but I don't want to live in a grand space anymore," she wrote. "I want dinners to reflect my heart and spirit. I want people to feel free to ask for seconds!" So she auctioned off hundreds of items to make her home more comfortable and relaxing for everyone.
Afterwards, she says it was a liberating experience. "Over time your sense of self evolves," Oprah wrote. "Hopefully, you grow into a deeper, more thoughtful version of who you are. Your need to please falls away and what is left is the blessed realization that you really don't have anything to prove to anyone."
10. And she's incredibly generous. ❤️
With all of her money, Oprah still remembers how it felt to grow up in poverty. "I was poor, literally poor, like no running water poor," Oprah said at a Forbes 400 Summit.
There was one instance she says shaped her whole outlook on philanthropy. One Christmas her mother told her they had no money, and there would be no Santa Claus. She was devastated and worried about going back to school to her friends and telling them about her Christmas gifts—or lack thereof. But nuns showed up at their house and brought food and gifts.
She says she thought about that Christmas when she first went to South Africa to build The Oprah Winfrey Leadership Academy For Girls. Her hope was to "create that experience that I felt for myself, that sense of wonder that somebody cared about me that didn't even know my name." It's been 10 years since the academy was founded, and Oprah has spent over $140 million on the school.
All this goes to show that no matter how little or how much money you have, being able to give a helping hand to others is the greatest gift money can give. We're sure Oprah agrees.