101 Ways to Make an Extra $1,000 in 2018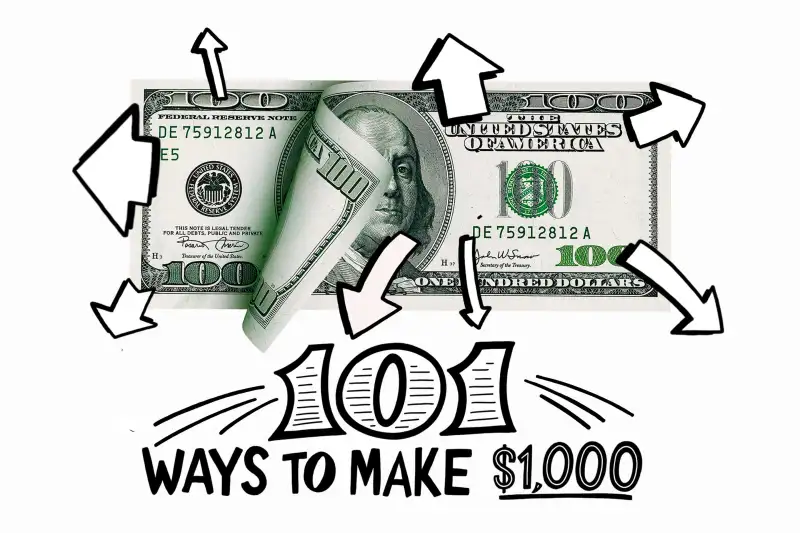 Illustration by Adam Hayes; Photo: Dem10—Getty Images
101 Ways
By Alicia Adamczyk, Kaitlin Mulhere, Elizabeth O'Brien and Kerri Anne Renzulli

We'd all like to finish next year with a bit extra in our pockets. The good news is, when your goal is relatively modest, there are plenty of ways to get there. On the following pages you'll find our best saving and earning ideas—each with the aim of winning you an extra $1,000 in 2018. Few of these strategies are easy, but none will require a major life change. While you are certainly free to give up your daily trip to Starbucks ($3.65 for a grande latte x 365=$1,332.25), we aren't even going to ask you to do that.
• Rejigger Your Bills
• Lower Your Cost of Living
• Get a Gig
• Hone Your Health Care
• Eat Right
• Control Your Spending
• Cheapen Your Thrills
• Make Your Hobby Pay
• Get There For Less
• Make It In the Market
• Earn More at Work
• Make Money Off Your Stuff
• Get Ready to Retire
• Tackle Tuition
• Save as a Family
Rejigger Your Bills
Cover illustration by Adam Hayes
1. Cut the cord
Tens of millions of Americans have dropped ­cable—and for good reason. The average bill hit $103 a month last year, according to the Leichtman Research Group. But there are countless streaming options. A comprehensive package would include HBO Now, Netflix, Hulu, and CBS All Access, totaling around $37 a month, or $444 a year, for a savings of ­almost $800. Go with just HBO and Net­flix and you'll save $968.
2. Switch your cell phone plan
The average family of four's cell phone bill adds up to about $2,880 a year. But Sprint's prepaid Family Plan—the cheapest plan we found—is only $1,260.
3. Switch credit cards
The average household with credit card debt pays $1,292 in ­interest a year, according to NerdWallet. A balance transfer can give you a year of 0% APR to help you catch up.
4. Boost your credit score
Doing it in a year won't be easy, but you can get there, says Greg McBride, chief ­financial analyst at Bankrate. Paying your bills on time is the first step. Also focus on keeping your "credit utilization ratio"—the amount of your credit limit you use—below 10%. Your new, higher credit score could shave as much as one percentage point off your mortgage rate in today's market, says McBride. That will save you $1,000 a year on a $150,000 home loan.
5. Refinance student loans
On a $90,000 parent PLUS loan with a 6.6% ­interest rate, you're shelling out $1,025 a month on a standard repayment plan. Re­finance to a private loan at 4.5% and you could save $93 a month, says Christine Roberts, head of student lending at Citizens Bank.
6. Skip the gym

The average membership costs $50 a month—and much more for boutique classes like SoulCycle. Try a free fitness group like the November ­Project, which is active in over 40 cities, or an intramural team through work. If all else fails, Janis Isaman, a nutrition coach and ­Pilates instructor based in Calgary, Alberta, recommends looking on Facebook and Craigs­list to find people nearby who also want to form an ad hoc fitness club.
Lower Your Cost of Living
7. Think about an ARM
Adjustable-rate mortgages got a bad rap during the financial crisis, but they can make a lot of sense if you aren't planning to stay in your home long term. Right now the average 30-year rate is 4.1%, according to Bankrate, compared with just 3.6% for a five-year adjustable-rate loan. On a $300,000 mortgage, that half a percentage point should save you about $86 a month, or $1,032 a year.
8. Rethink your remodel
"When we redid our bathroom this year, we couldn't get many contractors to return our calls for such a small project—so we scaled back our plans. We avoided major plumbing, electrical work, or anything else that would require a permit or that our handyman couldn't handle. Instead, we had him redo all the surfaces: We subbed in new tile, faucet hardware, lighting, paint, and a new vanity. The bathroom looks brand new, but the end cost was half of the single contractor bid we did receive—a savings of more than $10,000." —Rachel F. Elson
9. Get a roommate
As many as 14.9 million Americans live with a roommate, according to the U.S. Census. It's easy to see why: In cities like San Francisco, a roommate can save you more than $1,000 a month, per a 2017 report from SmartAsset, a real estate website. In less expensive markets like Detroit, you'll save over $300 a month with a roommate, totaling almost $4,000 each year.
10. Sell in May

Homes sold between May 1 and May 15 sell for about 1% more than the average listing, according to a 2017 report from Zillow, translating to an extra $1,500 in your pocket.
Get a Gig
11. Get a gig with Postmates
Delivery men and women have lots of freedom with Postmates, which allows workers to walk, bike, or drive to deliver goods and food in major cities across the U.S. Log on whenever you want. The company says that you can earn as much as $25 an hour, plus tips.
12. Get a gig with Uber
Uber drivers make an average of $15.68 an hour, according to the popular RideShareGuy blog, though that varies by city and doesn't include the cost of maintenance or gas (Lyft drivers make even more, $17.50). Still, a few hours each week will easily net you $1,000 by year end.
13. Get a gig with TaskRabbit
If you really enjoy building Ikea furniture or don't mind carrying a couch up three flights of stairs, you can make some serious money on TaskRabbit—about $35 an hour, on average, the company says. Many of the in-demand tasks, like installing shelves or moving furniture, require a skilled hand (or a truck), but if you have the know how you can bank a lot of extra money in your off time.
14. Take surveys
Blogger Jason Wuerch says he's earned $10 to $15 an hour filling out online surveys. While Survey Junkie and SwagBucks are the best known, you can maximize your haul by signing up for 10 to 15 and rotating among them, focusing on each site's most lucrative offers. (Find a list on Wuerch's site, FrugalForLess.com.) Spend an hour or two a few mornings each week—or work on them during your commute—and you'll reach $1,000 by year end.
15. Test websites
Make money from home by providing feedback on new websites at sites like UserTesting.com, TryMyUI.com, and Userlytics.com, through which you can earn $10 per testing session. SideIncomeJobs.com is another option that has a user fee but guarantees you'll make $100 in your first 30 days. You won't be eligible for every testing session, so this is a less steady stream of income than surveys, according to blogger Scott Alan Turner, but it could add up to hundreds of dollars a month.
16. Try freelancing
Whether you're a writer, designer, or coder, you can sell your skills in your free time at sites like Upwork and Fiverr. Some of the most popular services on Fiverr's marketplace are graphic design–oriented like creating logos, as well as copywriting and translation services, says a spokesman. Prices vary per project, from $5 for a simple WordPress bug fix to hundreds or thousands of dollars for something like website design.
17. Help Santa
Retailers hire tens of thousands of extra workers for the holidays, with some gigs paying as much as $16 an hour (although $11 to $14 is more common).
18. Mind your neighbors' kids
Nationally, babysitters earned $13.97 an hour on average last year, according to a Care.com survey. That means by working 6 p.m. to midnight one Friday night a month you can earn $1,006.
19. Take an extra shift

For everyone from retail clerks to housekeepers, job website SnagAJob focuses on hourly work. You can search for part-time jobs and specify when you want to work, like nights or weekends.
Hone Your Health Care
BrianAJackson—Getty Images/iStockphoto
20. Get a high-deductible plan
Workers with health insurance through their employer pay an average family premium of $467 a month for a PPO vs. $321 for a high-deductible health plan, according to Mercer. That's $1,752 a year in premium savings. The strategy can pay off even if you aren't in perfect health. Just make sure you have enough cash on hand to cover your higher deductible.
21. Open and fund an HSA
Paired with high-deductible health plans, these portable accounts allow you to set aside pretax dollars for medical expenses now or in the future. A single person making $60,000 (in the 25% federal tax bracket) who puts away $288 a month in an HSA would save $863 a year in federal income taxes. Once you're retired, you can use HSA money for Medicare premiums.
22. Deduct your health care costs
You need to itemize, and your medical costs must exceed 10% of your adjusted gross income. You can then deduct any amount you paid above that threshold. If you're dealing with an illness or injury this year or if your income is particularly low because of retirement, job loss, or a break from work, you're best poised to claim this deduction.
23. Sign up for a wellness program
Nearly all large employers offer wellness programs, and about three-quarters of those offer financial incentives to employees to participate. You can earn money for activities like getting your cholesterol checked or signing up for a workplace exercise program. The average employee incentive adds up to $742, according to the National Business Group on Health. Make a healthy salad for dinner instead of getting takeout a couple of times a month, and you're up to $1,000.
24. Quit smoking
"You don't have to be a heavy smoker to waste big bucks on the habit. In New York, the cigarette minimum is $10.50 a pack (some brands cost $14 or more), which at two packs a week carries an annual cost of $1,000. Last year, I left the smoking section for good and saved more than $900. And not a moment too soon: In 2018, the minimum price for a pack in New York City will jump to $13." —Kristen Bahler
25. Use Groupon for wellness visits
You've probably already heard about Groupon's restaurant, fitness, and beauty deals, but did you know you can also use the site for discounted eye, dental, and chiropractic exams? If you visit the chiropractor twice a month, and your insurance doesn't pay the average $68 fee (as per Chiropractic Economics magazine), you'll save around $1,000 by using packages advertised on Groupon—which often work out to $25 or less a visit. Just be sure to research each office on Google, Yelp, and social media beforehand. Groupon doesn't vet its merchants, so if a business doesn't have a solid Better Business Bureau rating and plenty of good customer reviews, it's probably worth skipping.
26. Sign up for Medicare on time
Generally if you don't sign up for Medicare Part B by age 65¼, your monthly premium increases by 10% for every 12-month period that you're late. This penalty lasts as long as you have Part B. Most new beneficiaries paid $134 a month for 2017, which means that enrolling a year late will cost you $1,000 extra after just six years.
27. Shop around for Medicare Part D

Prices for medications under Part D drug plans vary widely, even within the same zip code, according to a study by the Senior Citizens League. The price of Ventolin, an inhaler used to treat asthma, varied by $119 a month, for example. Choosing carefully during open enrollment, which runs from Oct. 15 through Dec. 7 each year, could save you $1,400 annually for that one drug.
Eat Right
courtesy of Marley Spoon US
28. Eat at home
Want restaurant-quality fare without spending the money for a meal out? Budget meal-kit services, like Dinnerly, can take the hassle out of cooking and save you money if you are willing to skip dining out. A couple spend about $3,000 a year in restaurant and takeout expenses. Dinnerly charges $38.99 for three meals a week—saving almost $1,130 a year.
29. Buy the store brand
The typical family of four with school-age children spends $1,054 a month on food, ­according to the U.S. Department of ­Agriculture. On average, store brands are 30% to 40% cheaper than ­famous name ones, says food marketing analyst Phil Lempert. That means, over the course of a year, shaving $1,000 from your ­grocery bill should be well within reach. One tip: Compare ingredients and nutritional ­information on the packages. If they are the same, chances are both products are being made by the brand-name company and are basically ­identical, according to Lempert.
30. Stop ordering alcohol when you eat out
The average menu price for an imported beer is $5, according to Numbeo. In other words, treating yourself and a date to two drinks with dinner once a week will cost you $1,040 a year. Skipping those drinks won't just save you money, but also thousands of calories apiece.
31. Stop wasting food
The average American household throws out between $1,350 and $2,275 in food each year, according to the Natural Resources ­Defense Council.
32. Cut out meat
Vegetarians save $750 a year, according to the Journal of Hunger and Environmental Nutrition. Those figures still include plenty of pricey ingredients like olive oil. Want to save a bit more? Swap in cheaper alternatives like canola oil.
33. Pack your lunch

People who buy lunch every weekday burn through serious cash—about $2,500 a year, if you spend $10 on an average meal. Mona Meighan, author of What Are You Doing for Lunch?, estimates that brown bagging can cut your costs by 80%. You don't even have to go that far. Swap your $10 lunch-out habit for a meal from home that costs $4, Monday through Thursday, and you will save about $1,200.
Control Your Spending
34. Just say no to impulse buys
84% of us have bought something on a whim. Many of these purchases are $25 or less, but 54% of people say they have spent more than $100, and 20% more than $1,000, according to ­CreditCards.com. Set up a rule, say a 24- or 48-hour hold period, before you buy anything over a certain price threshold. "We tend to provide a greater weight to current payoffs than future ones, so waiting 24 or 48 hours before making a bigger purchase is an excellent way to overcome our present bias," says Joe Sterf, a CPA and founder of Average Joe Finance. "Instituting a holding ­period gives us time to think about the future and not impulsively react. With that extra time, we'll be less likely to make the purchase."
35. Use Mint
You can't save if you don't know how you're spending your money. "By seeing how much money is going in vs. going out, you will be able to make better buying decisions to help reach your financial goals," says Andrea Woroch, a consumer finance expert. Apps like Mint or PocketGuard help because they make it easy to see which needless purchases you can eliminate in the future. Woroch says most of the wiggle room will probably come from clothing, grocery, and entertainment spending.
36. Put savings on autopilot
"With Digit, you select a goal and a time frame in which to accomplish it (mine is to save $2,000 in the next year for a vacation), and the app saves small amounts of money for you. Digit has a monthly fee of $2.99 after a 100-day free trial, which is something to be aware of, but so far I've saved over $400 in just a few months, which I just wouldn't have done on my own. Plus, I get daily text messages with my bank balances and how far I'm progressing toward my goal." —Alicia Adamczyk
37. Check your banking app more often
Research by economists Shlomo Benartzi at UCLA and Yaron Levi at USC found people who downloaded a financial app looked at their account 12 times each month, compared with going to the website twice a month. The results: Spending fell 16% in the four months after people loaded the app, led by less discretionary spending. Dining out expenses dropped by 19%, and grocery bills by 21%. Annual savings on the average grocery bill alone could net you over $880.
38. Make it fun
The 52 Week Money Challenge is simple: Save an extra dollar every week of the year—$1 the first week, $2 the second week, and so on, until you reach $52 saved in the last week of the year, for a total savings of $1,378. "So many of us don't deal with money, because we have negative associations with it," says Kristin Wong, author of the forthcoming book Get Money, who led a similar challenge for Lifehacker.com. "If you can make it fun and empowering to save money, you're going to actually want to deal with it."
39. Make it fun (part II)

Try a "no spend" month, or a day each week, by picking a time in which you pay bills but buy nothing except the necessities (groceries, gas, etc.). It may seem difficult, but there are plenty of forums on the web for support—try Reddit's 12-million-­subscriber-strong ­Personal Finance subreddit, or NPR's Your Money and Your Life Facebook group, where commenters update their "no spend" challenges daily. "Small challenges lead to small wins, and it's ­super empowering to see that you've actually saved some cash," says Wong.
Cheapen Your Thrills
40. Book holiday flights in advance
For a family of four, booking flights before Halloween saves about $1,200 on average if you are planning to travel for both Thanksgiving and Christmas or Hanukkah, based on price estimates from Hopper.
41. Drive instead of flying
Booking early doesn't save enough? With the average cost of a roundtrip U.S. flight hovering at $367, the rule of thumb is to drive if the destination is less than 500 miles away. A family of four can save more than $1,200—even when you include an overnight stopover.
42. Shop around for lodging
For your next trip, check out a vacation rental through sites like Airbnb, VRBO, or HomeAway. A recent study found that in 16 of the top 22 cities for travelers, Airbnb stays were cheaper than hotels by an average of $56 a night. That may net only the heaviest travelers $1,000 a year. But in some cities, like London and Paris, the savings were much greater—eclipsing $100 a night. In other locations, including Toronto, Vienna, and Madrid, you could save $90 to $100 on average by renting a room in an apartment where guests share the kitchen and bathroom.
43. Stay as a family
For a weeklong vacation with kids, consider skipping a conventional hotel where you'll have to book two rooms and instead take advantage of an ­extended stay hotel like TownePlace Suites or Candlewood Suites. On average, you'll save $157 a night at this type of lodging—which usually includes a kitchenette and a sofa bed for the kids.
44. Play the rewards game
For frequent travelers it can pay to rack up points on a rewards card. Put all of your purchases, especially on dining and travel, on a card like Chase ­Sapphire Preferred or American Express ­Platinum, and your miles should save you $1,000 or more a year on flights.
45. Stop playing the lottery
Americans spend more than $70 billion a year on lottery tickets, well over $1,000 per household in some states like Massachusetts ($1,976) and Georgia ($1,211), according to data site Metrocosm. Your chances of winning Powerball: about 1 in 292 million.
46. Skip gadgets
The new iPhone X is priced at $999 and up. Don't buy it.
47. Use all of your beauty products
The average American woman spends $8 a day on makeup and other skin care products, according to retailer SkinStore. The good news: Most women have plenty of unused makeup at home—more than $2,000 worth, according to beauty site escentual.com.
48. Get cash back

"Ebates.com­, a 'cash back' site—you can also try FatWallet.com and ­TopCashback.com—has become part of my online shopping routine. Many brands' discounts are in the 2% to 3% range—hardly worth my time. But Sephora, one of my favorites, routinely offers 8% off. Next year I'm planning a family wedding—and the 23% off from Flowers.com could save me several hundred dollars. By shopping strategically and taking advantage of other perks ($25 for each friend I sign up) I am targeting $1,000 cash back." —Veronica Quezada
Make Your Hobby Pay
LightFieldStudios—Getty Images
49. Pen greeting cards
Publishers pay anywhere from $50 to several hundred dollars for a "complete concept"—the text and the idea for an illustration, says Ron Kanfi, president of gag card company NobleWorks. Carefully research the publisher ahead of time, so that you can write in the house style, then send six to 10 of your best ideas, he recommends.
50. Sell your crafts on Ebay or Etsy
Whether you cross stitch or handcraft jewelry, the trick to selling your stuff online is promoting it with frequent social media posts and beautiful photos, says Debby McClain, who operates two Etsy shops. "In a huge sea of sellers, you have to make sure you are seen," adds McClain, who has sold crafts online for 19 years.
51. Become a high school referee
Youth sports officials make around $20 a game, says Barry Mano, president of the National Association of Sports Officials. High school referees can earn between $50 and $70, while college game pay starts at over $100. As an initial step, join your local officials association, which will provide training, and begin scheduling games.
52. Sing in a choir

Many churches and synagogues pay singers to perform as part of their regular ensemble or for special events. While rates vary, common listings offer anywhere from $50 to $200 for each practice and performance. The easiest way to find such gigs in your area: Reach out to local institutions, and search online ads such as those at choralnet.org.
Get There For Less
53. Get some carpool buddies
At $3.08 a gallon—the five-year national average for gas—a 25 mile commute costs about $2,000 annually in gas alone. And while gas prices have been low recently, gas price researcher GasBuddy predicts they will go up in 2018. By alternating the days you drive to work, you stand to save roughly $1,000—and that's before you factor in tolls, depreciation, and any parking costs. Bring in a third buddy, and the savings climb to $1,300.
54. Scale back on car insurance
Check the value of your car via Kelley Blue Book. If you're driving an older model that is worth less than 10 times your insurance premium, consider dropping comprehensive and ­collision coverage, ­suggests the Insurance Information Institute, which could save you between $375 and $1,500 a year on that item alone, ­the group estimates. And always shop around for a new policy: According to J.D. Power, consumers who switched insurers saved an average of $388 in 2015.
55. Wait a year
These days the average car is on the road for more than 11 years, up from nine in 2000, ­according to the Transportation Department. Resisting the urge to trade in for a newer model will easily save $1,000 in payments.
56. Improve your mileage
Keeping your tires inflated could save you $112 a year in gas money, according to one survey by Edmunds—or as much as $800 if they're severely deflated. Additionally, aggressive driving can lower your gas mileage by anywhere from 10% to 40% in stop-and-go traffic, according to SAE International, an auto industry trade association. With the average American estimated to spend more than $1,500 on gas this year, that's another $156 to $624 in your pocket.
57. Buy a 'dark horse' car
Buying the most popular model of a vehicle—commonly a Honda or Toyota—may mean you're paying more than you need to, according to car site Edmunds. There are often comparable, less popular vehicles that cost much less after cash-back incentives.
58. Be very patient
"We broke down and bought a new car this summer, but only after three months of waiting out dealerships. We wanted a Honda Pilot, and dealers had plenty of models, but all with extra features we didn't want and which cost $5,000 to $7,000 more. So instead we waited. Two dealers eventually got the base model we were looking for—and one offered to sell it for $1,000 less than the other." —Brad Tuttle
59. Sign up for pretax transit programs if offered by your employer

Do you spend up to $255 for parking and/or transit a month? For someone making $37,950 to $91,900, that translates into savings of more than $750. If you park and ride, or make more than $91,900, you can easily surpass $1,000.
Make It In the Market
60. Trade your broker for a robo-advisor
Ditching your human advisor can save you some money if you're comfortable with an online, technology-first solution. Robo-advisors like Schwab Intelligent Portfolios and WiseBanyan don't charge a fee to manage your money, compared with the 1.1% fee, on average, charged by human advisors. If you have $100,000 saved up in your retirement piggy bank, switching could easily net you an extra $1,000 a year.
61. Index your 401(k)
The average actively managed stock fund charges investors 1.02% of assets a year, according to Morningstar. Popular large-cap index funds, including versions from Vanguard and Fidelity, routinely charge less than 0.1%.
62. Get your dividends abroad
Sick of U.S. stock funds' anemic 0.8% average yield? International stock funds boast 1.7%.
63. Harvest your losses, part 1
If you sell now and lock in the loss, you can count it against gains realized on your winners. You can't buy back the loser for 30 days, but you can buy something similar, a large company stock fund, say, instead of a midcap one. Workers making $37,950 to $418,400 (15% capital gains bracket) will save $1,000 for every $6,667 in gains they offset.
63. Harvest your losses, part 2
If your market losses exceed your gains, you can also deduct up to $3,000 of capital losses from your income. You need to make more than $190,000 to net $1,000. But even if you earn $91,900 to $191,650 you will still save $840.
65. Invest in value stocks

Boost your investment returns by tilting your stock portfolio toward small value stocks, which tend to outperform blue-chip names over the long haul. Just remember it's not a free lunch. Small value stocks tend to be more volatile, meaning steeper bear market drops.
Earn More at Work
66. Get your boss to hire your buddy
"Most companies will give you a referral bonus if you recommend someone for a job and the company does indeed hire her. The most common referral bonus is between $1,000 and $2,500, according to a 2016 report from WorldatWork, a nonprofit human resources association. (Referrals for clerical positions are typically lower, from $500 to $1,000, the report found.) In 2015 an average of 13% of new hires came from referrals. I recommended a friend from my college paper. She got hired just as I was moving apartments, and the bonus paid for the movers and some new furniture." —Alicia Adamczyk
67. Provide social support
While you may think getting a raise is the key to making you happier, research suggests it actually happens the other way around: Fostering a positive attitude in your day-to-day work could help you move up in your company or land a big project. According to the Harvard Business Review, an easy way to do so could be through simply helping your coworkers. A 2011 study found that people who coordinated lunches and organized office activities were 10 times as engaged at work—and 40% more likely to get a promotion (and a raise)—as those who didn't.
68. Look elsewhere
Job switchers averaged a 4.5% wage increase in 2017, according to ADP. Workers between the ages of 25 to 34 in full-time jobs saw their wages increase the most. Chris Martin, lead data analyst for compensation data company PayScale, says a lot comes down to your job—those in "hot markets," like software development, will likely see an increase if they switch, while pay for administrative assistants depends on how long they have been with a certain company.
69. Exercise
A recent study by Cleveland State economist Vasilios Kosteas found that frequent exercise led to 6% higher pay for men and 10% higher pay for women, on average. Kosteas attributes the wage ­increase to a boost in productivity that results from hitting the gym routinely.
70. Job hunting? Save receipts
If you're looking for a new gig in the same line of work, you can deduct search-related expenses, from résumé prep to travel costs like mileage and lodging to job placement or employment agency fees. The only catch? First-time job hunters, those looking for a position in a different occupation, and those with a large gap between the end of their last job and their current search don't qualify.
71. Get a cost of living increase
In some cases, earning an extra grand could be as simple as doing nothing but continuing at your current job. Salaries are expected to increase 3.2% on average next year, according to the Economic Research Institute, meaning if you make the average U.S. wage of $49,630, you'll bank almost $1,590.
72. Get a merit raise

Consider yourself a top performer? In recent years more and more companies have been favoring merit raises as a way to get the most out their employees, according to payroll company ADP. The average merit raise for full-time job holders was 4.3% in 2017—or $2,134 for the average earner.
Make Money Off Your Stuff
73. Rent out your house
Though not everyone has extra space to rent out, those who do can earn a decent amount of money via platforms like Airbnb. "I pulled in over $800 a month—all from renting out a spare room that was getting no use," says Kevin Han, who writes the Financial Panther blog. Earnest, a lending company, reports that Airbnb hosts make an average of $924 a month, although the median, which may reflect a more typical experience, is $440.
74. Rent your home for 14 days or less
Cash in on a tax exemption by renting your house for two weeks or less. Doing this keeps you from having to pay taxes on any of the income from your short-term rental. Go up to a 15th day and you'll owe taxes on the whole sum you earned from all rental days. This move can be a major boon to your budget if you live in an area that hosts ­popular annual sporting events like a major golf tournament, says Draper, Utah, CPA Troy Lewis.
75. Rent your car
Similar to Airbnb, sites like Getaround and Turo provide marketplaces where individuals can rent out their vehicles. Again, how much you make will depend on your car: A Honda Civic can earn over $367 a month, according to data provided by Turo, while the average monthly earnings for all users is $539, which accounts for insurance costs.
76. Rent your boat
You don't have to have a super-yacht. Catamarans, sailboats, motorboats, and even kayaks are in demand. Renting your bowrider in Miami could earn you $39 an hour, while a weeklong rental of a deck boat in Seattle could net you $5,000, according to listings on GetMyBoat.
77. Rent everything else
There's no shortage of sites that want to be the Airbnb for your other stuff. On ShareGrid, professional photographers offer gear for as much as $1,000 a month. If you have a parking space or driveway in a city like Chicago or New York, CurbFlip and JustPark help you find renters—about a third of parking space owners earn $1,000 a year or more, according to CurbFlip. Omni is a San Francisco–based company that stores your extra stuff—from bikes to camping gear to Halloween costumes—and rents it out for you if you opt in.
78. Hold a garage sale

"Of course it's possible to make $1,000 at a yard sale," says YardSaleQueen.com author Chris Heiska. Her tips: Make sure to advertise properly, and if your home is in a remote area, consider renting out space at a location with more foot traffic, such as a local church or synagogue.
Get Ready to Retire
79. Avoid the procrastination penalty
It may not seem like much at first, but if you were to fund your IRA on Jan. 1 of each year—and not wait until the IRS deadline on April 17 of the following year—that 15½ months of additional tax-free compounding will boost your nest egg by around $30,000 in additional savings after 30 years, or $1,000 a year.
80. Get a bonus from your retirement account
For middle-income savers, squirreling away money in a retirement account like an IRA, 401(k), or 403(b) can result in big benefits not only for your retirement but also your tax bill. You can claim a saver's credit for such contributions equal to either 50%, 20%, or 10% of the total you put in this year up to $2,000 (or $4,000 if married, filing jointly) depending on income.
81. Put off taking Social Security from 66 to 67
Each year you wait to start collecting Social Security checks, your benefit grows by 6.5% to 8%. If your monthly benefit was $1,300 at 66—the average for that age—waiting one more year will result in $104 more each month or about $1,248 in total for the year.
82. Get your company match
Most large employers now automatically enroll employees in 401(k) plans, but about a fifth of workers still don't participate, according to Vanguard. Even agreeing to sock away 1% to 2% of your salary each year can easily net you $1,000, considering most plans boost your contributions with a match—worth up to 4% of your salary, on average.
83. Defy the default
Merely being enrolled in a 401(k) is a great first step. But it's not enough to secure your retirement (or maybe even get the full match). A majority of employers auto-enroll workers at a savings rate of 3% or less, Vanguard reports. Up that to 6% and you'll finish the year with an extra $1,000—plus a lot of peace of mind.
84. Seniors, use age-related tax breaks

Owning a home past age 65 comes with a host of state tax perks. In nearly every state, tax exemptions can lower your home's assessed value. Most states offer "circuit breaker" credits to give pensioners back some of the real estate taxes they have already paid throughout the year. And finally, in more than 40 states, seniors can capitalize on limits to annual increases in their property's assessed value, caps on property tax rates, or freezes on assessments.
Tackle Tuition
85. Fill out a FAFSA
About 60% of high school seniors filled out the Free Application for Federal Student Aid last year, according to the National College Access Network. But every college-bound senior should be filling out the form. Why? It's the gateway to billions of dollars awarded in federal and state grants each year, including the Pell Grant for low-income families. The average Pell Grant is about $3,700 a year.
86. Don't overlook community scholarships
These tend to be less competitive than larger national ones, and checks worth $500 to $1,000 a semester can add up quickly. Start by looking at nearby Rotary clubs, veterans groups, American Association of University Women chapters, Elks clubs, and church groups. Ask your high school's guidance office for more ideas.
87. Ditch your dorm
Room and board now cost more than tuition and fees at public four-year colleges, according to the College Board. Reduce the average $10,800 expense by searching for bargains off campus. Even better? Look for a co-op, where residents do weekly chores in return for lower rent. The North American Students of Cooperation says this option can save 20% to 50% off the cost of private market rent in your college town.
88. Get your employer to pitch in
Many large companies offer up to $5,250 a year in tax-free tuition reimbursement. That money can pay for part of a second degree or for one-off courses to develop skills in high-demand areas like coding, data analytics, or entrepreneurship. Even if your employer doesn't have an official program, ask your boss about subsidizing your training. Make sure your pitch includes program costs, an outline of what you'll learn, and how that will ultimately pay dividends for your team.
89. Hit the books overseas
"Considering study-abroad programs? Think about going as a foreign exchange student instead. While you may get less handholding, you can avoid the hefty program costs and even tuition in some countries. In college, I attended the University of Southern Denmark through an exchange program. Because higher education is free in Denmark, I spent only $5,000 for five months of housing, food, transportation, and other necessities—less than a third of the $18,000 the International Institute of Education estimates the average study-abroad experience costs per semester." —Megan Leonhardt
90. Take the American Opportunity Tax Credit
Recoup tuition costs by cutting up to $2,500 off your tax bill. Don't owe that much? You can have 40% of the remaining amount, or up to $1,000, refunded to you. One catch: You can use this credit only for a student's first four years of college.
91. Take the Lifetime Learning Credit
Offset 20% of the first $10,000 of qualified education expenses you or your family rack up and reduce your tax bill by up to $2,000. The best part: This break can be applied to any courses at an eligible school that go toward a degree or credential, or simply to improve job skills—and there is no limit on the number of years you can use the credit. To qualify, your modified adjusted gross income must be below $65,000 for single filers or $131,000 or less for married joint filers.
92. Deduct your student loans

Deduct up to $2,500 of interest paid if your modified gross income is below $65,000 for singles or $135,000 for joint filers. Singles earning up to $80,000 ($165,000 for couples) can claim a partial deduction. This means the most you can expect to save each year is $625. Still, if you hit the max, you can stretch the savings a bit by signing up for auto­pay with your loan servicer, which should shave 0.25% from your interest rate, netting an extra $10 to $15 a month for heavy borrowers.
Save as a Family
93. Potty train your kid
With diapers costing 33¢ a pop (Pampers, size 5, on Amazon.com, for example) you can easily save $1,000 by potty training your child at age 2 instead of 3. As recently as the late 1950s most Americans did this, and parents in many other countries still do, says Michelle Swaney, who runs the website thepottyschool.com.
94. Share baby-sitting duties
Set up a local babysitting co-op. Amy Suardi, the mother of five behind the blog Frugal Mama, says aim to enlist about five families, at least at the start. It's "kind of like a fire," she says. "You have to fan the flames a lot in the beginning to get it going."
95. Say no to the wedding
Average cost to attend an out-of-town ­wedding: $1,184 per couple, says American Express. Take the newlyweds to a Champagne dinner instead, suggests relationship ­expert April Masini.
96. Hire an au pair
The average weekly cost for a nanny: $556, says Care.com. Willing to try someone with a bit less experience who perhaps speaks a foreign language? You can save about $200 a week with an au pair, according to the website.
97. Get discounts on kids' sports
Activities like gymnastics can easily top $1,000 a year. But you don't always have to pay full freight. "Call and ask," says Elisabeth Leamy, host of the Easy Money podcast. "It's not always on the website." Leagues that don't offer aid may still know about government grants. Local city councils near Leamy's home in the D.C. suburbs offer grants for both low-income and military kids, she says.
98. Wedding tip #1: Change days
"If a venue costs $7,000 on a Saturday, you can most likely negotiate [to lower] that price on a Friday, a Sunday, or a Thursday," says Norfolk wedding planner Crystal Salazar. For instance, the Kimpton Hotel Eventi in New York City offers promotional packages discounted for weddings on Fridays and Sundays by $36 to $66 per person—meaning for weddings of 100 guests, this could save you $3,600 or more.
99. Wedding tip #2: Cut back on flowers
Flowers can cost upward of $5,000, according to ­TheKnot.com. Lower your bill by hanging colored linens on the walls and tables, then combining the flowers you do buy with eclectic vases or a centerpiece, says San ­Diego wedding planner Nahid Farhoud. Doing so can save about $2,000 for weddings of 100 to 200 guests.
100. Wedding tip #3: Serve wine and beer
Mixed drinks typically cost $10 to $12 at the bar, while beer costs $6 and wine around $8, according to Farhoud. That means for a wedding with 150 guests, skipping hard liquor can easily save you about $1,000, assuming three drinks per guest. Another tip: Serve tap water instead of bottled—which can run up to $6 a pop at high end venues.
101. Hire an accountant
"As a personal finance writer I always took pride in doing my own taxes. But my wife is a priest, which adds a lot of complexity. A pro cost us several hundred dollars, but he not only handled my wife's situation, he also pointed out deductions I missed—like my union dues." —Ian Salisbury