This Is Airbnb's Most Wished-For Listing. Take a Look Inside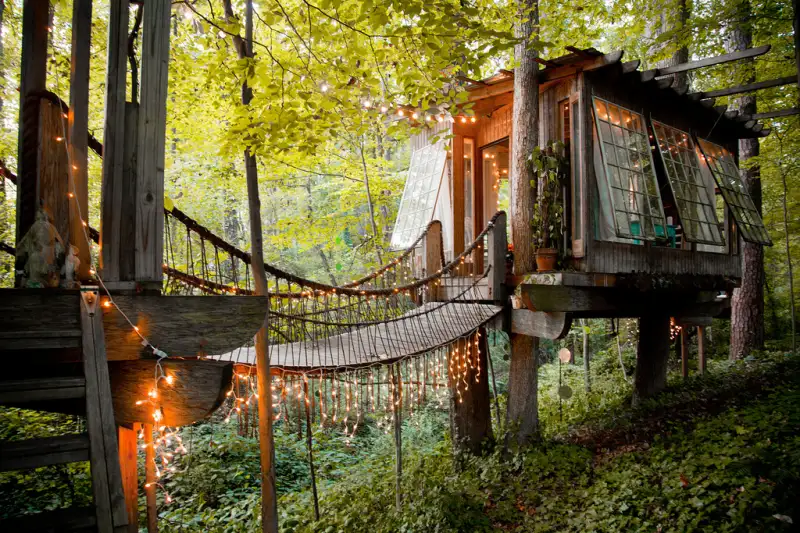 Nestled in the woods in the heart of Atlanta sits Airbnb's most wished-for listing.
And the desirable destination isn't what most would expect. Fit for two guests, the Georgia treehouse consists of three separate rooms connected by rope bridges — and more than 151,330 people have saved the listing to their "Wish List," where customers can keep track of listings they like.
The treehouse comes with a two-day minimum and costs $375 a night, where up to two visitors can sleep on a double bed that can be rolled in or out of a platform that sits above a stream below. The listing also includes a living room with antique furnishings and a deck outfitted with a hammock and a dart board.
While the treehouse doesn't have a bathroom attached to the property, there is one available in the owner's private residence, which is a "30 second walk" away, according to the listing.
Aside from the lack of a bathroom, the unique accommodations also have a few other missing amenities that guests should be aware of. People should consider the time of year they book their stays as there is no heat or air conditioning in the treehouse.
While the treehouse may not have the amenities and luxurious qualities seen in other Airbnb listings frequented by celebrities, there may be another reason prospective guests are so interested in it, the site's owner told the Today Show. "I think it's a simple response to a complicated world for a lot of people," Peter Bahouth, the owner, told the Today Show.
And guests who have stayed in the treehouse report rave reviews, according to those posted on the Airbnb listing. The listing has five stars for accuracy, communication, cleanliness, location and check in. It scored 4.5 stars for value.
"The tree-house is EVEN better in real-life," wrote one reviewer.
"Sipping coffee each morning underneath 160 year old pine trees was an amazing experience and the serenity of the treehouse was an almost religious experience," another wrote.
It was also used to host wrap parties for films like The Hunger Games and Dumb and Dumber To, according to the Today Show.
For those just learning about the treehouse, they will have to wait close to a year for a chance to stay in the popular spot. The next two-night slot open isn't until March 2018. (The next full weekend available isn't until late July 2018.)
Take a look at the treehouse in the images below:
We've included affiliate links in this article. Click here to learn what those are.