How to Beat the System and Avoid Overpaying for Your Next Flight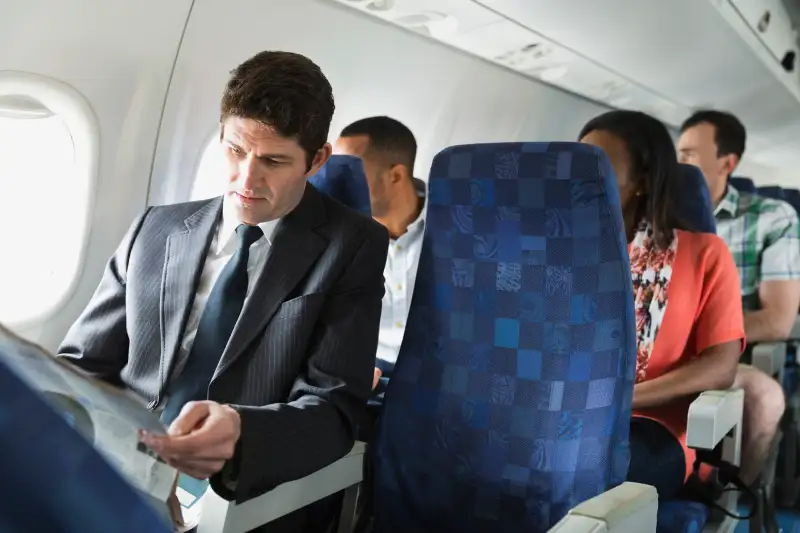 How annoyed would you get if you found out the person next to you paid less for their plane ticket? How much more chafed would you be if it were hundreds of dollars less?
Because of airlines' dynamic pricing strategies, there are always some travelers who pay far more than others. And a new study suggests that the differences could be higher than you think. In fact, you could be paying six times more for your airfare than your seatmate, according to a recent report from airfare prediction app Hopper. For economy seats on the average U.S. flight, Hopper found, the ticket price paid can vary from under $100 to over $600. (The amount can vary from airport to airport; Hopper also identified a list of destinations where prices vary most—and where, consequently, you can get the biggest deals.)
"Airlines have gotten really good at getting you to pay as much as possible," says Alex Chang, a data scientist with Hopper.
Still, Chang says, there are ways to beat the system, which is designed to take advantage of business travelers who generally book last minute and don't mind paying premium.
Here are a few tips to avoid overpaying for your next flight.
1. Choose Nontraditional Vacation Spots
If you're booking a flight that's heading to a vacation destination (like Honolulu or Orlando), you're not going to see that much variability in price, Chang says. That can make finding a deal harder, since prices are more stable and airlines can't rely on selling higher-priced tickets to business travelers to offset the cost.
By contrast, routes that have a lot of business travelers—Boston to New York, D.C. to New York, and Los Angeles to San Francisco—tend have a lot of last-minute bookings, which are more expensive. That allows airlines to offer more variation in price, because they can predict they'll make up any shortfalls on the business fares.
To get the best deals, consider flying into bigger airports that are located near business hubs, and perhaps renting a car to get to your final destination.
2. Constantly Check Airfares
While it's nearly impossible to monitor airfares constantly, it's important to set up some type of price-tracking system in order to nab the best airfares. There was a time when airlines had actual people adjusting the prices, but now they've automated all of that. So you also need automation on your side in order to take advantage of discounts.
Sign up for airfare tracking services, such as those provided by Hopper or Kayak. Hopper not only tells you when there's a price drop, but also sends notifications when its algorithm predicts prices are unlikely to drop further. If your destination is flexible, check out newsletters like Scott's Cheap Flights or Next Vacay.
3. Time It Right
When you purchase your ticket matters. The rule of thumb is book early—but not too early. If you book a flight nine months to a year in advance, chances are the price is going to drop at some point, Chang says. There's a sweet spot that tends to be one to three months, but that does vary based on the route. And don't expect a lot of last-minute deals. Generally there's a jump in prices two to three weeks out, Chang says.
The time of the flight also matters, Chang says. If you have the ability to take a flight during off hours, you may be able to score a better price, as it's less popular.
4. Know Your Airline
Some airlines are more targeted toward certain types of customer segments. Delta, for example, really focuses on business travelers, Chang says. These tend to be airlines that have hubs in business centers—they price their flights at a premium, and don't vary the prices much. American and JetBlue, on the other hand, are notorious for varying their prices, Chang says—because they're trying to target everyone.
The number of airlines servicing the route plays into the price too. Take, for example, the relatively recent plunge in airfares to Europe. Many of those price drops came because ultra-low-cost carriers like WOW and Norwegian have joined the fray and expanded their routes, Chang says.
5. Embrace Layovers
Unlike business travelers, those on a vacation have a tighter budget and more time to get to their destination. Layovers—especially to long-haul destinations—are a way to bring down the cost. Usually routes with one or two stops will be cheaper than a direct flight, Chang says.
"If it's a convenient flight, expect to pay more for it," Chang says. "If you want a cheap flight, be prepared to spend quite a while on the ground or in the air."