Travel Groups Want Congress to Investigate Airline Competition (or Lack Thereof)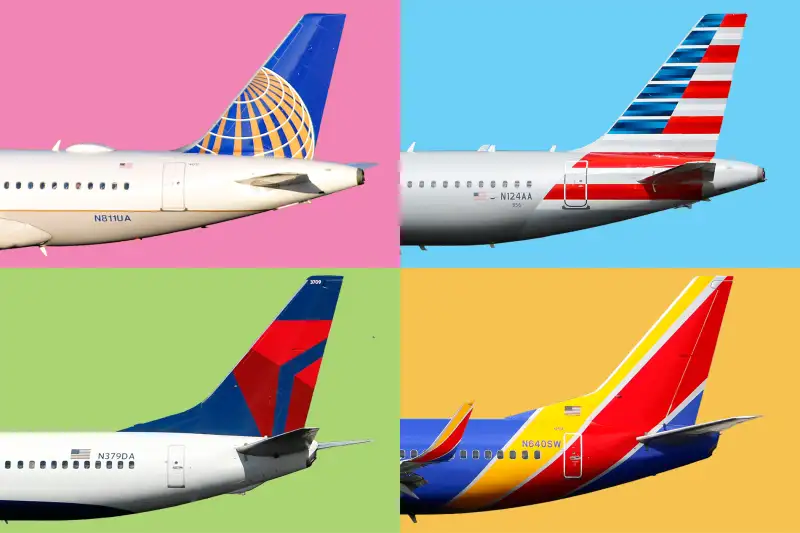 Ssarina Finkelstein (photo illustration)—AP Images (3); Getty Images (1)
If you're a frequent flyer who's noticed fewer choices in terms of routes and airlines, you're not alone—and some travel groups want to do something about it.
One of their main points of contention is that years of industry consolidation has allowed four airlines—American, Delta, Southwest and United—to take control of 80% of the domestic market. Now, a coalition of travel groups—which include the U.S. Travel Association and the American Society of Travel Agents—is urging Congress to investigate the state of competition (or lack thereof) in the airline business, according to USA Today.
Since the last time a similar study was commissioned, in 1993, Northwest Airlines became part of Delta, Continental was absorbed by United, and U.S. Airways was taken over by American. The airline groups are worried that the hubs shut down due to consolidation have limited options for flying and raised prices for travelers. Between 2006 and 2012, some affected airports and airlines include:
Cincinnati lost a Delta hub and departing passengers decreased from 7.5 million to 2.8 million.
Cleveland lost a United hub and passengers decreased from nearly 5.3 million to nearly 4.2 million.
Memphis lost a Northwest hub and passengers decreased from nearly 5.3 million to 3.3 million.
Pittsburgh lost a U.S. Airways hub and passengers decreased from 4.8 million to 3.8 million.
Their argument might have some merit: Profits reported by the airlines in 2015 were easily the highest since Congress deregulated the industry in 1978. Still, it's not clear whether the mergers have caused fares to spike. While some former hubs have seen a decline in traffic, they might not have been profitable anyway, USA Today reported. What's more, after accounting for inflation, U.S. travelers fly farther for cheaper since deregulation, according to Transportation Department statistics.
But Matt Cornelius, vice president for air policy at Airports Council International-North America, said the groups' concern deals with both the loss of service at former hubs, as well as the ability of single airlines to control most of the traffic flying out of larger markets.
"We have seen after the mergers of the large legacy carriers a reduction in that competition," Cornelius said.