All the Airlines Waiving Flight Change and Cancellation Fees for Winter Storm Quinn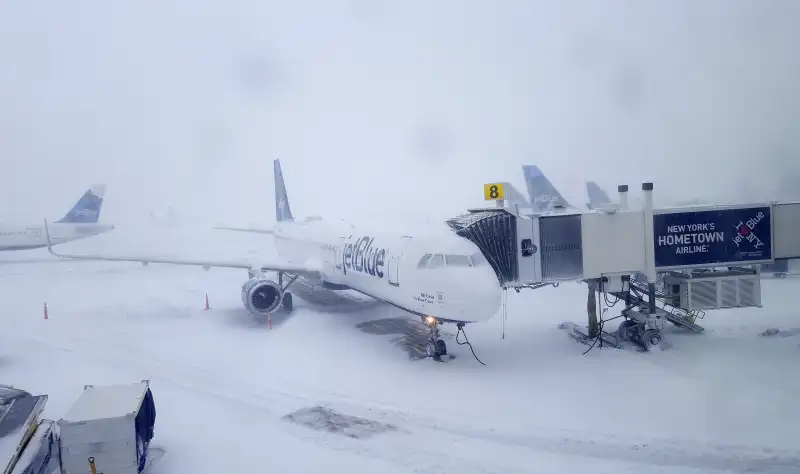 Rebecca Butala How - Getty Images
Winter Storm Quinn is here. The second Nor'easter to wallop the East Coast in a week began Tuesday night and continued throughout Wednesday, disrupting commutes and travel itineraries.
Airlines took a proactive approach to this winter storm — waiving fees for flight cancellations and rebookings for travelers affected by Winter Storm Quinn, a powerful Nor'easter that brought thundersnow to parts of New York and could drop up to a foot of snow on many major East Coast cities including Boston, New York and Philadelphia. The path of the storm is expected to continue moving up the Northeast coast on Wednesday night and Thursday, before moving toward the west on Friday over Maine, which is expected to experience the most significant snowfall, according to the National Weather Service.
Several airlines cancelled flights ahead of the storm, with more than 800 flights grounded even before the snow began to fall, according to USA Today. And more than 4,000 flights had been cancelled or delayed in the U.S. as of Wednesday afternoon, according to FlightAware. Most ticket changes in and out of major cities throughout the Northeast — including those that will be hardest hit by Winter Storm Quinn — will be free for fliers.
See the list below for a roundup of major airlines' cancellation policies as well as any specific announcements about waivers for Winter Storm Quinn. And if you aren't sure if your flight or specific ticket is covered by a cancellation policy, call the airline directly.
JetBlue
JetBlue is waiving change fees, cancellation fees and fare differences for those who are traveling on Wednesday, March 7 and Thursday, March 8 to and from certain cities. If you are traveling in or out of any major East Coast cities like Boston, New York, Albany, Philadelphia and Newark, you can rebook your flight to another date (though Saturday, March 10, is the cutoff to avoid any additional fees) You can check the full list of cities here.
Flights are only eligible for free rebooking or cancellation if they were purchased on or before Monday, March 5. JetBlue is also offering full refunds for those who cancel their flights and do not want to reschedule.
Even if your flight hasn't been cancelled yet, you should always check your JetBlue flight status prior to leaving for the airport — especially when there is inclement weather like the impending Nor'easter. If you need more information about how to change your flight, take a look at JetBlue's flight change and cancellation policy.
Delta
Delta's flight cancellation policy is slightly different than JetBlue's.
The airline is offering partial refunds for cancelled flights and free flight changes for people traveling in affected areas between Tuesday, March 6 and Thursday, March 8. You can get a partial refund for the unused portion of your ticket if you are a passenger whose flight was cancelled or significantly delayed (at least a 90 minute delay), according to Delta's site. If your flight is not cancelled, you can change your ticket once with no fee if you are flying to and from a number of cities including: Boston, Albany, Harrisburg, Providence and New York. (Here is the complete list of cities.) Travelers can rebook their flights for any date up until Sunday, March 11 to get the free change waiver.
But Delta is not necessarily waiving fare differences, so if you book a more expensive flight, you may be responsible for covering the difference.
American Airlines
American Airlines has an extensive list of cities that can be cancelled or rebooked without a change fee because of Winter Storm Quinn.
For rebookings and cancellations, your ticket must have been purchased by Monday, March 5, scheduled for travel March 7 or March 8 and the new flight has to include the same origin and destination cities. If you book a more expensive ticket or upgrade, you are responsible for the cost difference. You can call American Airlines to change your reservation or make the changes online yourself.
Southwest
Southwest is allowing customers to rebook flights within 14 days of the original travel date for no additional fee.
The airline's website cautions that flights beginning anywhere from 3 p.m. Tuesday, March 6 through Thursday, March 8 may be affected due to the winter storm. The fee waivers will apply to cities up and down the East Coast from Washington, D.C. to Portland, Maine.
United
United will allow customers to change flights without charge by March 14 for travelers going through areas affected by the storm on March 7 and March 8.