This Savvy Credit Card User Booked a $33,000 Luxury Trip Around the World for Free. Here's How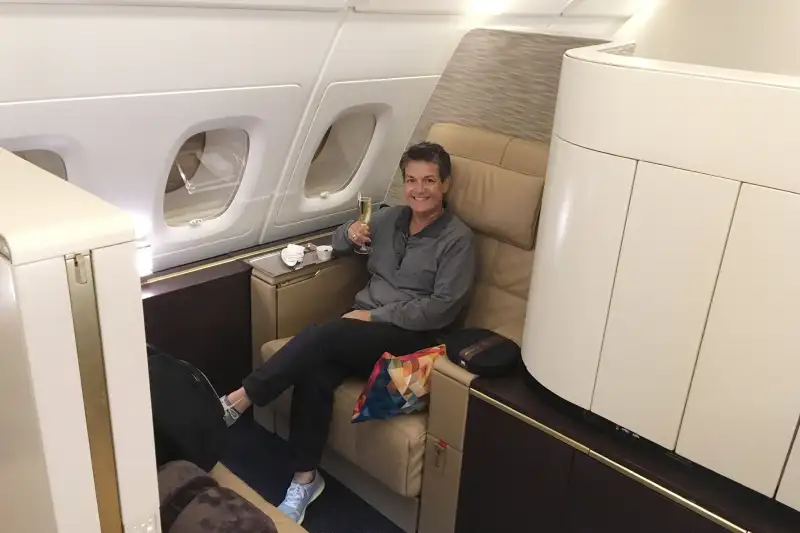 Dona Dower didn't care where she went—as long as she flew on an Etihad plane.
Etihad Airways, the Middle Eastern carrier, is famous for the luxurious first-class apartments on its double-decker jets, which feature real beds, personal minibars, caviar, and even full showers.
"It's that queen for a day feeling" says Dower, 55, a semi-retired voiceover artist in Phoenix. "You come away feeling like you experienced something special."
So she booked herself more than $33,000 worth of flights for an adventure that would take her all the way around the world, most of it in Etihad's high-end accommodations. The final cost to her? Zero dollars.
Churning Her Way to the Top
Dower is a follower of credit card churning, a strategy that involves applying for as many credit cards as possible and then juggling the sign-on bonuses and rewards points to maximize free travel perks. She has 24 credit cards and counting, and has been traveling on the points she accrues for the last 20 years.
Dower first realized how valuable credit cards points and miles were when she moved across the country from Boston to Los Angeles in the 80s. After that, her miles started building up quickly thanks to frequent visits to see her family on the East coast. (She eventually convinced her brother and parents to get into the points game, too). Fast forward to today, and she's become an expert at getting the most of out those points and sharing her secrets with fellow churners.
So when Dower and her brother recently set out to use a chunk of points they'd saved up, they didn't start planning the trip based on where they wanted to go. Instead, they planned it around the airline—in this case Etihad—they wanted to fly on.
"We wanted to fly in their apartments," Dower tells Money. Etihad operates 10 two-level Airbus A380 jumbo jets. "It's the holy grail of flying first-class." she says.
But it's not easy to score a seat. Only a handful of the premium seats are reserved on each flight, so Dower even based when she went on her trip on the availability of the first-class apartments. She spent 230,000 American Airlines points to book apartment cabins on two legs of her around-the-world trip, which took her to Hong Kong, Singapore, Australia and Abu Dhabi on five flights in 11 days.
Here is breakdown of how much Dower's portion of the trip would have cost without points:
LAX-HKG $13,939
HKG-SIN-SYD $4,4245
SYD-AUH $5,773
AUH-JFK $8,965
JFK-PHX $815
Total: $33,737
"It's quite something, what they're able to provide you service-wise in that kind of an environment," she says of her flying experience. "You never feel like you don't belong there."
Extending the Luxury
Once Dower and her brother secured their dream mode of transportation, they wanted to extend that level of service to the rest of their trip. Her best tip for being treated like royalty at international hotels? Just ask.
The trick, which she picked up from the churner website 10xTravel.com, requires writing emails to the hotels you are staying at. Let them know you are celebrating a special occasion. Dower, for example, emailed every hotel and told them she was flying around the world with her brother to celebrate his 60th birthday, and mentioned it would be great if some of kind welcome perk could be arranged for his big day.
"Every single hotel provided a cake, a little note and a bottle of champagne or wine just for asking!" she says.
At the Ritz Carlton in Singapore, which they paid for in cash, they scored an even better birthday gift — an upgrade to one of the hotel's best suites, with sweeping views of Marina Bay. Many churners have hotel rewards cards so they can get automatic upgrades at certain hotel chains, but Dower doesn't have one. She and her brother split the cost of their hotels equally between points and cash on his birthday trip. In total, she estimates the cash value of the trip was about $75,000.
One Last Piece of Advice
If you want to be a churner like Dower—and take a shower in the sky or drink free champagne in Singapore—start taking good care of your credit now. Dower says her biggest mistake navigating the points game was letting her first-ever credit card be automatically canceled because she never used it. That drastically reduced the age of her credit history — a key component of one's credit score — and set her back. She suggests making small purchases on older credit cards every six months to a year to keep them current.