A Simple Trick for Getting the Best Service from Flight Attendants, According to the World's Most Frequent Flier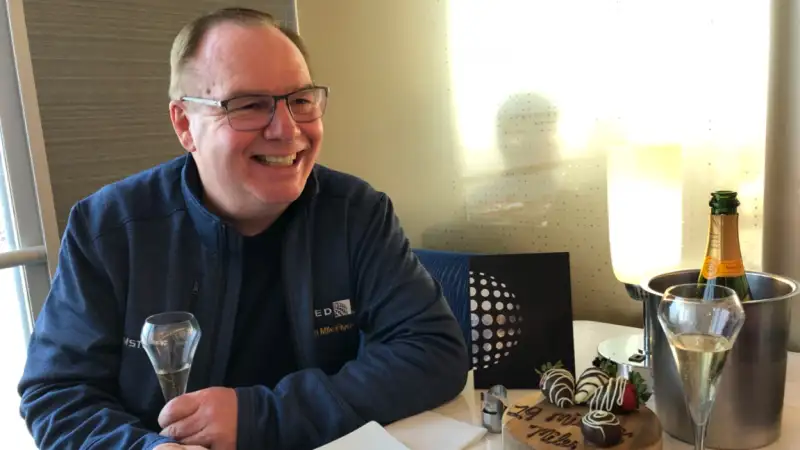 Tom Stuker is so good at flying that parties are thrown in his honor. To celebrate hitting 10 million miles, United Airlines planned a big bash — and his next one is right around the corner. This time they're recognizing another milestone: flying a staggering 20 million miles around the world.
Often called the "world's most frequent flier," Stuker, who is semi-retired and used to run a consulting company, has plenty of tips and tricks to share with novice travelers and those getting started in the rewards points game. He's actually flown more than 20 million miles — those are just the ones that count toward United's MileagePlus rewards program. Stuker spends more time in the air than at home in New Jersey, estimating he flies between 200 to 250 days each year.
"Once you join a program, it's almost addicting," Stuker, 65, tells Money. He signed up for his first and only airline rewards program through United in 1983 and has flown practically non-stop since then.
"For the last 10 years, I've averaged a million miles a year, but this is my record year," he says of 2018, which saw him fly over 1.3 million miles for leisure and work, and sometimes, simply to rack up more miles. "I stay in a country for two days and move on," he says. Here's his best advice for spending so much time in the sky.
Say this when you're boarding.
The most important lesson Stuker has learned during his 30-plus years in the sky? Be polite and be kind, he says. It may sound obvious, but it's something people seem to forget these days.
"When I get on the plane the first thing I say is, 'How are you doing? Glad to be on this flight,'" Stuker says of his time on more than 10,000 flights. "What's really been missing in the past couple years on planes are the words 'please' and 'thank you.'"
Always be a good neighbor.
Treat people like you want to be treated and be respectful of the people sitting next to you, he advises. Given that he's flown to Australia 300 times and to Hawaii another 100, he understands what it's like to be stuck in the air with strangers for long periods.
"You don't need to be on a Skype call 20 minutes before the flight takes off and bother everybody with those loud noises," says Stuker. "You're in a big metal tube at 35,000 feet, literally — we're all in this together."
Treat flight attendants with respect.
Stuker is a glass half-full kind of guy, pointing out that flight attendants aren't even paid for the hours they work when planes are delayed on the runway. Compared to that fact, being an inconvenienced passenger doesn't seem so bad, he says.
He reserves his most valuable travel trick for the hard-working people navigating the aisles.
"If I want to get good service, I tell a little white lie," he says. "I might say to a flight attendant, 'I think I've flown with you before and if that was you, I don't think I had time to say thank you, you were great."
That cheerful (and harmless) white lie can set the tone for the rest of the flight, he says.
Stay loyal to one airline.
Having good manners goes hand-in-hand with Stuker's other philosophy, which is to remain loyal to a single airline miles program. While many credit card rewards experts disagree with this sentiment (it means you miss out on cheaper deals with other carriers), choosing an international airline like United means you can still come out on top.
Most airlines belong to alliances, networks that allow you to use miles interchangeably so you can still book flights on other carriers. Plus, you gain the convenience of managing points for just one program instead of juggling spreadsheets to keep track of multiple programs.
Use your points in smart ways.
Even though redeeming frequent flier miles for flights is undeniably the best value with most airlines rewards programs, Stuker says there are other ways to use them, which many people don't realize. He redeems his United miles for hotels and rental cars, and even to go on cruises. A quick online search will show you what else you can use miles for with each airline's program.
"I love being able to take my family and close friends to places in the world that they never would have a chance to go see," he says.
Gift cards are another underrated way to spend your miles —many award programs allow you to redeem miles not only for airline tickets, but also to shop at retail partners (like Walmart or Starbucks). "I just gave my son $5,000 worth of gift cards to Home Depot because he bought his first house," he says.
Make flying a family affair.
Stuker has no plans of slowing down. He's taking his family on a safari this summer and plans to head with his wife to Tahiti now that United flies there.
As he gets ready for his 20 million mile party, which United is hosting at Chicago's O'Hare International airport in mid-January, he says that the airline staff has become like a second family to him.
Over the years, United has gifted him T-shirts and jackets emblazoned with the number of miles he's flown, and wined and dined him with steak dinners and cakes for his birthdays. For his 10 million mile party, United even flew in some of Stuker's favorite employees to join him for the celebration.
"It's the people I meet that keep me flying," says Stuker. And if his experience is any indication, being polite may actually pay off. Out of those 10,000 flights? "United's never once lost my luggage," he says.