Here's How Much Flight Attendants Really Make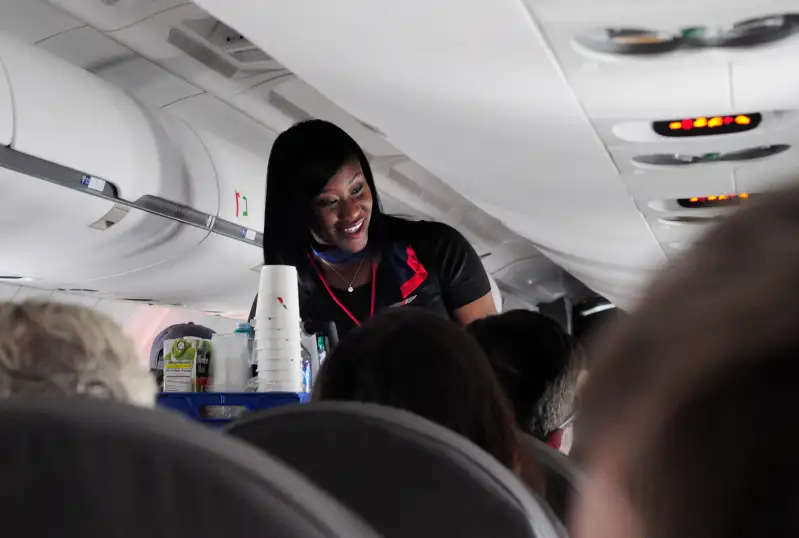 Robert Alexander—Getty Images
A flight's take-off can mean different things to different people. For some, it could be the beginning of an international trip. For others, it may signal an emotional trip home.
For flight attendants, it marks the beginning of their paid hours because their salary completely depends on the number of hours an aircraft is in flight. This means how much a flight attendant makes does not incorporate boarding, taxiing, flight delays, flight cancellations, or anything else that prevents a flight from taking off.
So how much does the average flight attendant make? Salaries for flight attendants — it doesn't matter if their flight is domestic or international — are between $23,000 or $25,00 a year to upwards of $80,000 a year, according to the Bureau of Labor Statistics and PayScale, a salary and compensation information company. (Some flight attendants, however, have shared online and in an interview with Money that they make as low as $18,000 a year.)
According to the Bureau of Labor Statistics, flight attendants work between 75 to 100 hours a month in the air and another 50 hours a month preparing for flights. In addition to their pay, flight attendants are often compensated for meals and accommodations while they are away from home — something that happens frequently, especially if they live in a different city than where they are based.
Shawn Kathleen, a former flight attendant Money spoke with, lived in Ohio while her base was in New York. She flew from Ohio to New York just to prepare for the start of her shift — that is, once the flight took off. (Shawn Kathleen asked Money not to include her last name due to online threats she received for running the Passenger Shaming Instagram account.)
And while being a flight attendant may come with the perk of free air travel, that benefit can only be done through stand-by, which means flight attendants can't expect to score the flight they want all the time.
Still, flight attendants have reported satisfactory job reviews to PayScale. Here's more on what we know about how much flight attendants' salaries and what it's like to work from 30,000 feet above the ground.
Flight attendant pay
The median salary for a flight attendant in May 2016 was $48,500, according to the Department of Labor's Bureau of Labor Statistics. PayScale estimates the average pay for a flight attendant is a bit lower — landing around $39,000 a year.
The range in flight attendants' salaries depends on their level of experience. The average entry-level flight attendant — with zero to five years of experience — makes around $38,000 in total compensation, according to PayScale. The average salary for a late-career flight attendant is around $61,000.
A flight attendant's airport base plays a part in determining how much he or she makes. Airlines based in San Francisco and Houston pay 10 percent and 9 percent, respectively, above the national average, while those based in Atlanta and Miami both earn 15 percent less than the national average.
Flight attendants also receive benefits, ranging from medical, dental and vision, according to PayScale.
Small vs. major airlines flight attendant pay
The average flight attendant salary varies widely from major aircraft carriers to smaller, regional ones, as well.
Flight attendants for United Airlines make around $82,404, according to PayScale, while flight attendants for Skywest Airlines make about half that: $47,461. Other major airline carriers like American Airlines, Delta Air Lines and Southwest Airlines pay attendants upwards of $64,000.
Per diem flight attendant pay
On top of their wages, flight attendants can receive a per diem — or, pay per hour — to help compensate for expenses on the job.
At SkyWest, a regional airline, flight attendants make $1.95 per diem for every hour they are on duty. The company said this comes out to about $3,700 per year.
At larger airline carriers like United Airlines, flight attendants make $2.20 per diem for every hour on domestic flights and those to Canada, Mexico, Central America and the Caribbean. On international flights, flight attendants make $2.70 per hour.