A Third of Americans Would Forfeit Their Voting Rights For a 10% Pay Raise, Says Study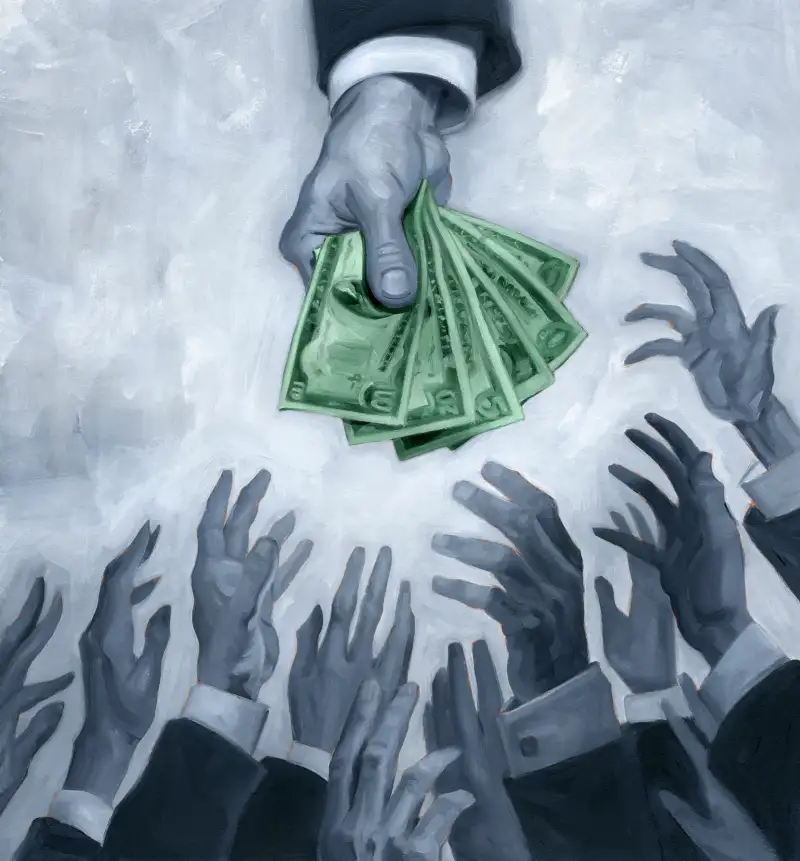 Robert Carter—Getty Images/Ikon Images
More than a third of Americans would give up their right to vote for a 10% annual pay raise, according to a new survey.
Pause for a second to let that sink in.
The peculiar findings come from a survey conducted by LendEDU, an online student loan marketplace, that polled 1,238 working Americans. In exchange for the hypothetical pay bump, about 35% of these employees said they would sacrifice their voting rights for life. In addition, just over 9% of respondents said they would give up their children's (or future children's) right to vote for life for the make-believe raise.
But those aren't the only big sacrifices the respondents would make for a 10% annual salary increase. More than 12% said they would break up with their partners, and nearly 19% said they would give up their health insurance for the next five years. Forty percent would forfeit their dental care for five years for a raise, and nearly 18% would say goodbye to their Social Security benefits.
Other concessions would greatly impact an employee's life at work. More than 55% of those surveyed said they would work an extra 10 hours each week for the raise. More than 15% said they would give up all vacation days for five years, and more than 50% said they would work a weekend day for a year. Putting these results in context, just 5% of those surveyed would eat one Tide pod for the raise. (Apparently some Americans believe eating a Tide pod would do more damage than losing their voting rights for life.)
Some of the other propositions appeared more realistic — or, at least, not contradictory to decades of human rights activism and voting rights legislation. More than 73% of those surveyed said they would give up all alcoholic drinks for the next five years, and more than 50% would not watch a single movie for three years. And, sorry HBO, but more than 88% of workers would choose to never watch Game of Thrones again to earn the raise.
In defense of those surveyed, a significant annual raise is hard to come by these days. More companies now are lowering the annual percentage pay bump and nixing yearly performance reviews altogether.
As a result of President Donald Trump's Tax Cuts and Jobs Act, employees at certain companies earned bonuses, and, in some cases, higher salaries for minimum wage employees. A one-time bonus is easier to pull off than a salary increase — and ideally boosts moral. But, of course, with a third of American workers willing to give up their voting rights for a 10% annual pay increase, a bonus is not enough.
The LendEDU findings may also come as a result of years of slow wage growth. Additionally, the federal minimum wage still sits at $7.25 an hour, though some states like California, Washington, Vermont and New York, among others, have enacted higher minimum wages. But if you were to forfeit your voting rights to get that raise, you wouldn't be able to have an impact on this cause, among many others related to your job.