This Family Has One of the Best Travel Perks in the World. Here's the Incredible Way They Used It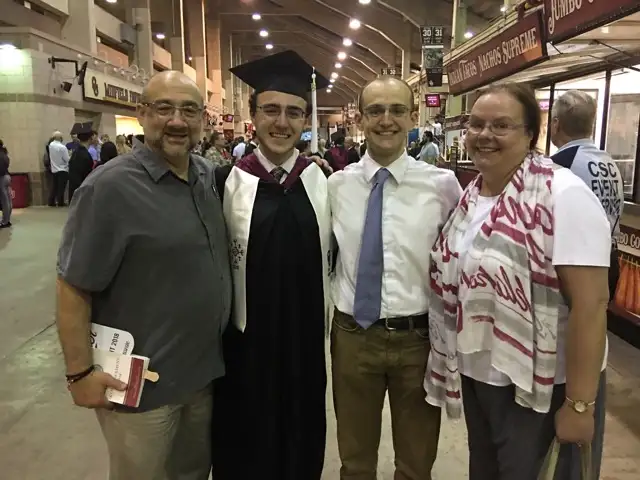 When Marilyn Bellafiore's sons were starting their college search, she had just one rule about where they could apply: schools located where Southwest Airlines flies.
Bellafiore has the Southwest Companion Pass, a benefit offered by the airline that lets people purchase two tickets for the price of one. The Southwest companion pass lets you choose one person to be your travel partner, and gives that person a free ride on any Southwest flight you book for yourself — and there are no blackout dates.
To get it, you have to be an extremely frequent flier — or a big spender, or both. But when Bellafiore and her husband realized how much money the companion pass could save their family, they were all in.
"Every time I use it I feel like I've won the lottery," Bellafiore tells Money. "It's a no-brainer."
Qualifying for the Southwest Companion Pass takes some investment, and it makes the most sense for couples who plan to travel together frequently. To be eligible, you must fly 100 qualifying one-way Southwest flights — the rough equivalent of taking one round trip every week — or earn 110,000 qualifying points from one of the airline's credit cards (annual fees start at $69) or rewards partners in a calendar year. You can also do a combination of points and miles.
Once you rack up enough points or flights, Southwest lets you keep the companion pass not just for the rest of the year in which you qualify, but for the following year as well. You have to choose one person to be your travel "companion" — which is why couples can usually get the most use out of the pass — although you can change your companion up to three times per year.
The Southwest Companion Pass has been around since 1987 and is widely regarded by credit card fanatics as one of the most valuable perks offered in the rewards universe. (The Alaska Airlines credit card, for instance, also includes a companion fare offer — but it costs at least $99 every time you use it.) And while some companion pass holders never use their pass at all, Southwest says, others use it every week, Southwest says.
Bellafiore qualified for the pass due to her husband's frequent business travel. And once the couple learned of the perk, they started using their Southwest credit card for every purchase the family made. "I like to let people know this has been an asset to our family," Bellafiore says.
At the time when her sons started looking at colleges in 2010, she notes, the napkins Southwest handed out with its in-flight beverages had maps of all the cities the airline flies to. Those maps served as the starting point for choosing colleges to visit.
"My sons had only flown on Southwest growing up, and we would look at the napkins and I would start searching for schools in the cities that were in Southwest's network," Bellafiore says. And while she might have preferred that her sons attend a school nearby, she says that because of the flight deals, "the idea of our sons attending school far away from home was easy for us to swallow."
Bellafiore's sons ultimately choose schools that did require their parents to fly from their hometown of Delmar, N.Y. — a suburb of Albany — in order to visit them. Her older son, Sam, went to the University of Notre Dame, in Indiana. (To get there, Marilyn and her husband would fly to Chicago and rent a car for the two-hour drive to South Bend.) His younger brother, Robert, attended the University of Oklahoma in Norman, Okla. — just 30 minutes away from the Oklahoma City airport.
Bellafiore says the Southwest Companion Pass has saved her thousands of dollars on flights to visit her children since they started college — although of course she and her husband have also spent thousands on the trips.
Her sons have since graduated, but Bellafiore says she and her husband are still enjoying the benefits of the companion pass. They've flown to California numerous times and taken a trip to Aruba, among other vacations.
Next on their list? "We're waiting for Southwest to open service to Hawaii," says Bellafiore. "We would love to go there using the companion pass. We put off going to Hawaii for years because we've heard that Southwest would fly there one day. So we've been eager for a long time."