10 Surprising Deals From Amazon's House Brand, AmazonBasics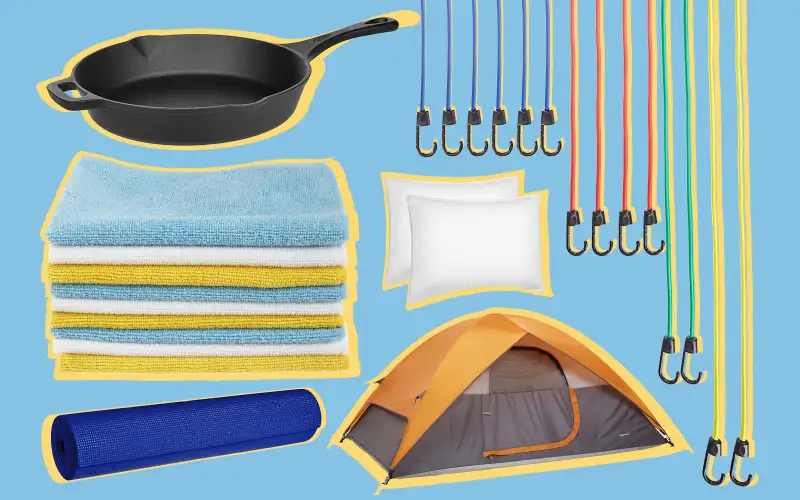 Amazon's been expanding its inventory of private-label goods pretty aggressively for the last couple of years, rolling out affordable versions of everything from trail mix under its Happy Belly grocery line to kids' clothes with its Scout + Ro fashion label.
All of that is in addition to its best-known house brand, AmazonBasics, which is best known for inexpensive products that are, well, basic, like paper towels, AA batteries or charging cables.
As it turns out, though, AmazonBasics' breadth nearly as broad as the ecommerce giant's selection of merchandise overall. In fact, we were (ahem) bowled over to find out you can snag everything from camping gear to cast-iron cookware to bocce balls, all at super-affordable price points.
Here's our roundup of the most surprising — and economical — things you can score from the AmazonBasics brand.
Less dangerous than lawn darts, less fussy than croquet and less Animal House than Kan Jam, bocce is the perfect backyard activity that requires very little in the way of set-up or actual athletic ability. This AmazonBasics bocce set in a soft-sided case includes four each red and green balls, a white target ball (a.k.a. the "pallino"), and a measuring tape to settle arguments over which ball is closest to the mark.
At this price, you really can't go wrong picking up this set of 24 bungee cords. Why? Well, see — that's the thing about bungee cords. You never really know in advance if or for what you'll need them. But we're willing to bet a box of these handy items will make you a hero at least once when you pull them out of the trunk of your car.
Your dog might love car rides, but you probably don't love the state of the back seat after ferrying Marmaduke home from a trip to the dog park. Keep fur, footprints and more off your upholstery with this waterproof, hammock-style sling, which slips easily into place with four head rest loops and includes a pair of pockets keep your pup's leash, brush or other supplies handy.
Serious cooks swear by cast iron: It heats more evenly than aluminum or stainless, it's more durable (and less chemical-y) than nonstick, and once it's properly seasoned, it's a breeze to clean. This 12-inch skillet can handle anything you throw at it (or into it), and the unadorned design means you can stick it in the oven without worrying about any plastic parts melting.
We've talked up the multifunctional versatility of these super-absorbent, quick-drying cleaning cloths before, and this package of two dozen is a steal at roughly 50 cents a pop. They come in a trio of colors, which is handy if you're trying to keep the ones you use to clean your car tires, your dog, and your kitchen counter separate. For just four bucks more, you can get a package of three dozen of these microfiber cloths.
Frugal grease monkeys, rejoice! Changing your own oil is a bit of dying art since the price of the oil plus disposal can cost as much as an oil change, but deals like this might change the equation: Six one-quart bottles of synthetic 5W-20 motor oil will set you back just $25. (By comparison, the name brand stuff comes in at around $8 per quart.)
A mere 30 bucks is a pittance to pay for the peace of mind you'll gain from knowing that every bank statement, expired credit card or other document containing potentially sensitive information has been turned into confetti thanks to this crosscut shredder, which can chew through up to six pages at once.
Related: Best Paper Shredder
It's probably a safe bet that you don't change pillows as often as you should; not only does the filling lose its loft over time, which can compromise your neck and cervical spine, but pillows are also notorious breeding grounds for mites and bacteria — gross! At just $23 for a pair, the low price point of these pillows should motivate you to chuck them before they become biohazards. (Bonus: The synthetic down is a good alternative to feathers if you suffer from allergies.)
Spending a night under the stars is a terrific way to unplug from your hectic life, but the cost of camping gear can add up quickly. This water-resistant dome tent sleeps four, is easy to set up, and has a removable awning for an extra layer of protection from sun or rain.
At just 17 bucks, this yoga mat is roughly the same price as (or less than!) a single yoga class at many studios. Pick a color that aligns with your chakras or just, you know, makes you happy when you're staring at it during your umpteenth downward dog. Bonus: This mat also comes with a carrying strap thrown in, saving you roughly $10 or so.
We've included affiliate links into this article. Click here to learn what those are.