Here's How Amazon Feels About Climate Change, Facial Recognition, the Minimum Wage, and More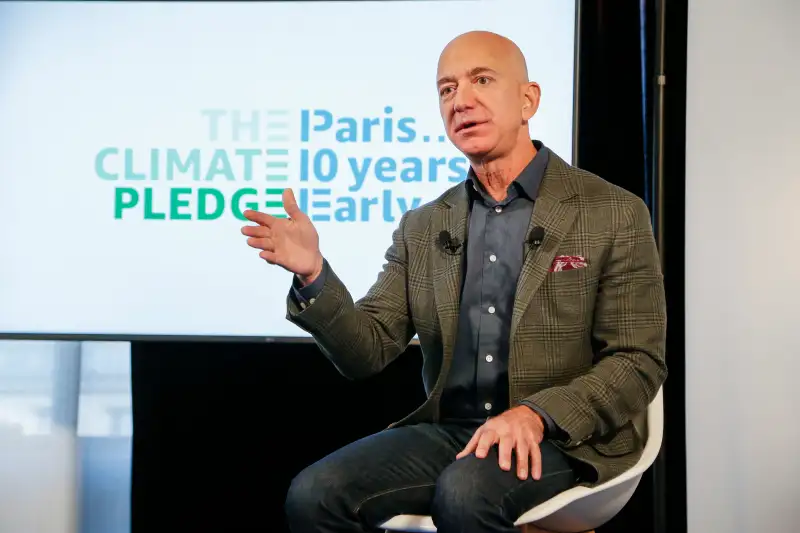 Paul Morigi—Getty Images for Amazon
Online retail giant Amazon has some opinions about climate change, the minimum wage, immigration, and American tax policy it would like to share.
While some of the stances Amazon takes have been discussed openly in the past, the company just published a new page on its website clarifying its official positions on a wide range of political and cultural issues.
Now there is one place for consumers, activists, and anyone else who is curious about the Jeff Bezos-founded company to find Amazon's positions on several hot-button issues. This is noteworthy because Amazon has a long history of being famously tight-lipped about many subjects, particularly controversial ones that could potential affect sales and profits.
On the one hand, as CNN reported, many of Amazon's positions seem like a pointed rebuke to the Trump administration. (Plus, it's worth noting that President Trump and Jeff Bezos have been feuding for years over everything from corporate taxes to the political reporting at the Bezos-owned Washington Post.) On the other hand, many progressives may very well feel unsatisfied with some of the pledges and positions made by Amazon.
Here is a summary of where and how Amazon is taking a stand:
• The minimum wage "is too low," and must be raised. Amazon points out it pays a living wage of $15 an hour "to all full-time, part-time, temporary, and seasonal employees across the U.S."
• "Human-induced climate change is real, serious, and action is needed from the public and private sectors." In response, Amazon has created the The Climate Pledge, a public resolve to reach the recommendations of the Paris Agreement to reduce greenhouse gases and other harmful emissions to keep the increase in global average temperature below 2 °C, the bare minimum urged by scientists.
• Amazon pledged to continue providing energy companies, even "legacy" fossil fuel ones, with cloud computing in order to help them develop renewable energy quicker.
• Amazon reiterated its public stance that "diversity and inclusion are good for business" and "the rights of LGBTQ+ people must be protected."
• Amazon also reiterated its longstanding support of immigrants and migrant communities, calling for a legal pathway to citizenship for Dreamers and "reforms to the green card and high-skilled visa programs, as well as actively participating in legal challenges to the travel ban."
• Governments should put together a framework for facial recognition technology, while Amazon continues to believe it has the right to provide cloud computing technology to all state, local and federal government agencies. (More on this in a bit.)
• Counterfeiters should be subject to harsher law, calling for stricter penalties for violations of intellectual property theft.
• Consumer privacy should be protected by federal law, Amazon says: "We support U.S. federal privacy legislation that requires transparency, access to personal information, ability to delete personal information, and that prohibits the sale of personal data without consent."
• Corporate tax codes should incentive investment in the economy and boost job creation, and tax codes between countries need to have the loopholes closed that permit artificially lower tax rates.
As Amazon has grown more powerful, the company has increasingly come under pressure from activists for... well, a lot of things lately. So the new page listing Amazon's positions will likely be greeted as a mixed bag.
There's been an increasing call from activists and its employees for the company to do more to combat climate change, but some activists think the company needs to go ever farther. Employees staged a walkout last month to pressure Amazon to get its carbon emissions down to zero.
Amazon employees have also joined with activists to pressure Amazon to stop providing cloud computing services to the data company Palantir, which works with the divisive Immigration and Customs Enforcement, which has used facial recognition technology to sweep drivers license databases to look for immigrants. Facial recognition technology is something that investors, employees and a lot of other people feel pretty queasy about.
For a long time, most big businesses were loathe to take sides on controversial social issues. After all, as Michael Jordan may or may not have once said when asked why he kept his political opinions to himself at the height of his fame, "Republicans buy sneakers, too."
But as controversial NFL protester and Nike pitchman Colin Kaepernick could tell you, we've entered a new era. American companies now realize that taking a stand on political issues can now be good for business, and inaction can sometimes be harmful.
As Forbes reported, "Millennials and Gen-Zers typically prefer to do business with companies that take social and political stands they believe in."