All the Best Instant Pot Deals for Prime Day 2019 — at Amazon, Walmart, Target, and Other Stores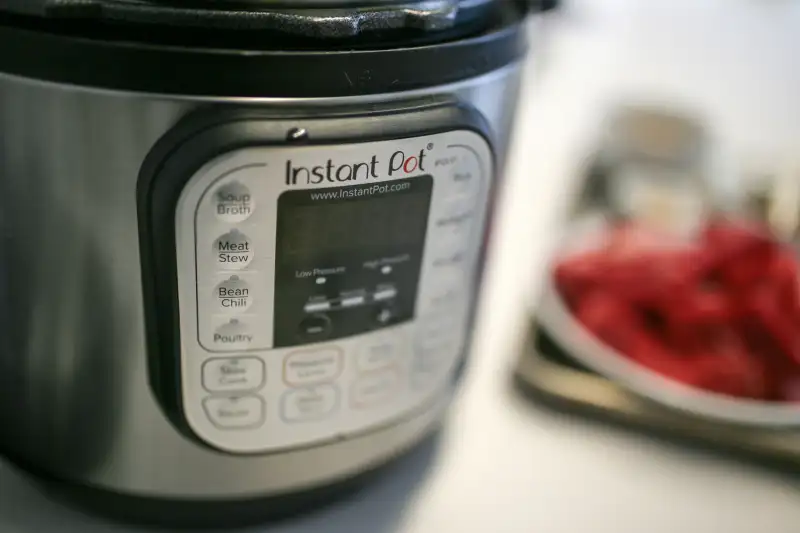 Detroit Free Press—TNS via Getty Images
One of the hottest items every year on Amazon Prime Day is the Instant Pot. In fact, we'd argue that an Instant Pot Prime Day deal is the biggest draw in the whole home goods category, even more so than other popular items like Dyson vacuums, Roombas, KitchenAid mixers, blenders, and air fryers.
Prime Day 2019, which actually takes place over two days — Monday, July 15, and Tuesday, July 16 — features over a million deals. Amazon says that there will be a wide range of home and kitchen deals, including sales of 30% off or more on brands like Dyson, Roomba, and Vitamix, as well as electronics from Sony and Samsung — and, of course, huge discounts on Amazon devices like Echo smart speakers.
As always, Prime Day deals are available only for Prime subscribers. If you're not an Amazon Prime member, you can sign up for a free 30-day trial of Amazon Prime here.
We've been eagerly awaiting Amazon Prime Day 2019 Instant Pot deals, and we were seriously not disappointed when they went live on Monday. You can get the six-quart, nine-in-one Instant Pot DUO Plus 60 for just $55.99, down from $129.95. Or, if you're happier with a more basic Instant Pot, you can snag the super-popular, seven-function DUO60 for just $59, down from $99.95.
If you're wondering how good the Instant Pot deals are on Prime Day 2019, one year ago on Prime Day Amazon featured the six-quart DUO60 for $58.99. It was an unheard-of bargain at the time — although you'll find lots of examples of this model available right now for about that much or less below. Perhaps unsurprisingly, we reported that it sold out in a flash for Prime Day 2018.
As of Monday, July 15, Amazon had the Instant Pot DUO60 on sale for $55.99. That's down from the normal price of $99.95, and it's even less than the price offered on Prime Day last year. There's even a coupon at Amazon that will give an extra $10 discount, bringing the price down to $49.99.
In 2017, the Amazon Prime Day Instant Pot deal was the eight-quart DUO80 for $90. That's actually what you can get it for right now on Amazon, and it's roughly $50 off the regular price.
Even last year's Black Friday prices illustrate how fast prices are coming down on these popular multi-cookers. For Black Friday 2018, Amazon had the DUO80 on sale for $69.99 and the super-high-end Instant Pot Smart WiFi for $149.95.
If you are not an Amazon Prime member or prefer shopping elsewhere, other stores are getting in on the action with Instant Pot deals of their own. Some of the deals below are overlapping, but we're including them all because we know from past experience that the best Instant Pot deals sell out fast. All items were available and prices were accurate as of publication.
Walmart Instant Pot Deals
Walmart is having a massive sale to compete with Prime Day, and it is selling the bestselling six-quart LUX60 Instant Pot model right now for just $59, down from $99. Other rollbacks include the six-quart DUO60 for $59.99, down from $99.95, and the souped-up Instant Pot Ultra for $109, down from $159.
If your kitchen needs a splash of color, Walmart has you covered. The LUX60 is available in two brand-new, exclusive designs on sale from the regular $99 price: There's a metallic red version for just $65 and a vintage floral print version from Food Network personality Ree Drummond, a.k.a. the Pioneer Woman, for $59.
Kohl's Instant Pot Deals
Right now, Kohl's has the six-quart DUO60 — what most people think of as the flagship Instant Pot model — marked down to $67.99 from $99.99, if you use the promo code JULY15. Better yet, you can snag one in an exclusive teal or white-trimmed version.
That same Kohl's promo code can get you the eight-quart Instant Pot DUO80 for $84.99, down from $129.99. And if you don't have that much countertop space but want to join the legions of Instant Pot fans, you can get the three-quart Duo Mini for $50.99, using the same promo code.
Target Instant Pot Deals
Target currently is offering the LUX60 with trim in an exclusive navy blue color instead of the usual black for $59.95.
We've included affiliate links into this article. Click here to learn what those are.