Guess How Many Top 'American-Made' Cars Are Japanese Brands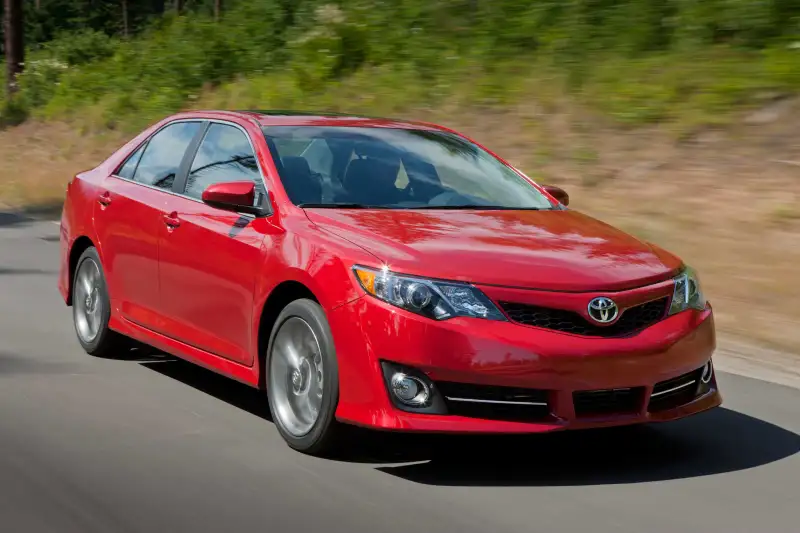 Cars.com just released its annual American-Made Index for cars, timed for Fourth of July week. At first glance, the list seems bizarre. Seven of the top 10 aren't what your grandfather would think of when discussing the importance of "buying American" and yelling at you to put down your iPhone while he's teaching you how to change the oil.
Instead, the list is dominated by Hondas and Toyotas: Numbers 2 through 6 are, respectively, the Toyota Camry, Honda Odyssey, Toyota Sienna, Toyota Tundra, and Toyota Avalon. The only American brands on the list are the Ford F-150 (#1), Chevrolet Corvette Stingray (#7), and Dodge SRT Viper (#10). And while Dodge is a traditional American brand, some would argue that it, too, is not really an American company because it's part of the newly merged Fiat Chrysler, headquartered in London.
So what gives? Well, as Cars.com explains, its index is derived partly from the "percentage of parts considered domestic under federal regulations" used in vehicles. To be considered, at least 75% of a vehicle's parts must be domestic. Cars must also be assembled in the country, and of course be available for sale in the country, to make the cut.
Whether or not the logo on the vehicle is "American" or "foreign" doesn't matter. Neither does the location of the automaker's headquarters.
What the curious index brings to light is how complicated it is today for a consumer to buy truly "American-made" products of any kind—and cars in particular. What with outsourcing, globalization, and complex trade rules, we increasingly live in a world in which no single country can claim to be the sole producer of any product. A vehicle can be built with parts that originate in Mexico, be assembled in Canada, and still be considered an American product, with some legitimacy.
Edmunds.com, which released its own series of "most American" vehicle lists in May (placed in categories such as "Most American Vans and Minivans") recently tried its darnedest to explain the complexities of automakers' global operations, including how things like assembly location, taxes, and sales affect the final product and the company's bottom line. It's not easy to follow, as this example shows:
If what you take away from such studies is the perception that American automobile manufacturing isn't exactly booming of late, well, you're not wrong. The Cars.com index is a top 10, but guess what? Only 10 cars sold in the U.S. met the minimum parameters in order to be considered eligible. A total of 13 automobiles for the 2014 model year that are sold in the U.S. are built with at least three-quarters domestic-parts content, and three of those didn't make the grade because this is the last year they'll be sold, after the decision was made to discontinue them. As Cars.com researchers stated, the number of vehicles that are "American-made" enough to be considered for the index has been falling year after year:
And if you're looking to salvage some sort of pride in classic American auto brands from these lists, the Ford F-150 line is clearly your darling. It's not only tops on lists from both Cars.com and Edmunds, it has also been the best-selling vehicle in the U.S. for more than three decades.