Is the New Apple Music Worth the Money?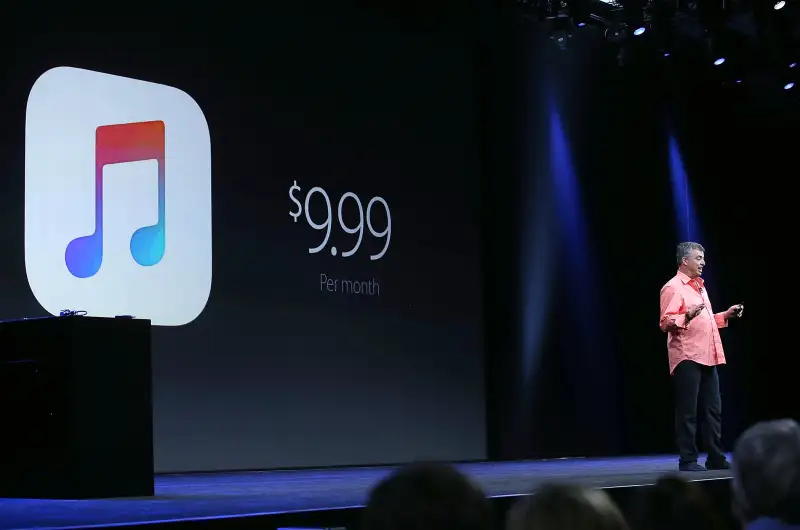 Justin Sullivan—Getty Images
The new Apple Music streaming service has been live for about two weeks now, providing ample time to not just to test its various features out but to live with it. (It's free for the first three months.) I'm already a big fan of the similar Spotify premium service, and I also hate, hate, hate iTunes, the often-confusing desktop software Apple Music is tethered to. So I was prepared to resist the call of Apple's take on the all-you-can-listen-to music subscription.
But now, with some reservations, I'm considering switching over when the free trial is up. And if you aren't already using a streaming service, this is one you'll want to try.
I suspect Apple Music will probably be especially interesting to slightly older users like me (as in, over 40). Not only are we used to the idea of paying for music, but Apple Music is designed to mesh with the digital collections we already own. Here's what you should know about Apple Music, what it (really) costs, and how it stacks up against other streaming-music options.
Where do I get Apple Music?
It's built into the latest versions of iTunes on your computer and the Music app on your iPhone or iPad. You have to upgrade to the latest version of iTunes or the iOS operating system on your phone or tablet to see it. Apple Music isn't available on Android phones yet; that's coming in the fall.
How is Apple Music different from buying music on the iTunes Store?
Apple pioneered the idea of buying music online, but until recently their focus has been selling song-by-song downloads via iTunes for 99 cents to $1.29 each. With Apple Music, you pay a flat $10 a month to listen to any of the songs in its catalog. The songs or albums can stream to your computer, iPhone, or iPad over an Internet connection, or you can download them to play directly from your device. But you're renting, not buying. Even if it's on your phone or computer, the songs from Apple Music won't play if you let the subscription lapse. (Music you bought on iTunes is still yours, though.)
Apple says it has a selection of 30 million songs on Apple Music, and it's similar to what you can buy directly on iTunes, with a few notable exceptions like the Beatles. More on those exceptions in a moment—there's a way to work around them (sort of) and it may be Apple's main weapon against the competition.
What does it cost?
An individual subscription is $10 a month. This isn't groundbreaking: It's the same as what Spotify and most other streamers including Rdio, Google Play Music All Access, Rhapsody and Tidal charge for similar plans. An Apple Music family plan, which lets up to six family members use the service at the same time, is $15 a month. For families with more than two users, that's a slightly better deal than the current family plans on most other services, which charge $5 for each additional user. For example, Spotify currently costs $15 for a two people, and $20 for three. Apple Music is just $15 either way.
For anyone who remembers buying CDs at $15 a pop, any of these options will look like a bargain. But it's not quite the whole cost. If you start streaming music and listen a lot in your car, or while running or walking or otherwise out of wi-fi range, you are going to start eating up a lot of your wireless data plan. (For example, my wife uses less than 1 gigabyte of data per month, while I often use more than 2 gigabytes. The difference is almost entirely my Spotify and now Apple Music usage.) Depending on your plan and how much you currently use, starting to stream music on any service could easily add $15 to $30 a month to your bill if you aren't careful. And I'm usually not.
You can, however, control this cost somewhat by downloading playlists or favorite songs to your phone when you are on wi-fi. (On Apple Music, pick a song, album or playlist, touch the "..." icon and select "Make available offline." The other services have similar functions.)
Aren't there lots of free streaming music services I can use instead?
Yes, but you face limits if you aren't willing to pay. Spotify and the similar Rdio have account options that you pick all the music you want for free—but only if you are listening on a computer. On a phone or tablet, you have less control over the specific songs you listen to; on Spotify's free option, for example, you can pick an album you want to hear, but only listen on shuffle. To get total control, you'll have to pay the monthly $10.
Internet "radio" services like Pandora and Songza also have free ad-supported options, but again, you can't pick the specific songs you want to hear. Instead, you'll get a station or playlist built around your taste, favorite artists, or mood.
Apple Music also has free radio stations, including the live Beats 1 (complete with old fashioned DJs cueing up it high-energy pop music). They're fine, but nothing really new, except for the convenience of having them built right into the iPhone's Music app.
How is Apple Music different from the premium subscriptions at Spotify, Rdio, Google Play Music all Access, Rhapsody or Tidal?
Honestly, once you are paying for a subscription, most of the differences between services aren't huge, at least not for iPhone users. All those other services have slick apps that will play on iPhones and iPads, though they also have the benefit of working on Android, too. Every $10-a-month plan including Apple Music offers a roughly similar selection, though each organizes playlists and music recommendations in a slightly different way. Apple Music, for example, is big on pushing you to listen to relatively short "curated" playlists put together by Apple's own editors, or by big-name magazines and music websites. At Spotify, it's easier to stumble upon quirky playlists put together by other Spotify users, a feature I particularly enjoy.
I also like Spotify's specialized playlists and tools aimed at runners, including a feature that picks music matched to your pace. Apple's running playlists weren't as interesting to me. For audiophiles, Tidal's added selling point is a more expensive, $20-a-month option that let's you listen to streams with a higher sound quality.
But all these things are a matter of personal taste.
Most music you can think of us is available on all the different platforms. The differences are frustratingly random, since it's about the deals each company can ink with whoever controls the rights to the music. No service is without important catalog gaps. Taylor Swift's 1989 is on Apple Music and no other streamer. Prince is on Tidal, but not Spotify or Apple Music. Neil Young has just yanked his music from all the on-demand services. Nobody's snagged the Beatles for on-demand streaming yet.
So if I already like Spotify or Rdio or Tidal, is there any reason to switch? Besides Taylor Swift?

Well, here's the one thing that has me at least considering it: You may not be able to stream the Beatles or Prince on Apple Music, but if you own that music already (or buy it on iTunes), Apple makes it easy to mix that music in with subscription music you stream, all inside the same Music app.
To be clear, Apple isn't alone in letting you combine the music you own with the stuff it streams. Spotify lets you do this fairly easily on your computer, and you can also download files from your computer to your phone to listen to inside the Spotify app. Google Play Music All Access lets you upload your own music to its cloud service, to listen to on any device within the Play Music app. (Google was really a step ahead of Apple Music with this function.) But if already you use iTunes as your music hub, Apple Music's process is a lot more seamless and obvious.
Here's an example of what I'm talking about: Before a recent run, I went into the Music app and was able to quickly create a playlist mix that included two Beatles songs I already owned, a Prince song, and even an unreleased recording of my father-in-law's jazz group, along with a half dozen songs I don't own but streamed from Apple Music.
If I was an Apple competitor, this would drive me nuts. Apple Music has an edge here because of Apple's control over the default Music app on its phones. But many users, it's going to be an attractive feature.
What's not so great about Apple Music?
As mentioned, Apple Music isn't available on Android phones or tablets yet. And if you want to listen on a computer, you have to do it through iTunes, whereas other services offer the option of listening through any web browser. That can come in handy if, for example, you aren't allowed to load the latest version of iTunes onto a computer you use for work. (Then again, you can always use free Rdio or Spotfiy for that.)
iTunes is still a sprawling, over-complicated piece of software—you could write a dissertation about how Apple Music is supposed to interact with Apple's iCloud, iPhone syncing, and the separate, "complementary" iTunes Match online music backup service. Some users have reported—angrily—that signing up for Apple Music and enabling its iCloud Music Library made their music listings on iTunes seriously buggy, mixing up tracks on albums or messing up album artwork. In response, Apple has already released a new update of iTunes and instructions for fixing a mixed-up library, but if you care a lot about how you organize your existing music on iTunes, you may want to wait to see if most of these complaints get ironed out. (I didn't run into problems, but I had already backed up my music up on iTunes Match, which may have helped things run more smoothly.)
For a lot of users, the fact that the other services keep you from having to touch iTunes, and don't mess with the digital collection you own, is actually a huge selling point.
So Apple Music isn't a hands-down winner against other services out there. You have plenty of good choices, and if you are used to using Spotify or Rdio or Google Play, and already have lots of playlists set up there, you may not be in a rush to change. But Apple Music is likely to be the intuitive first choice of anyone with an iPhone. Streaming is hitting the mainstream, and with exceptions like the Fab Four and the Purple One, you might not find yourself buying much music outright in the future.