Apple Pay Is Creaming Walmart in the Mobile Payment Wars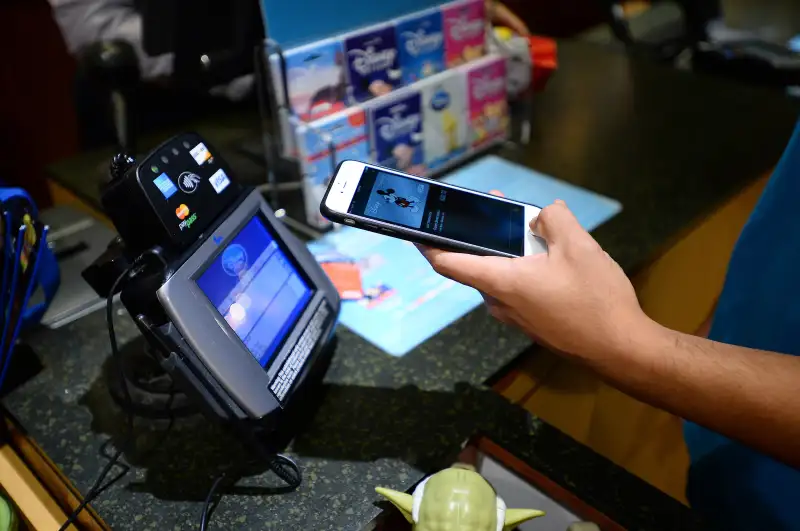 Jordan Strauss—Invision for Disney Store
One of the most interesting, least talked about wars in tech is turning into a rout. Ever since Apple launched Apple Pay last year, the iPhone maker has been waging battle against an unexpected competitor: Walmart. And America's largest retailer is losing badly.
A quick recap on the story so far: Walmart has spent years fighting for lower "interchange fees," the 1% to 3% charge that retailers pay to card-issuing banks on every credit-card transaction the retailers process. Those fees cost large stores billions of dollars each year, and in 2012, a host of major retailers including Walmart, Target, and CVS decided it was time to push back. They formed a coalition called Merchant Customer Exchange (MCX for short) and vowed to create their own payment service that would compete with credit-card companies.
Unfortunately for Walmart, it wasn't the only one trying to revolutionize how consumers pay for goods. When Apple blew the doors off the mobile payment world last October with the release of Apple Pay, MCX's payment app, known as CurrentC, was still deep in the testing phase. Worst of all for Walmart and friends, Apple was partnering with the very credit-card payment networks they had hoped to destroy.
Now, seven months after Apple Pay debuted, the retailers are still struggling to hold the line. MCX member BestBuy recently announced it would start accepting Apple Pay, and Dekkers Davidson, the group's chief executive, resigned one day later "to pursue other opportunities." But the internal strife distracts from MCX's biggest failure: The collective has thus far proved unable to get its app into the marketplace. CurrentC remains months away from reaching most consumers. A limited test in a "mid-sized market" is planned for sometime this summer, with a wider launch scheduled for later in the year.
"MCX has had another one of those really bad weeks," says Jordan McKee, an analyst at the Yankee Group specializing in mobile payments. "If they don't get something in the market soon, they're going to get passed by, plain and simple."
Experts say retailers face two major obstacles in their efforts to create their own alternative payments solution. First, it may simply be too difficult to corral enough competing merchants into a coherent, cooperative group—especially when one of those merchants, Walmart, poses an existential threat to the others.
"It's hard enough to create something that every single one of [MCX's] 90 merchant members—some of whom compete directly with each other—feel comfortable protects their flanks at the same time it delivers great benefits," writes Karen Webster, CEO of Market Platform Dynamics. "But that task is made that much tougher when the founding/funding partner is bigger than everyone else combined and basically competes with everyone on some level."
Others argue MCX has failed to show why the average person would want to use CurrentC over Apple Pay, Google Wallet, or other mobile payment competitors. "They're still caught up on interchange, still about circumventing the card networks, and at the end of the day, that can't be the end goal," says McKee. "They need to give something to consumers."
Ironically, MCX has tried to make CurrentC significantly more consumer friendly than Apple Pay. The app's website promises features like automatic coupon redemption and loyalty rewards, two things Apple's system notably lacks. A study from consulting firm Kurt Salmon, released in October, showed 61% of mobile wallet users cited rewards and loyalty programs as the primary reason they use their smartphone to make payments.
Nevertheless, Apple Pay has the edge in the one feature that matters most: it actually exists. And many expect the Cupertino-based firm will eventually add loyalty and merchant integration in future updates, potentially erasing CurrentC's advantage. "I would be shocked if that wasn't coming in Apple Pay 2.0 or 3.0," says Matt Schultz, senior industry analyst for CreditCards.com.
The only good news for Walmart and the rest of its retail coalition is that mobile wallets of any kind have yet to gain significant traction, so there's still time to grab market share. Even Apple Pay has struggled, with one March survey showing only 15% of iPhone 6 and iPhone 6 Plus owners have ever tried the service. In another survey from CreditCards.com, 64% of respondents said they would "never" or "hardly ever" use a cellphone to make purchases, a number that has actually gone up since Apple Pay's launch.
Despite the recent setbacks, Walmart is unlikely to give up on CurrentC in the near future, says Schultz. "There's enough money in it to make it worth their time."