Apple Just Hit $1 Trillion. Here's How Rich You'd Be If You Bought Stock at These 5 Key Moments
Money is not a client of any investment adviser featured on this page. The information provided on this page is for educational purposes only and is not intended as investment advice. Money does not offer advisory services.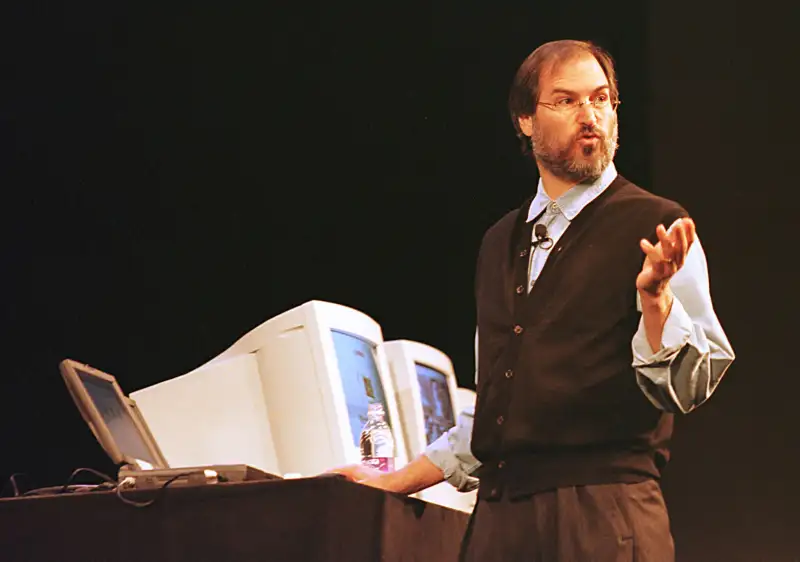 John G. Mabanglo—AFP/Getty Images
Apple made history today, as its stock climbed above $207.04 a share, officially making it the country's first $1 trillion company, based on total market value.
The tech giant, which was already the biggest company in the U.S. market, now accounts for just over 4% of the S&P 500 index. Even if you don't own the stock, there's a good chance you have indirect exposure to it, through mutual and exchange-traded funds you may own in a brokerage account or 401(k).
But had you taken the bold step of buying Apple shares directly, especially at key points in its history, you would have seen far more significant gains in your portfolio.
Sources: Yahoo Finance, Nasdaq
Unlike many of today's hottest tech names, like Netflix or Pandora Media, Apple has been around for decades. Apple became a publicly traded stock back in 1980 — at a time when rotary dial phones were still found in many homes and the notion of a smart phone was science fiction.
So there were plenty of opportunities to buy — and get rich.
If You Invested When the Macintosh Launched...
Date: January 24, 1984
Your $10,000 investment would be: $3.8 million
Apic/RETIRED—Getty Images
When the Apple Macintosh was released in 1984, it changed the way consumers viewed personal computers. The boxy Mac made computing more accessible to the general public, and gave rise to the computer mouse and a more graphical interface. Perhaps more importantly, the Macintosh propelled Apple into the mainstream.
That may not have been the immediate reaction with the stock. In the year and a half after the launch of the first Mac, the stock actually fell about 40%.
However, if you had the foresight to hang on, your original investment in Apple in January 1984 would have shot up 37,785% return over the past 34 years, resulting in a value today of $3.8 million.
If You Invested When Steve Jobs Returned...
Date: September 16, 1997
Your $10,000 investment would be: $2.5 million
John G. Mabanglo—AFP/Getty Images
With all of Apple's success, it's easy to forget what a terrible stock it was in the decade following Steve Jobs' demotion and subsequent resignation from the company in the mid 1980s. From September 1987 to September 1997, Apple stock lost more than 60% of its value. By comparison, rival Microsoft saw its shares soar 3,500% during this same 10-year stretch.
What happened in September 1997 to stem the bleeding? Steve Jobs returned to serve as interim CEO, replacing Gil Amelio and returning innovation and creativity to the Cupertino-based firm. While Steve Jobs would keep the interim tag until 2000, he became the de facto leader, righting the ship and developing the iPod, beginning the ascent that led to Apple's current value.
If you had bought in the day he returned as interim CEO, then you would have realized a 24,837% gain. Not bad, since that $10,000 investment would make you a multi-millionaire in less than 20 years, with a current value of $2.5 million.
If You Invested When the First iPhone Was Released...
Date: June 29, 2007
Your $10,000 investment would be: $114,260
David Paul Morris—Getty Images
Apple kicked off the smartphone wars with the launch of the iPhone more than a decade ago, which catapulted the company to among the most innovative in the world.
To be sure, you didn't see an immediate jump in Apple's stock back then, as the market had already priced in the iPhone's near-term potential ahead of the launch. Plus, the market was on the verge of slipping into the 2007-2009 bear market, tied to the global financial panic.
But had you stayed the course, you would have gained 1,044% on Apple stock since that launch date.
If You Invested When Tim Cook Became CEO...
Date: August 24, 2011
Your $10,000 investment would be: $36,944
Kevork Djansezian—Getty Images
When Tim Cook took over as CEO in 2011, replacing the ailing Steve Jobs, many questioned how well Apple could continue to perform in a post-Jobs world. The biggest worry: Cook would not be the driving force for innovation that Jobs was, and Apple may lose its stature in the increasingly competitive tech landscape.
While Apple has lacked real breakthrough innovations under Cook — new products such as the Apple watch, AirPods, and the HomePod have been a mixed bag — he's certainly kept investors happy.
In his seven-year tenure as CEO, Cook has helped propel Apple stock 269%, turning a $10,000 into $36,944.
If You Invested When Warren Buffett Started to Buy...
Date: May 16, 2016
Your $10,000 investment would be: $21,333
The world's most famous investor isn't a big buyer of technology stocks. In fact, he's admitted to making a mistake by not buying Google and Amazon.com shares in the past. Meanwhile, he admitted to making a mistake in analyzing IBM, which he recently held a big stake in.
Still, when Warren Buffett sees a good deal, he'll jump in with gusto. Buffett's investment company, Berkshire Hathaway publicly shared that it had taken its first bite of Apple on May 16, 2016 when the stock stood at about $92.
Berkshire bought a whole lot more than $10,000 worth of Apple. But if you had followed Buffett's lead, your investment would have more than doubled in just two years, returning 113%.