Are Home Warranties Worth It?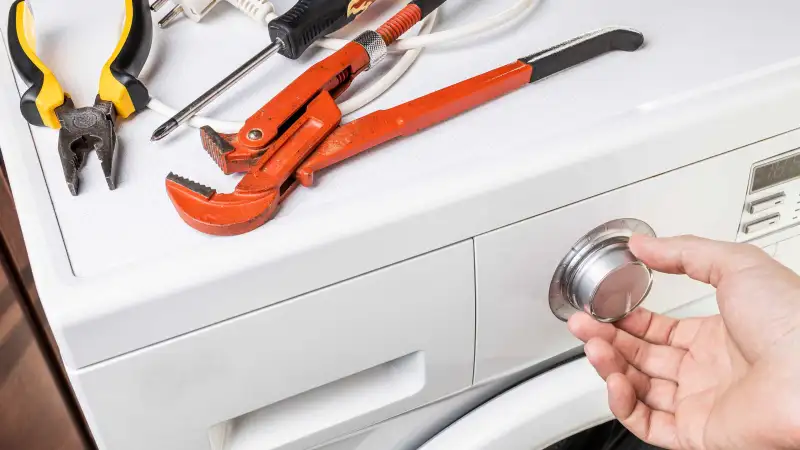 Getting a home warranty, also known as a service contract, might seem like an extra expense that doesn't deserve a place in your budget. However, if you don't want to be dip into an emergency fund to cover the full price of repairs when a major appliance or system fails in your home, then it can be a worthwhile investment. For a nominal monthly payment, your home warranty can help you cover the costs of these repairs.
Although a home warranty might sound like a great idea, you still need to approach these service contracts with some scrutiny. There are terms and limitations that determine how much coverage you're entitled to, which should be weighed against the costs you'll pay for the warranty. We'll go over some things you should take into account when determining whether or not a home warranty is worth it for you.
Table of Content
Is a home warranty worth it?
At its most basic, deciding whether a home warranty is worth it is based on the savings you get from having one versus what you'd pay out of pocket repairs. It's also worth noting that the more you use it, the more value you can potentially get out of it. Here's what else you should know.
What is a home warranty?
A home warranty is a service contract that covers repairs or replacement of home systems and appliances. These warranties typically cover kitchen appliances, plumbing systems and electrical systems and more.
Home warranties should not be confused with homeowners insurance coverage, which pays for damage caused by covered perils like storms, fires or vandalism. Even the best homeowners insurance will not pay for an HVAC system, dishwasher, water heater or refrigerator that breaks down from normal wear and tear. That's when a home warranty would come into play.
A home warranty (normally issued by the original manufacturer) is not really a warranty but rather a service contract that provides repairs for certain items in your home in exchange for a monthly premium, and a service fee. The idea is that you'll get repairs and replacements at a discounted price versus paying the full amount for the repair with this arrangement.
How do home warranties work?
Like home insurance, you'll pay a monthly or annual premium for your home warranty plan. Once your service contract is over, you can renew it. If you get a longer contract, like 2 to 3 years, there may be a discount on your plan. It's also very common for sellers to give homebuyers a warranty as a concession, so you don't always have to pay for your own home warranty.
When it's time to request service, you'll initiate a claim online or by calling the customer service department of your home warranty provider. From here, the company should dispatch an approved contractor within its network. Some companies allow you to use your own service provider, but you should always call to get approval first.
Once they show up, you'll pay the service contractor a deductible, usually called a service call or trade call fee. The contractor will diagnose the problem and determine if it's a covered repair based on the warranty company's guidelines. If it's covered, they'll proceed with the repairs and bill your warranty provider for the balance of the labor and parts. Some companies will also provide a workmanship guarantee for a specific time period.
For a monthly premium of around $39-$59 a month and a service call fee ranging from $65-$85, it sounds like getting a home warranty is an obvious benefit. However, you should know that home warranties are notorious for their terms, exclusions and limitations — always read the fine print in your home warranty policy. Many things aren't covered, and you may need to purchase several add-ons or an extended warranty to get coverage for more systems and appliances.
Home warranties vary by company, but all of them limit what is covered. Some of these limitations might include:
Duplicate appliances (such as a second freezer or appliances for a second kitchen)
Smaller appliances like a countertop oven
Components like knobs, shelves and drawers
Certain appliances without maintenance records
Breakdowns caused by lack of maintenance
Improper installations, repairs or modifications
Malfunctions due to sediment, rust or corrosion
Structural features like floors, windows, and doors
Damage from mold, wood rot, or roof leaks
Many companies will ask you to pay for additional coverage on items like:
Well pumps
Spa equipment
Pool equipment
HVAC systems
Septic system
Septic tank pump
Additional refrigerators
Electric central air conditioning
The key is reading the service contract so you can know exactly what your home warranty covers and what's excluded. Provided you've got the time to do so, it wouldn't hurt to look at online reviews for the home warranty company (or companies) you are considering. The Better Business Bureau is a good place to start. Pay special attention to common themes in complaints and positive reviews, such as why their home warranty claim is denied — common reasons include improper maintenance.
This should give you a sense of whether or not a home warranty company is easy to do business with. The best home warranty companies won't work overtime to deny your claims on covered items. Looking at customer reviews may help you detect these types of companies.
Do I need a home warranty?
Seriously consider a home warranty if you live in an older home, and if your appliances and systems are older or may soon be in need of repair. If you just purchased a new home and you aren't familiar with the condition of the appliances and systems in the home, then a home warranty could make sense for you. You may also want a home warranty if you're a new homeowner and your pre-purchase home inspection uncovered issues with the home's appliances and systems.
Here are other questions you should ask to determine if a home warranty would be worth it:
Are my home appliances and systems older and prone to breakdown?
Have I spent any money on home repairs in the last 1-2 years?
Would I need expert help if I could not repair a home appliance or system?
Would it be helpful to have access to a network of approved contractors should something break in my home?
Would it be helpful to offset the cost of home repairs until I have enough savings to cover them?
If your answer to any of the questions above is YES, a home warranty may be worth it.
So when is it not worth it for you to get a home warranty? A home warranty might not be worth it for you if you:
Recently purchased a new construction home (which is still covered under the builders' guarantee)
Prefer doing your own home repairs
Are uncertain about how your appliances were maintained previous to your ownership (some warranties won't cover items without maintenance records)
Will pay more for for your home warranty than the cost of your repairs under the warranty
Are comfortable covering the cost of your repairs out of pocket
What are the benefits of a home warranty?
Here are still some benefits to consider:
Home warranties generally have broader and longer coverage compared to manufacturer's warranties
Peace of mind knowing that you have a plan for home repairs should something break down
A convenient resource for local contractors through the warranty provider
Home warranty services
A home warranty can offset the costs of home repairs. However, not every home appliance and the system is covered. Here's a breakdown of what to expect in terms of coverage.
Appliances covered by home warranties
Some of the home appliances covered by home warranties include:
Oven
Stove
Refrigerator
Dishwasher
Systems covered by home warranties
Some of the home systems covered by home warranties include:
Air conditioners
Heating
Electrical
Plumbing
How much does a home warranty cost?
While a home warranty will cover the cost of some home repairs, the coverage plans are generally affordable. A home warranty will cost an average of $39 to $59 a month. And most home warranty contracts usually last 12 months.
You can save money on your home warranty by paying upfront (as opposed to monthly) and getting a longer contract. Don't forget that you'll pay a service call fee ranging from $65-$85. Then, you could be responsible for a portion of repairs that the warranty doesn't cover.
Are home warranties worth it? FAQ
How long do home warranties last?
Home warranty contracts usually last 12 months, with the option to cancel or extend the plan.
Is a home warranty required?
No, a home warranty is not required when you buy a home. It's your choice to get one or not.
Should you buy a home warranty?
You should buy a home warranty if you believe your home's appliances and systems may require repairs or replacement at some point.
Does a home warranty transfer to a new owner?
Yes. With the policy documentation, you can transfer the warranty contract from the previous owner to a new owner.
Do home warranties have deductibles?
Yes. Home warranties have deductibles known as service call fees.
Summary of Money's Are Home Warranties Worth It?
To sum it all up, home warranties can be a great way to protect your investment in your home and provide peace of mind. However, they may not be worth it for everyone. Consider the pros and cons before making a decision about whether or not to get a home warranty.
Pros
Can decrease your home repair costs
Gives you access to a network of service contractors
Allows you to budget monthly or annually for home repairs
Cons
There are many terms, exclusions and limitations
Coverage caps
The probability of your claim being denied
Ultimately, the decision about whether or not to get a home warranty is yours, so take the time to do your research and make an informed decision that best suits you and your budget.