The Average Medicare Recipient Pays Over $6,500 Out of Pocket for Health Care Annually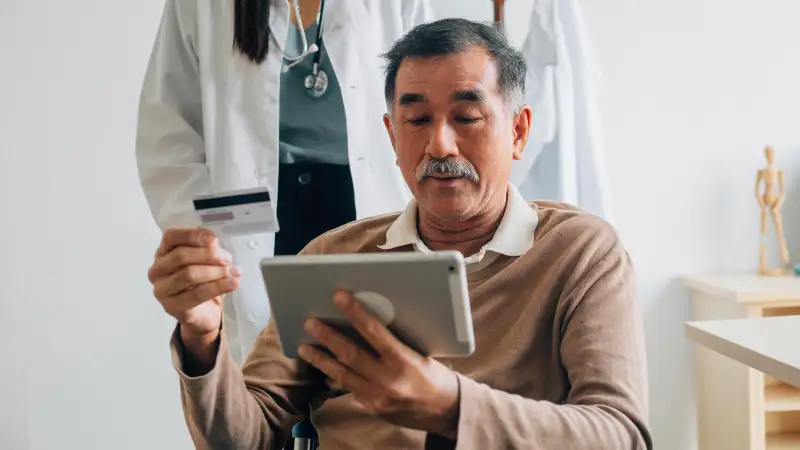 Health care expenses are a major burden for many Americans, but new research shows that Medicare beneficiaries are especially getting hammered by soaring out-of-pocket costs.
The average Medicare recipient now spends more than $6,500 a year out of pocket to cover health care costs, according to the March AARP report. What's more, trends show that number has been rapidly rising in recent years — which could prove particularly difficult for retirees who live on fixed incomes.
What the research says
AARP, a nonprofit advocacy group for Americans over age 50, recently analyzed the out-of-pocket costs for people enrolled in traditional Medicare, a federal health insurance program that serves approximately 35 million Americans (primarily adults 65 and older but also millions of younger people with disabilities). It looked at beneficiaries covered by Parts A (for hospital stays), B (for doctor's appointments) and D (for prescriptions).
AARP found that the average Medicare enrollee paid $6,663 out of pocket on health care in 2019. Out-of-pocket costs included monthly premiums, copays, coinsurance, deductibles and other services not covered by traditional Medicare.
The year prior, average out-of-pocket expenses were $6,168 — marking an increase of 8% or nearly $500.

"Considering that half of Medicare beneficiaries live on less than $29,650 a year, many people covered by the program face burdensome out-of-pocket costs," wrote Claire Noel-Miller, the author of the report and a senior policy advisor at AARP.
AARP, as well as the nonprofit Kaiser Family Foundation (KFF), have released similar estimates several times over the past decade or so. Trends show that out-of-pocket Medicare expenses plateaued in the late aughts around $4,500 but then started to sharply increase over the next decade.
By comparison, the average American's out-of-pocket health care spending was $1,231 in 2019, according to KFF.
Key context
While older folks and people with disabilities may require more care in general, another major reason out-of-pocket Medicare expenses are so high by comparison is that traditional Medicare does not have an out-of-pocket maximum. Private plans offered through the federal health care exchange, on the other hand, must set out-of-pocket caps. In 2023, the federal limit was $9,100 for individuals, though it's much lower for many plans.

In other words, if you spend a certain, predetermined amount of money each year on health care — say, $5,000 — the private insurer will cover 100% of all expenses afterward.
Traditional Medicare offers no such perk.
However, starting in 2025, annual out-of-pocket spending for prescription drugs through Medicare Part D will be capped at $2,000. As of this year, Medicare insulin costs have been capped at $35 per month as part of the Inflation Reduction Act.
Offsetting out-of-pocket Medicare costs
Ballooning health care costs are pinching the budgets of Medicare beneficiaries, many of whom are on fixed incomes centered around Social Security payments and pensions. According to a recent survey from the health-insurance marketplace eHealth, 75% of Medicare beneficiaries are now worried about affording out-of-pocket costs.
Noel-Miller noted in the AARP report that beneficiaries do have options to help them offset those expenses, including doubling up coverage with Medicaid. Additionally, four Medicare savings programs, which are offered by individual states, can help lower-income earners afford deductibles, coinsurance and copayments.
However, she added, many people who qualify haven't enrolled because they're not aware of the programs or because of the complex application process.
More from Money:
Medicare Won't Have Enough Money to Pay Full Benefits After 2031: Report
18 Million Americans Could Soon Lose Medicaid Coverage. Here's What to Do if You're One of Them
Medical Debt May Have Just Been Wiped Off Your Credit Report