Here's the SAT Score You Need to Beat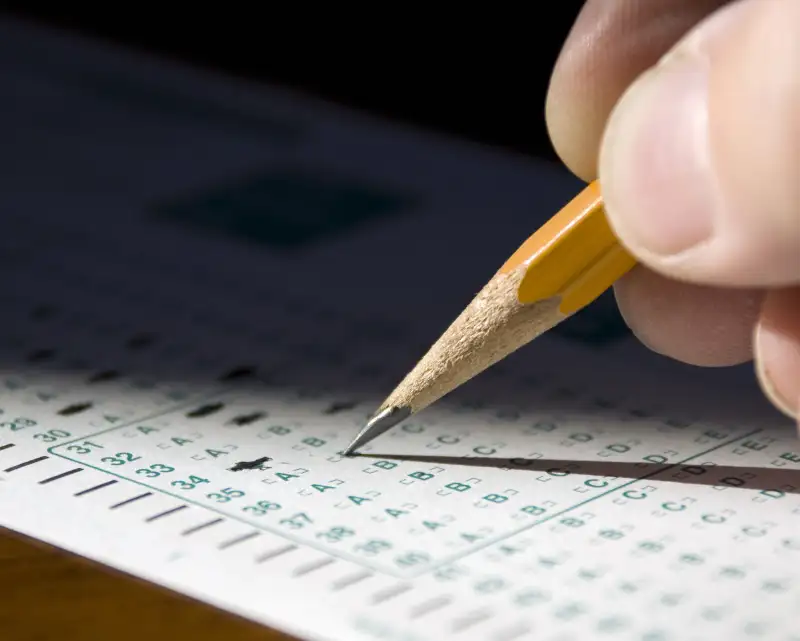 Eric Von Seggern—Shutterstock
Members of the high school Class of 2015 performed no better on their SATs than students in the class before them, continuing a six-year streak in which average scores either fell or held steady, according to a report released today.
To beat the average this year, students needed to score above 495 in critical reading, 511 in math, and 484 in writing, for a combined 1490 on a 2400-point scale, the College Board reported in its the annual release of SAT data. The averages in the three subjects were all two or three points lower than last year. (If you're applying to college anytime soon, you can search for the best schools in your SAT range with the Find Your Fit tool on the new Money College Planner.)
Less than half (42%) of the most recent test takers proved themselves "college and career ready" by attaining a score of 1550 or above—a benchmark that is associated with a 65% chance of earning a GPA equal to a B-minus or better during freshman year of college. The other big player in the college admissions exam market, ACT, reported similar results last week, with about 40% of test takers meeting its benchmark.

NEWSLETTER: COLLEGE_PLANNERSign up for COLLEGE_PLANNER and more View Sample
Almost 1.7 million students took the SAT, slightly more than last year. Unsurprisingly, scores varied widely by socioeconomic and demographic group. Students from the wealthiest families, for example, scored at least 115 points higher on average than those whose families earned $100,000 or less.
As criticism of standardized testing has grown, more colleges have chosen not to require the exams in their application process (most still recommend them). The College Board, meanwhile, has been making the case that its tests and programs can improve college access and readiness.
One example is the Advanced Placement program, which offers students the opportunity to do college-level course work while they' re still in high school. Students who pass their AP exams can earn college credit and reduce the number of courses they need to take for a degree. About 2.5 million students took an AP course last year, more than double the number who did a decade ago. Yet just 1.5 million earned a score of 3 or higher on the end-of-year exam, the bare minimum to be considered for credit at most colleges.
Check out Money's 2015-16 Best Colleges rankings
Starting this spring, the College Board will offer a revised SAT that, among other things, returns to a 1600-point scale, ditches obscure vocabulary, and focuses on in-depth understanding of core lessons rather than a breadth of knowledge, according to testing officials. With the new SAT and PSAT (which is taken earlier in high school), students will receive more individualized score reports to tell them their strengths and weaknesses, so they know where they should focus to improve, says Cyndie Schmeiser, chief of assessment at College Board.
In June, College Board unveiled its free SAT prep website, along with partner Khan Academy. More than 300,000 individuals have visited the website so far, including 150,000 who answered practice questions.
To improve access, the College Board is also recommending that more states make the exams free to students and schedule them for regular school days, instead of weekends.
For more news and advice on applying to college, check out the new Money College Planner.