The 5 Numbers on a Financial Aid Letter That Tell You How Much a College Actually Costs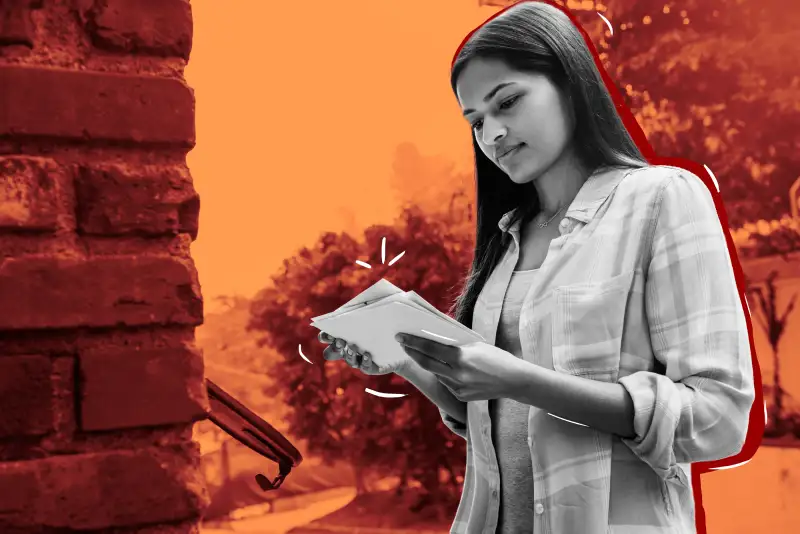 College-bound students may think all the hard work is done once they have been accepted. But there's still one major, stressful task in the applying-to-college journey that remains: reading financial aid letters.
Financial aid letters list all the types and amounts of aid a college is offering to help a student pay for college. But they are packed with unfamiliar terms, making it a challenge for families to understand their out-of-pocket expenses. There's also no uniform way that colleges are legally required to share financial aid information, so comparing one college's costs against another can be difficult.
The problems around financial aid letters are so widespread that a recent report from the Government Accountability Office estimates as many as 9 out of 10 colleges don't include or understate a key number students need to determine whether a college is affordable before they enroll.
Why financial aid letters are so problematic
Cost is one of the most important factors in where students choose to attend college. But figuring out how much enrolling at specific college will actually cost you out of pocket can be notoriously difficult. Students don't get a true, individualized price of attendance until after they've been accepted and receive a financial aid letter from a college. Even then, the costs can be hard to determine.
The GAO report found that 41% of colleges do not include a net price — aka the price a student will have to pay after subtracting financial aid — while 50% understate the net price by excluding key costs.
The analysis adds to existing research on the shortcomings of financial aid letters. A 2018 report from think tank New America, for example, found that 70% of letters group all financial aid together in one category, making it harder for families to see the difference between grants and scholarships (which don't have to be paid back) and loans (which do).
5 numbers to look for on your financial aid letter
Here are five numbers you need to look for to understand what you'll have to pay for college.
1. Total cost of attendance
The total cost of attendance includes the obvious factors, like tuition and fees. But it also accounts for dorm fees (or rent, if you choose to live off campus), meal plans, books and miscellaneous living expenses, like transportation. Often, colleges will break these numbers into categories. "Direct expenses" are the costs that colleges will bill you for directly, like tuition and on-campus housing and meals, while "indirect expenses" are costs you'll pay on your own, like off-campus rent or academic supplies.
Pay close attention to the indirect expenses — this is often where colleges understate expenses by leaving them out altogether. Indirect costs also will vary by family; if you're living at home, for example, you don't need to factor in rent, but if you're attending a college across the country, your budget line for travel may need to be increased to account for trips home on school breaks.
2. Grants and scholarships
Grants and scholarships are often called gift aid, because they do not have to be repaid. They come from a few different sources. You should look for federal grants, like Pell Grants, which are based on financial need, as well as state grants, which will carry names like MassGrant, PHEAA Grant and IL MAP Grant in Massachusetts, Pennsylvania and Illinois, respectively. (State grants likely won't apply if you're looking at colleges out of state.)
The biggest source of grants and scholarships is often the college itself. You'll see these awards under a variety of names. Sometimes they'll be listed simply as an "institutional grant" or a grant with the college's name, or sometimes they'll carry specific names, like the provost scholarship.
If you're relying on a large amount of grant aid to pay for college, ask about the conditions for keeping the grant or scholarship in subsequent years.
3. Student loans
The student loans listed on financial aid letters will be federal student loans — specifically, subsidized student loans or unsubsidized student loans. The main difference is that subsidized loans do not accrue interest while you're in school.
In your first year of college, the maximum amount of federal student loans you can receive is $5,500 for dependent students (most students under 24) or $9,500 for independent students. That's an annual sum, so you may see it broken in half for the fall and spring semesters.
Sometimes the names on the student loans can be unclear and they will vary from letter to letter. Look for terms like subsidized direct loan, unsubsidized direct loan, direct sub loan, direct unsub loan and unsub stafford loan — all of these are different names for the same two types of federal loans. In the worst cases, colleges may not even use the word "loan," but if you see unsubsidized, subsidized or an abbreviation of either, that's a loan.
4. Parent loans
While parent loans can be a critical tool in college financing, they can be dangerous, too. There are no borrowing limits, interest rates are higher, and they don't come with the same protections as student loans.
What's more, colleges should not be counting parent PLUS loans as part of your financial aid offer. They're not a guarantee — parents have to pass a simple credit check to receive them. Instead, they should be presented as an optional form of additional financing, separate from your main award. To find them on your letter, look for terms like parent loan, parent PLUS or Direct PLUS Loan.
5. Estimated net price of attendance
This is the most important number to look for — or to calculate on your own if it's not clearly listed. Your estimated net price of attendance should be the full cost of attendance minus grants and scholarships. It should factor in both the direct and indirect costs mentioned above, and it should not incorporate any student loans or parent loans.
If you're having trouble figuring out the indirect costs, start by just subtracting your gift aid from the total for tuition, housing and meals. If you find that's unaffordable on your college budget, it's likely you won't be able to afford the more variable expenses.
Once you have an estimated net price that factors in grants and scholarships, subtract federal student loans from that amount if you plan to borrow. That's how much you'll have to come up with out of pocket, whether through savings, parent loans or income from work.
How to get help reading financial aid letters
If you're confused about the terms in your financial aid letter, you can use this dictionary from the nonprofit college access group Uaspire or consult StudentAid.gov's searchable glossary.
You can also take your questions directly to the college's financial aid office. Be sure to ask about your estimated net price of attendance if they don't clearly spell that out.
Money has more thorough guides on reading financial aid letters here and here. You can also email us at college@money.com with questions about your financial aid letters.
More from Money:
College Costs Are Notoriously Opaque. Use These Tools to See How Much You'll Pay Before Applying
How to Read Financial Aid Letters