This Map Shows How Much Couples in Every State Spend on Weddings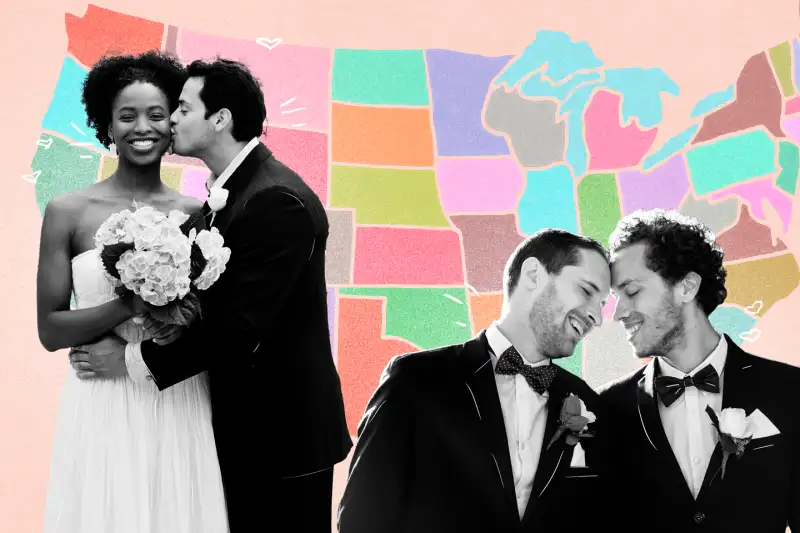 Love is priceless — at least until you want to make it official and say "I do," a milestone likely to rack up a bill in the tens of thousands.
The average cost of a wedding in the United States last year came out to roughly $30,000, according to a survey of 12,000 couples across the country from wedding planning site The Knot. That's $2,000 more than 2021, an increase The Knot attributes to inflation coupled with high demand.
Another estimate from research trade group Wedding Report puts the average wedding expenditure for 2022 at $29,195, roughly the same amount.
How much couples pay for their special day depends on a variety of factors (we'll get to that in a minute), but location is a significant one. Having a wedding in a major city like San Francisco, New York, or Chicago ranges from $47,000 to $60,000 on average, according to The Knot. Less expensive metropolitan areas, like Minneapolis or Houston, tend to edge lower, at $25,000 to $29,000.
The map below shows how much weddings cost on average by state, excluding Alaska and Hawaii (engagement rings are not factored in).
States with the highest average weddings costs
The Knot found that New Jersey tops the list as the most expensive state to get married. These are the 10 states where throwing a wedding costs the most, on average:
New Jersey ($51,000)
Massachusetts ($46,000)
New York ($46,000)
Rhode Island ($43,000)
Vermont ($43,000)
Washington, D.C. ($40,000)
Connecticut ($39,000)
Delaware ($39,000)
Maryland ($39,000)
California ($37,000)
States with the lowest average wedding costs
Couples who get married in Utah, Oklahoma and Kansas spend the least amount of money on average. These are the cheapest states to throw a wedding:
Utah ($16,000)
Oklahoma ($16,000)
Kansas ($16,000)
Wyoming ($18,000)
New Mexico ($18,000)
Montana ($18,000)
Oregon ($19,000)
Iowa ($19,000)
Idaho ($19,000)
North Dakota and South Dakota ($20,000)
Why are weddings so expensive?
Aside from inflation and high demand coming out of the pandemic, weddings have always tended to be expensive. The Knot says the average cost of a wedding has hovered around $28,000 since 2017, of course with the exception of 2020, when many couples were forced to postpone.
One of the primary reasons weddings cost so much money is simply because people are willing to spend it, even if it means going over budget. A 2016 survey from the Consumer Reports National Research Center found that nearly two-thirds of the newlyweds who budgeted for their reception said they overspent by at least 20%.
The once-in-a-lifetime mentality that many people have when planning a wedding can make them vulnerable to price discrimination. A secret-shopper investigation by Consumer Reports, also conducted in 2016, comparing vendor costs for a wedding and and an identical 50th anniversary party found that vendors frequently upcharge for weddings, a phenomenon known as the "wedding markup." The investigation uncovered that in 28% of cases, vendors quoted a higher price for weddings compared to the anniversary party.
One of the biggest determining factors in how much a wedding will cost is the size of the guest list, according to The Knot. Couples who invited up to 50 guests spent an average of $14,400 on their wedding, while a guest list of 51 to 100 brought the average bill to about $24,600. Large wedding parties with more than 100 guests totaled $38,100 on average.
These were the average prices for 16 common wedding expenses in 2022, according to The Knot.
Reception venue: $11,200
Wedding photographer: $2,600
Wedding planner: $1,900
Live band: $3,900
Reception DJ: $1,500
Florist: $2,400
Videographer: $2,100
Wedding dress: $1,900
Wedding cake: $510
Catering: $75 per person
Transportation: $980
Favors: $440
Rehearsal dinner: $2,400
Wedding invitations: $510
Hairstylist: $130
Makeup artist: $120
How much should you spend on a wedding gift?
There isn't a hard-and-fast rule for how much guests should spend on a wedding gift, but etiquette says you should give the right amount to properly congratulate the newlyweds.
Gifting money is a totally acceptable — and even preferred — way to show your appreciation for the bride and groom. Wedding Wire, a global wedding marketplace, says that there isn't a limit on how much you can give, but you shouldn't give less than $50, regardless of size of the event.
The Knot found that guests spend about $160 on average for wedding gifts. However, what you spend should be appropriate to your relationship to the couple — and while you don't have to cover the cost of your plate at the reception, it's polite to consider what the couple may have paid to include you. Factors like whether you're attending with a plus-one, the style of the wedding, your budget, and how well you know the couple can also guide you on how much to spend.
For instance, while $75 may be a good amount for a coworker's wedding, you will probably want to spend at least $100 on a close friend or family member, according to The Knot. You can use The Knot's wedding gift calculator to help you determine the best amount to spend on a wedding gift.
More from Money:
This Map Shows Which States Still Charge Sales Tax on Groceries, Diapers and Period Products