This Is America's Hottest Sandwich Right Now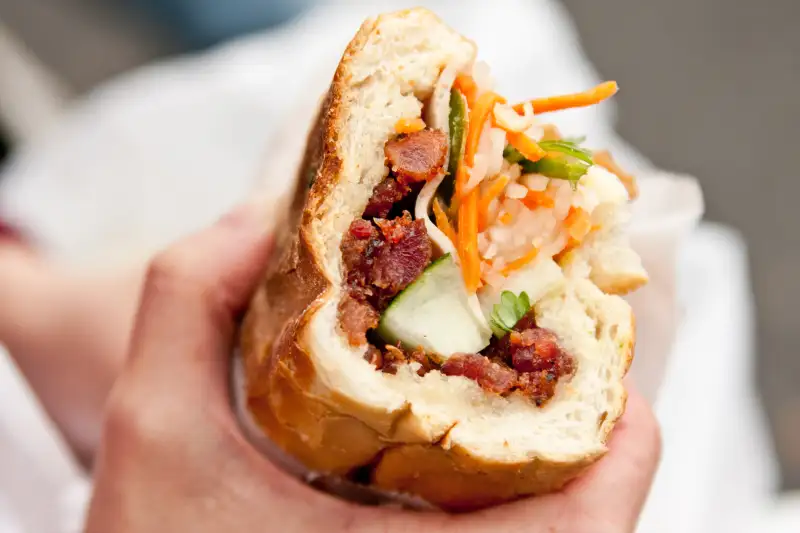 Christelle Vaillant Photography—Getty Images
America has a new sandwich infatuation: the banh mi.
If you aren't familiar with the Vietnamese favorite -- it's often made with grilled pork, cilantro and pickled carrots and served on a baguette -- don't feel bad. The banh mi is still on only about 2% of restaurant sandwich menus, according to food industry researcher Datassential.
But chances are you will encounter one soon.
That's because the banh mi's "menu penetration" -- how frequently it appears on restaurant menus -- is up nearly five-fold over the past four years. That represents the biggest jump of any of dozens of sandwich varieties tracked by Datassential, which monitors industry trends by scanning and tabulating menus and at thousands of independent and chain restaurants across the country.
The banh mi's novelty for Americans may be a big reason for its success. Millennial diners in particular enjoy being adventurous when it comes to eating out, according to Datassential.
At the same time, the banh mi's underlying ingredients -- a reflection of decades of French colonial influence in Vietnam -- are also instantly recognizable to most American palates. That dynamic puts the banh mi in a restaurant industry sweet spot that Datassential terms "safe experimentation."
"It's a combination of familiar and what's a little bit outside mainstream diners' food lexicon," says Datassential analyst Kyle Chamberlin.
A slew of other menu items are also benefiting from America's expanding tastes. The Mexican torta appears on more than twice as many menus as it did four years ago, and shawarma sandwiches have seen their popularity climb by more than 50%. Both remain relatively hard to find, however -- available on just 1% of menus overall.
By contrast, the Cuban sandwich, which was the fastest-growing when Datassential conducted its last survey four years ago, saw far more moderate 7% growth, as it's become more readily available. Diners can find the pressed ham sandwich on more than a quarter of menus.
All these upstarts appear to be displacing America's most ubiquitous sandwich: the grilled chicken. It's available on 44% of sandwich menus, down nearly 10% from four years ago. Other easy-to-find sandwiches that are dropping off menus include the club, chicken salad and the Reuben.