Barack Obama's Net Worth on His 55th Birthday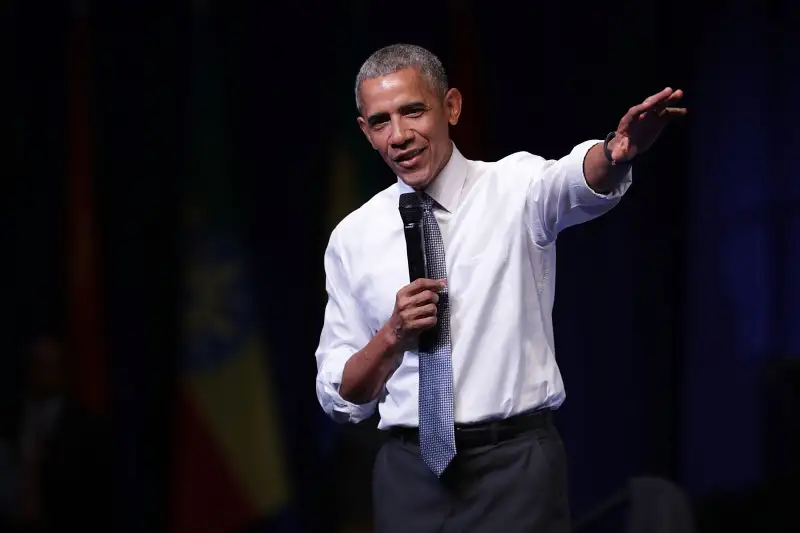 Chip Somodevilla—Getty Images
The 44th president of the United States, Barack Obama, has a birthday coming up. Born in Hawaii on Aug. 4, 1961, Obama's life story contains a journey of remarkable financial success. Raised by a single mother and his grandparents, Obama worked his way through college.
Today, as presidential nominees Donald Trump and Hillary Clinton race to the White House, the president will celebrate his 55th birthday as a multimillionaire.
President Barack Obama Net Worth: $12.2 Million
Estimating the exact personal wealth of Barack Obama — or any U.S. president — is difficult. With certainty, Obama's salary for his day job as president is $400,000 a year. But from there, hard numbers are more difficult to come by.
Under the Ethics in Government Act of 1978, the president — along with other high-ranking federal officials — must disclose their finances every year. Those disclosures, however, are broad and vague.
An analysis of Obama's financial disclosure in 2015 showed a net worth between $2 million and $7 million, reported USA Today. Celebrity finance resource Celebrity Net Worth, however, reported that Obama's net worth is as high as $12.2 million.
Read More: How Will Hillary Clinton Affect Your Wallet?
This year's financial disclosure reveals the bulk of Obama's assets are in mutual funds with JPMorgan and Vanguard. He's also holding U.S. Treasury bills and notes valued between $500,000 and $1 million. For his daughters, Malia and Natasha, Obama has between $200,000 and $450,000 in 529 college savings plans.
The president received royalties between $35,000 and $115,000 on his three books, "Dreams From My Father," "Of Thee I Sing: A Letter to My Daughters" and "The Audacity of Hope." He also owns a home in Chicago valued at just under $1.5 million, according to Zillow.
A Timeline of Barack Obama's Wealth
How exactly did Obama grow his fortune? Here's a timeline of his earnings over the years, using data from the president's previous financial disclosures:
2004: He earns a salary of $60,287 from the Illinois State Senate and $32,144 from the University of Chicago Law School, where he taught. The president also has assets in four financial funds worth between $50,000 and $100,000 each.
2005: Obama earns just over $847,000 off a book advance with Random House, plus $378,000 off book royalties. Meanwhile, his investments grow with the addition of a Nuveen Floating Rate Income Fund valued between $50,000 and $100,000. He also reports deposit accounts valued between $150,000 and $350,000.
2006: Obama reports royalties of just under $150,000, plus $425,000 off a book advance. He also acquires publicly-traded assets worth tens of thousands, including funds with Goldman Sachs and Vanguard.
2007: Obama earns $3.3 million off book royalties from Random House and $816,000 from Dystel & Goderich Literary Management. He acquires a Northern Municipal Money Market Fund valued between $1 million and $5 million, in addition to U.S. Treasury notes valued between $500,000 and $1 million. For his daughters, he invests in two 529 college savings plans, each worth up to $250,000.
2008: When Obama is sworn in as president, he owns somewhere between $1 million and $5.1 million in U.S. Treasury bills.
2009: Obama wins the Nobel Peace Prize, which comes with a $1.4 million award. He donates it to an assortment of charities.
2009-2015: Obama earns $400,000 a year as president and continues to earn book royalties, as well as interest on his investments.
Read More: 7 Ways to Build a Powerful Network
Michelle Obama Net Worth: $11.8 Million
First Lady Michelle Obama is a lawyer and writer. Her educational career took her through the Chicago public school system and, later, to Princeton University and Harvard Law School. After working for several years at the law firm Sidley & Austin, Michelle moved to planning and development in Chicago's City Hall. She later became a founding member of the Chicago chapter of Public Allies, which prepares youth for public service.
Read More: 7 Ways to Build a Powerful Network
In her time as First Lady, Michelle has launched initiatives like Let's Move! to combat childhood obesity and Reach Higher to encourage youth to continue their education beyond high school. Although best-known for her efforts in inspiring children and women, Michelle also launched Join Forces, which looks to support veterans through education and employment opportunities.
The First Lady's net worth is estimated at $11.8 million, according to Celebrity Net Worth. She has three books to her name, "Believe in the Possibility," "Michelle Obama" and "American Grown."
Andrew Lisa contributed to the reporting for this article.
This article originally appeared on GoBankingRates.